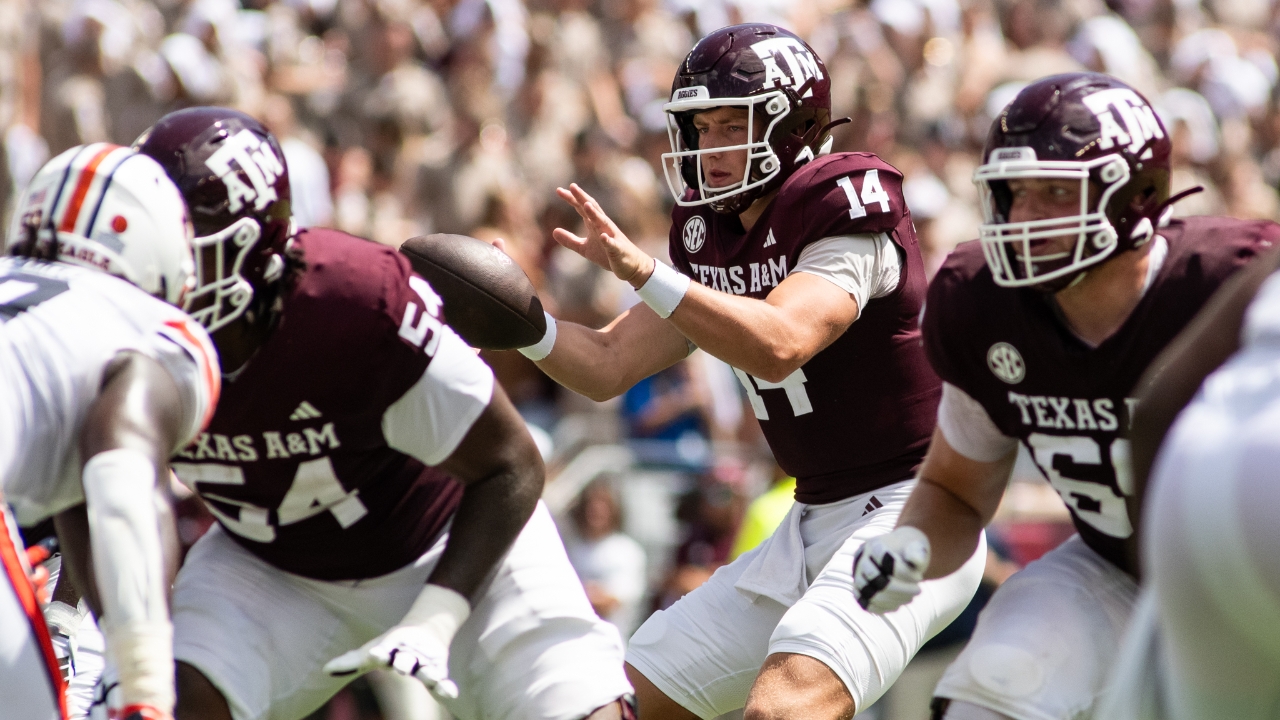 Jimbo Fisher
Bryce Anderson
Layden Robinson
Max Johnson
Edgerrin Cooper
Ainias Smith
Texas A&M Football
Insurance of Max Johnson ensured A&M's 27-10 victory over Auburn
September 23, 2023
15,717
---
Insurance isn't fully appreciated until it's needed.
It was needed badly on Saturday afternoon, and 102,530 tense Aggies at Kyle Field came to fully appreciate the insurance policy that is Max Johnson.
When Texas A&M quarterback Conner Weigman gingerly limped toward the locker room late in the first half, anxiety was as high as the 100-degree temperature.
But Johnson came in and led A&M (3-1) to a 27-10 SEC-opening victory over Auburn (3-1) with a second-half performance that should earn an NIL deal with Farmer's Insurance.
After A&M held a precarious 6-3 lead at halftime, Max Johnson came out of the second half with a message — or maybe a demand — for his teammates.
"I was just like, this thing does not slow down," he said. "Keep blocking y'all's butts off. We're going to go put it in the end zone. This thing is not slowing down."
In fact, the offense sped up. The Aggies settled for Randy Bond field goals on their first two possessions. Then they closed out the first half with three consecutive three-and-outs.
Max Johnson was immediately productive and prophetic. He completed his first five passes. One resulted in a 22-yard touchdown to his brother, tight end Jake Johnson. It was the first touchdown catch of Jake's collegiate career.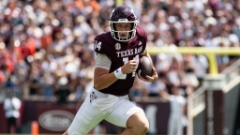 Jamie Maury, TexAgs
Another touchdown pass was a beautiful 37-yard rainbow to Evan Stewart.
"The first thing I said (to Jake) was 'I love you, man,'" Max Johnson said. "It's been a long time coming. That was pretty special."
Just like that, A&M was cruising with a 20-3 lead midway through the third quarter.
However, nothing ever seems to come easily for A&M when facing Auburn.
The Aggies appeared to be on their way to a decisive touchdown, but a rash of penalties thwarted that threat.
Later on, A&M snapped the ball first down on Auburn's 33-yard line but lost a fumble that was returned for a 67-yard touchdown. An Aggie win that once seemed so assured was suddenly in doubt.
But the defense, which had been much-maligned after a 48-33 loss to Miami two weeks ago, clamped down.
Ten of Auburn's 11 drives on Saturday ended with a punt or turnover, and five were three-and-outs. The Aggies allowed just 10 passing yards in the second half and sacked Auburn quarterbacks seven times. That's one more sack than the Ags had been notched in the three previous games combined.
"We have a crazy defensive line," nickel back Bryce Anderson said. "We understand that the depth they have, the guys come rolling in, that's making everything better in coverage. The quarterback can't see down the field because they have #0 (Walter Nolen) in his face, #5 (Shemar Turner) in his face, #3 (McKinnley Jackson) in his face.
"And then (Taurean) York played great, Coop (Edgerrin Cooper) played great. We played real good in the back end. Today was a collective effort."
Still, a great defensive effort might not have been sufficient to secure victory. The Aggies appeared in trouble once Weigman was injured. However, this isn't the first time the Aggies have experienced quarterback injury dilemmas.
"Unfortunately, that's football, man. You're going to be banged. You're going to be bruised. At the same time, I feel confident in the guy we have behind him."
In each of the last two seasons, quarterback injuries caused visions of glory to fade into disappointment. Disappointment beckoned again on Saturday.
Coach Jimbo Fisher, though, was confident even without Weigman available.
"Because you have confidence in the backup," Fisher said. "I feel it for (Weigman). I mean, personally that you are doing things well and you're playing, and you hate that.
"Unfortunately, that's football, man. You're going to be banged. You're going to be bruised. At the same time, I feel confident in the guy we have behind him."
Indeed, the fact Max Johnson came to A&M's rescue might not be nearly as surprising as the fact that Max Johnson was even there.
In today's college football, players often don't do disappointment. Don't play. Don't stay. Why sit on the bench? Just sit out. The transfer portal is always an option.
But Max Johnson never considered leaving A&M.
"This is where I want to be," he said. "I'm getting an awesome degree here. I love the coaches. I love the players. I love the university. This is where I want to be."
Thousands of Aggies can certainly appreciate that.
Never miss the latest news from TexAgs!
Join our free email list