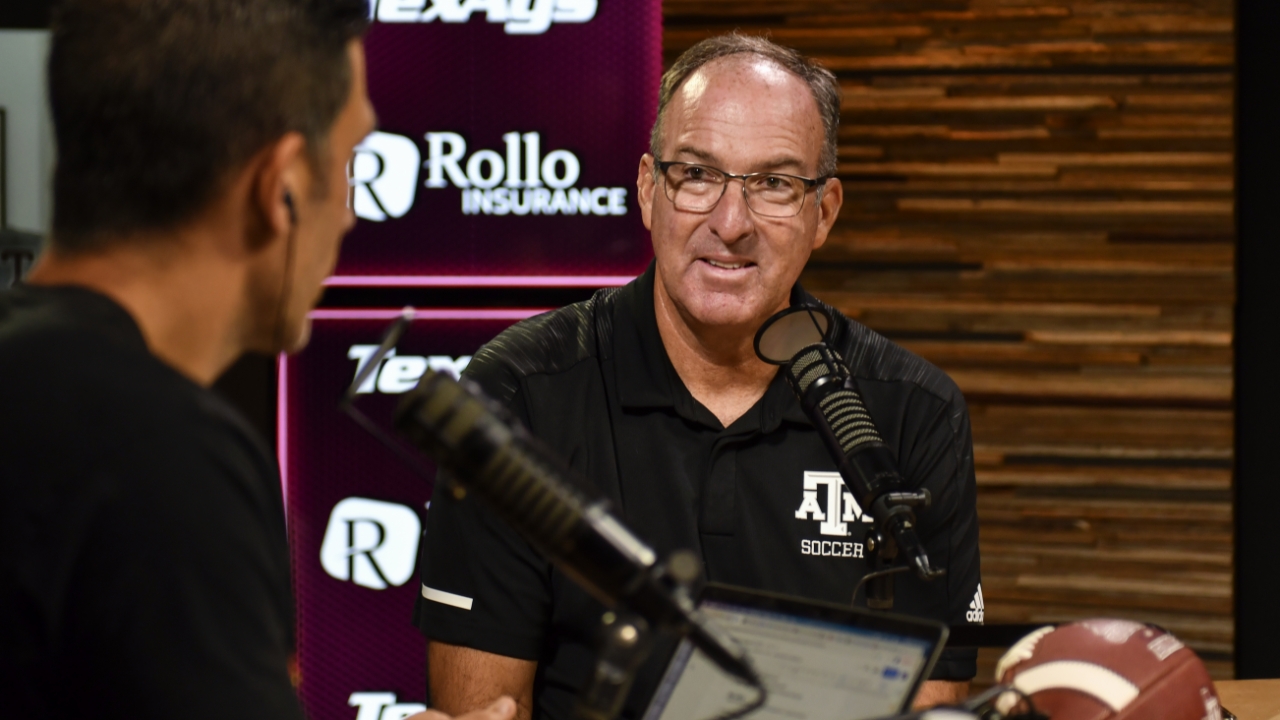 Photo by Jamie Maury, TexAgs
Texas A&M Soccer
Guerrieri previews upcoming meetings with Bulldogs, No. 11 Razorbacks
---
Southeastern Conference play has arrived for Aggie soccer, with a road test at Mississippi State on deck, followed by a meeting with No. 11 Arkansas on Sunday. On Wednesday's edition of TexAgs Radio, coach G Guerrieri previewed the conference foes.
---

Key notes from G Guerrieri interview
We don't like to rub it in on teams. We are not out there to run up the score. When we started to get up by six, seven or eight, if you have been on the other side of that, it's hopeless. It's like rubbing salt in the wound. If they scored, they were celebrating because they scored.

There is an old rule that you don't go into double digits, but then do you want to play keep away? You have to respect the opponent enough to keep playing hard. We pulled our stars out of the match. I owe it to my players who haven't really played, and they worked their tails off. They deserved to be out there. We expect them to play hard. That was what the game on Sunday was about.

It was our last non-SEC chance to show something. We scored on two corner kicks. We will need those in SEC play. Taylor Jernigan scored two rebound goals. Those are great examples of what we want to score with. Texas Southern did play hard.

Maile Hayes was taken down in the box, and the penalty was called. I was proud of the way the team responded. Kate Colvin headed a ball, got a bloody nose and scored in the upper corner. She was called for a questionable penalty. That's the response you want to see. I am pleased with the fight in this team.

Mississippi State is No. 7 in the country in RPI. They are fighters. Their coach James Armstrong has done a great job. That team has come together, and they believe in what they are doing. They beat Auburn with a minute to go, and it put them in first in the SEC West.

In soccer, we play for an SEC West and East title. It is a huge game for RPI and the West standings. Then, we come home, and we play the team favored to win the league in Arkansas. They are very direct in the way they play. They pride themselves on being big and ugly. These are challenges.

I thought defensively, we were good on Friday night. It's a big weekend because both of these teams are top 10 in RPI. These are huge opportunities for us.

500 T-shirts are being handed out for the Swifties on Sunday. They have invited Taylor Swift to come and sing the national anthem. We'll see if she shows. You can wear sequins if you want.
Never miss the latest news from TexAgs!
Join our free email list