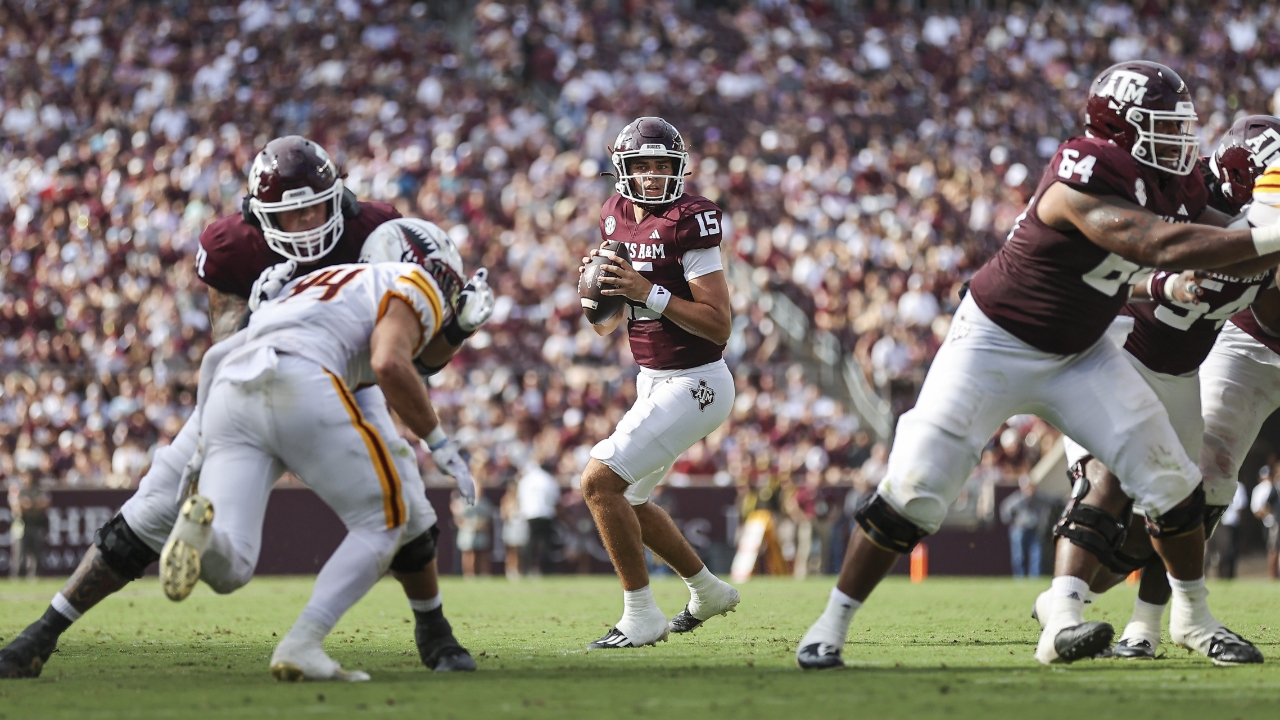 Photo by Troy Taormina-USA TODAY Sports
Texas A&M Football
Post Game Review: Texas A&M 47, Louisiana Monroe 3
---
Back in the win column.
Texas A&M took care of business against Terry Bowden's Louisiana Monroe Warhawks with a 47-3 win at Kyle Field on Saturday.
Although plenty of Aggies were sidelined, Bobby Petrino's offense had no problem posting 557 yards and securing the win.
After a brief rain delay, Texas A&M won the toss and deferred to the second half. Sparked by a big pass breakup from Jacoby Mathews, the Aggies' defense went to work, forcing the Warhawks to walk off the field without a first down on the first drive.
Kicking off the Aggie's offense's showing, Amari Daniels ran for A&M's first yards. Following it up, Conner Weigman found a pair of tight ends, Jake Johnson and Max Wright, for a pair of Fightin' Texas Aggie first downs. A 33-yard leaping grab by Jahdae Walker marked the first of many plays for the transfer and placed the Aggies inside the 20-yard line. Ainias Smith saw action out to the backfield to inch the Maroon & White closer to ULM's 12-yard line, where Randy Bond knocked in a 30-yard field goal to cap off the 65-yard drive.
Louisiana Monroe's first time moving the chains came off a 32-yard pass downfield. However, the Warhawks' drive was later stopped on A&M's 40-yard line.
Smith's first reception of the game was a 23-yard grab to move the Aggies near midfield. A collection of short grabs by Johnson, Smith and Daniels kept the chains moving. A pass interference call gave the Aggies 15 free yards, setting up a wide-open pass to Walker, marking his first touchdown as an Aggie.
On ULM's third offensive drive, D.J. Durkin's defense looked as if it would hold strong, having only given up 53 yards up to that point. Going for it on fourth-and-1, Texas A&M gave up a 51-yard rush but was bailed out on an offensive holding call. The following play, ULM quarterback Jiya Wright's 37-yard completion to Tyrone Howell closed the first quarter.
The drive concluded with a 24-yard field goal to put the Warhawks on the board, 10-3.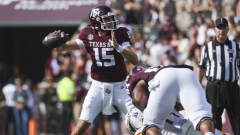 Troy Taormina-USA TODAY Sports
Three straight completions kicked off A&M's second touchdown drive. Rueben Owens moved the chains once more before Weigman launched another pair of passes to Owens and Walker. Weigman took matters into his own hands and toted the rock himself into the endzone.
A no-gainer thanks to Walter Nolen kept the Warhawks parked on their own 15-yard line. On third down, ULM could not reach the line-to-gain, sending Weigman & Co. back out on the field.
Le'Veon Moss saw his first action with a rush of six before Jahdae Walker tacked on 37 more yards. A pair of Moss rushes set up a third-down situation, which was converted through the air to Walker again, who surpassed 100 yards before the half. Bond then hit a 23-yard field goal to stretch the Aggies' lead to 20-3.
ULM converted their second-passing first down with a grab by Tyrone Howell. The Aggies' backfield was exposed on a 15-yard rush but to follow, Shemar Turner added to his sack total with his third of the year, which was fumbled but soon after recovered by the Warhawks. Unable to get anything going on offense, ULM punted it away.
Two 20-plus-yard completions to Smith caused the offense to roll just before the half. During the drive, Weigman was sacked for a loss of four, and Chase Bisontis hobbled off the field on the same play. With 48 seconds to go, Daniels hauled in the ball four yards to cross the goal line.
Texas A&M's receiving duo of Smith and Walker posted 117 and 110 yards in the first half, which marks the first time two Aggies have had 100-plus receiving yards in the same game since Jace Sternberger (145) and Quartney Davis (127) did so on Oct. 13, 2018, at South Carolina.
The ball went right back into the hands of the offense in the second half with a trio of Daniels' runs moving the sticks. Moose Muhammad saw his first and second receptions of the game before Bond was sent out for another red-zone field goal, 30-3.
A&M's defense stepped up with back-to-back plays from Taurean York and a quarterback hurry from Shemar Turner forced a pass incomplete, sending the Aggies' offense back on the field.
Weigman converted two first downs to Jake Johnson to move the Aggies over midfield. The drive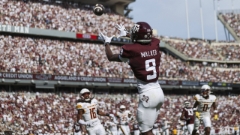 Troy Taormina-USA TODAY Sports
kept going with a pass to Smith and Owens slipped through for the score, his first as an Aggie.
ULM's short offensive drive consisted of a two-yard rush, an incomplete pass and a pass breakup by Josh DeBerry.
Max Johnson took the reins of A&M's offense in the third quarter. Moss took the majority of the hauls in the drive before two 10-plus yard passes went to Muhammad and Raymond Cottrell to move the Aggies downfield. Yet, it was Texas A&M's first unsuccessful march. However, Nik Constantinou's first appearance was as good as it gets, pinning ULM on their one-yard line.
The Warhawks were quickly sent off the field by a pressing Aggie defense which gave A&M great field position. The Maroon & White went 41 yards downfield and capped off the drive with a tip-toe catch by Cottrell, marking another first-year Aggie to score.
Malick Sylla tallied his first sack with a five-yard loss to set up another short stint for A&M's defense. A five-yard carry was all the yardage allowed, and the Warhawks were sent off the field after three downs.
More new Aggies saw action as a David Bailey carry was followed by an 11-yard grab by Jordan Anthony. A&M could not convert on third down, but Bond nailed a career-long 52-yarder to extend the lead.
Five straight rushes from Charles Norman moved the Warhawks to midfield. Another collection of runs brought ULM to their 22-yard line. On a fourth-and-one situation, Norman was tackled for a loss thanks to Mathews and Jurriente Davis.
Jaylen Henderson came in to kneel the clock out.
RUMBLED: Conner Weigman is that guy. He led Texas A&M's offense to score on all seven possessions with 337 yards. The signal-caller's 86.2 completion percentage (25-for-29) is the highest of any A&M quarterback since joining the Southeastern Conference. That record was previously held by Johnny Manziel, who went 30-for-36 with an 83.3 completion percentage and 311 yards against Mississippi State on November 3, 2012.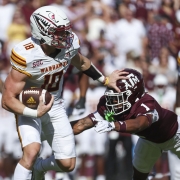 Troy Taormina-USA TODAY Sports
STUMBLED: ULM quarterback Jiya Wright threw for just 95 yards and a 40 percent completion percentage. The Warhawks' passing game was nearly non-existent compared to Weigman's masterclass.
TURNING POINT: This game was over before halftime. Amari Daniels' touchdown rush right before the break put the Aggies in a comfortable position, up 27-3, and out of reach for the Warhawks.
UNSUNG HERO: With Evan Stewart and Noah Thomas sidelined, Jahdae Walker took it upon himself to have a heck of a third game as an Aggie. He hauled in five receptions for 110 yards and one touchdown. All day Jahdae.
KEY STAT: Texas A&M's defense allowed Louisiana Monroe to convert one of their 12 third-down attempts. Heck of an effort by the Aggie D, who struggled immensely a week ago.
Scoring Summary
First-quarter
A&M: 8:30 - Randy Bond 30-yard field goal. Drive: 11 plays, 65 yards, TOP: 5:00. Texas A&M 3, Louisiana Monroe 0
A&M: 2:26 - Conner Weigman 12-yard touchdown pass to Jahdae Walker. Drive: 8 plays, 90 yards, TOP: 3:38. Texas A&M 10, Louisiana Monroe 0
Second-quarter
ULM: 13:19 - Derek McCormick 24-yard field goal. Drive: 9 plays, 69 yards, TOP: 4:07. Texas A&M 10, Louisiana Monroe 3
A&M: 9:37 - Conner Weigman 19-yard touchdown rush. Drive: 8 plays, 74 yards, TOP: 3:32. Texas A&M 17, Louisiana Monroe 3
A&M: 4:04 - Randy Bond 23-yard field goal. Drive: 9 plays, 67 yards, TOP: 3:28. Texas A&M 20, Louisiana Monroe 3
A&M: 0:48 - Amari Daniels 4-yard touchdown rush. Drive: 6 plays, 63 yards, TOP: 1:12. Texas A&M 27, Louisiana Monroe 3
Third-quarter
A&M: 11:00 - Randy Bond 34-yard field goal. Drive: 8 plays, 32 yards, TOP: 3:54. Texas A&M 30, Louisiana Monroe 3
A&M: 5:54 - Rueben Owens 21-yard touchdown rush. Drive: 7 plays, 60 yards, TOP: 3:31. Texas A&M 37, Louisiana Monroe 3
Fourth-quarter
A&M: 11:15 - Max Johnson 13-yard touchdown pass to Raymond Cottrell. Drive: 7 plays, 41 yards, TOP: 2:54. Texas A&M 44, Louisiana Monroe 3
A&M: 7:11 - Randy Bond 52-yard field goal. Drive: 6 plays, 19 yards, TOP: 2:34. Texas A&M 47, Louisiana Monroe 3
Never miss the latest news from TexAgs!
Join our free email list