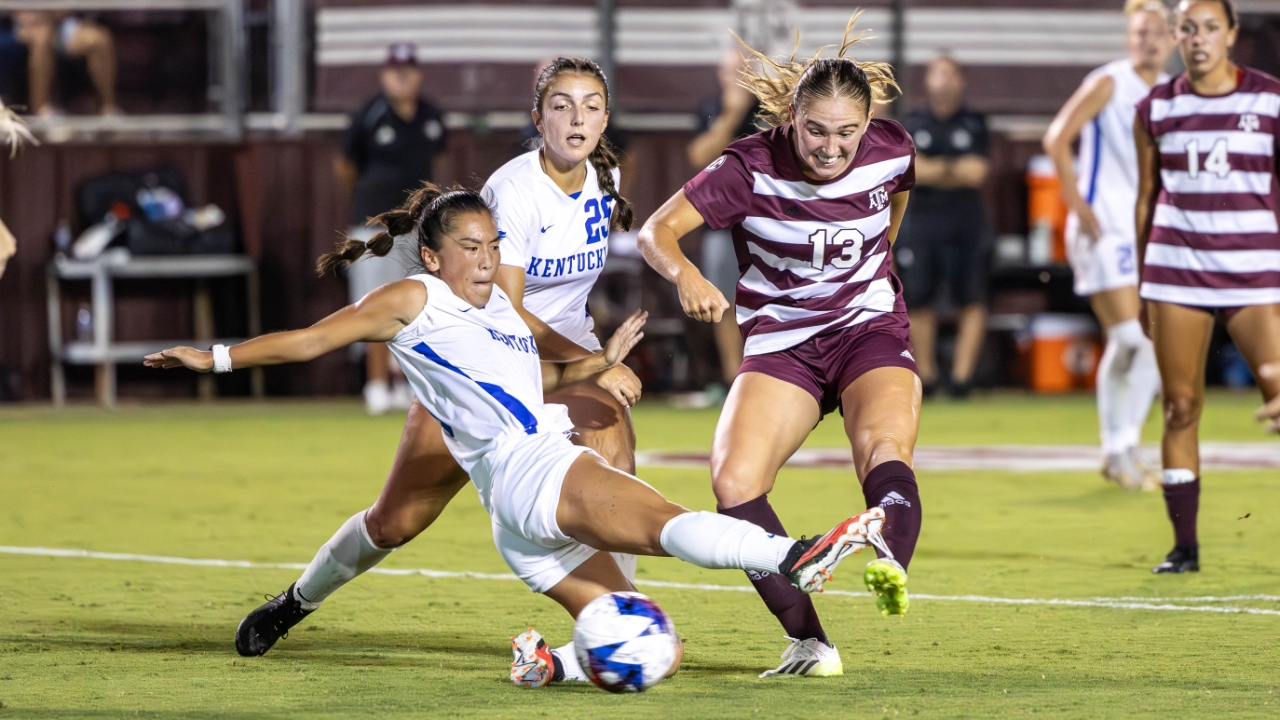 G Guerrieri
Kate Colvin
Sammy Smith
Texas A&M Soccer
Texas A&M, Kentucky share points in SEC opener with 1-1 draw at Ellis
---
After a downpour a few hours before kickoff, Texas A&M fought Kentucky to a 1-1 draw to begin Southeastern Conference play on Friday night at Ellis Field.
Early on, it was Adysen Armenta who made a clean tackle on Anna Young and kept possession of the ball throughout the scuffle. Young shoved Armenta after the fact to earn a chat with the referee.
"An international player pushed her, and you are in control of how you respond," head coach G Guerrieri said. "I was proud of [Armenta] especially as a freshman not to respond in any kind of negative way. She just kind of laughed it off."
That seemed to set the tone for a chippy night in Aggieland.
Later in the first half, Maile Hayes was tackled inside the Wildcats' box. She appealed for a penalty kick but was denied.
In the 40th minute, a penalty was finally awarded. However, the visiting Wildcats were the benefactors.
Allegedly guilty of a foul in the box was A&M's Kate Colvin, and Jordyn Rhodes took the penalty for Kentucky.
Despite Kenna Caldwell's save on the initial PK, Rhodes scored on the deflection to give the Wildcats a 1-0 lead.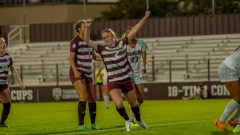 Zoe Kelton, TexAgs
"I was shocked with the call, but obviously there's nothing you can do about it," Colvin said.
Not even five minutes later, Colvin found redemption.
On a lofted pass from Sammy Smith in the 44th minute, Colvin got her head on the end of the ball and sent it into the top right corner of the goal to forge a 1-1 deadlock.
"My goal was just trying to get the ball in the box and hoping someone would get their head on it, and I'm glad [Colvin] was there," Smith said.
The goal was Colvin's third in three games and caused her a bloody nose from the awkward header.
"She was her own Department of Justice there," Guerrieri said.
Even at the break, the hostilities did not end in the final 45 minutes.
A harsh tackle on Hayes by Kentucky's Maggy Henschler earned her a yellow card in the 63rd minute. That booking made it the fifth consecutive game between the respective sides in which a card has been issued.
"I don't think that there was any malice in their yellow card," Guerrieri said. "I think it just shows that in the SEC kids play hard, and it's just a hard-fought game."
Despite a hotly-contested second half that featured six total corners, neither team found a game-winner as the points were split.
Now at 3-3-2 overall, the draw pushes the Maroon & White's improve to 3-1-1 in their last five matches, a stretch that has seen them concede just two goals.
A&M will also get a chance to continue that decent run of form later this weekend.
Taking a quick break from SEC play, the Aggies will return to Ellis Field on Sunday, Sept. 17 to play Texas Southern at 6 p.m. CT.
"We're excited to be able to get back on the field and try to get a win to finish off our non-conference part of the season," Guerrieri said.
Never miss the latest news from TexAgs!
Join our free email list