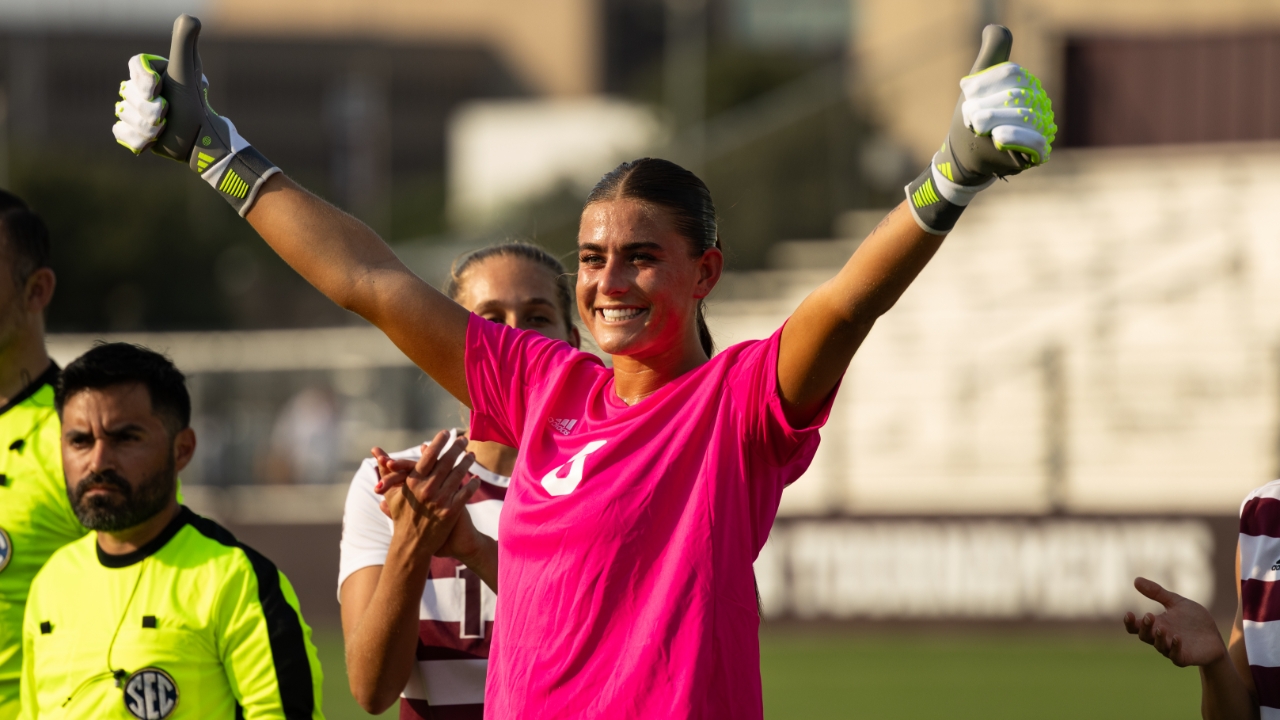 Photo by Chris Swann, TexAgs
Texas A&M Soccer
Texas A&M soccer blanks Rice in final non-conference match, 4-0
---
A modest winning streak emerges from the ashes that have been Texas A&M's season so far as the Aggies defeated Rice on Sunday night in Houston, 4-0.
Wasting no time, MaKhiya McDonald scored in the third minute off a mistake by Rice goalkeeper Ann Stephanie Fortin, who kicked the ball into a defender who was attempting to slow down McDonald's run.
The costly turnover left McDonald with a wide-open net, and she made no mistake to open the scoring.
Just before halftime, Sydney Becerra laid off a pass to Kate Colvin, who slid the ball into the bottom left corner of Fortin's goal in the 44th minute to double A&M's lead.
The late first-half goal marked Colvin's second of the season and the 11th in her career.
Leading 2-0 at the break, the Aggies kept up the pressure over the second 45 minutes.
In the 60th minute, Jazmine Wilkinson went to ground as she volleyed the ball past Rice's second-half keeper Hannah Pimentel.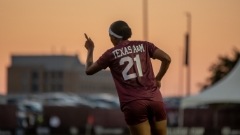 Zoe Kelton, TexAgs
The keeper palmed out McDonald's cross, and Wilkinson kicked it in for A&M's third goal of the night. Coincidentally, it was Wilkinson's third goal of the season.
Less than 10 minutes later, Maile Hayes shot directly at Pimentel and somehow managed to score off of a deflection in the 69th minute. With the keeper down, Hayes shot the ball into a vacant net as a belated birthday gift to herself.
With the Aggies leading 4-0, Kenna Caldwell was forced to make two of her three saves in the closing five minutes of the match, shutting down Sophie Zhang and Lauren Pickup to preserve the clean sheet.
The Owls earned two yellow cards in the 47th and 70th minutes that were distributed to Kallie McKinney and Kirsten Ruf, respectively, while Hayes earned A&M's only booking in the 85th minute. Each side ended the game with six fouls.
A&M had a total of eight corner kicks with five of them being within the second half, and the Owls only earned three throughout the match.
Texas A&M is now 3-3-1 on the year, and all three of their triumphs have been shutouts. Further, the Ags are now 3-1 in their last four and have only conceded one goal during that stretch.
Returning to Ellis Field this Friday, A&M will begin SEC play on Sept. 15 against Kentucky. Kickoff set for 7 p.m.
Never miss the latest news from TexAgs!
Join our free email list