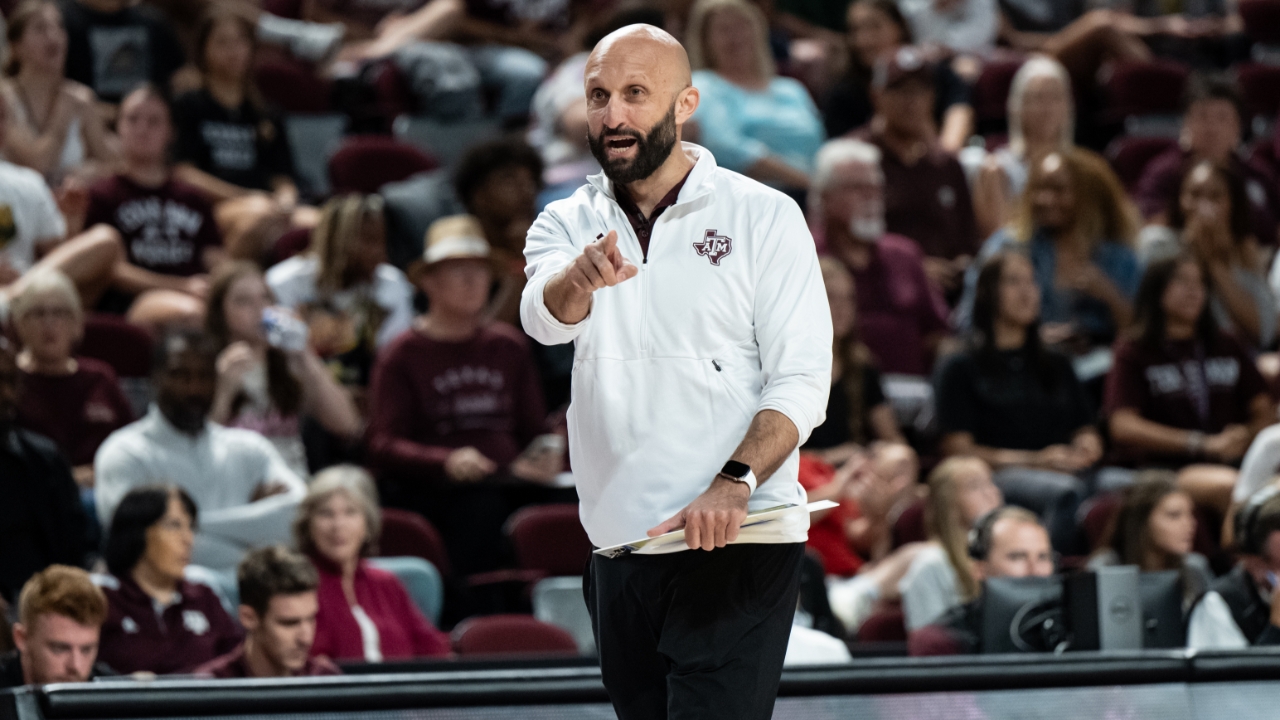 Photo by Jamie Maury, TexAgs
Texas A&M Volleyball
Morrison & Co. head to Bowling Green looking to 'build' on foundation
---
The Texas A&M volleyball team opened its regular season last weekend with a pair of victories over Omaha and Pepperdine. Head coach Jamie Morrison stopped by TexAgs Radio on Tuesday to share his thoughts on the Aggies' weekend at the Omaha Invite.
---

Key notes from Jamie Morrison interview
It's a great foundation to build off. We played two great teams in Omaha and Pepperdine, who were receiving votes in the top 25. We went 2-0, which is great, but what is more exciting is how we played volleyball.

We talk every week about adding little pieces as we go. It was a great foundation, but I've sent them video of what we're adding next. We got to work yesterday. We had an effective practice, we're putting building blocks together.

You have to realize this is a long and taxing season, physically and mentally, for our student-athletes. We're tracking what they're saying and their workloads. We don't want to be at our best right now. We want to be at our best in the middle of the season and in the postseason.

For this year, it's a little different because we're implementing systems as we go. In the spring, it was about getting better individually, but now it's about adding nuances to the system. We're layering those systems. It'll be a constant flow of this team changing, but once we get a basis set, there will be more subtle nuances to our offense.

Whenever you throw a new team together with a new coach, there are nerves and bumpiness you have to get through. We noticed some of that against Omaha and Pepperdine. They were more comfortable against Pepperdine. They relaxed and played volleyball. We saw a really, really good volleyball team.

The biggest thing I'm curious about is when we get pressed. That's where the great teams show up. When things get difficult, how do we respond? Still, this weekend was a good foundation to build off of.

We talk a lot about having .25 seconds to be angry at yourself. Our sport is interesting in that, like football, you come into a huddle. I think there are some things in sports that are wrong and the saying, "no I in team" is one of them. I think there is a bunch of "I"s in teams. No two teams are the same. We just say if you need .25 seconds to be angry at yourself before you get into the huddle, take it. You can be pissed off at yourself, but take a breath and get back to being about the team.

We have balance. We have six players on the court that can put the ball away, and that's really, really exciting. We're going to be hard to defend. We're not a team of superstars. We're a team with a lot of balance, and you're seeing a lot of distribution in every match.

Our blocking will help us stand out. We talked about battles and different phases of our game, and one of those phases is the out-of-system game. I think we're dominating that. Our hitters are taking big, aggressive swings. If we're not getting kills, we're getting the opponents out of their system.

I don't think my career has been unique. You get a lot of basketball people in Southern California who move from basketball to volleyball. It would be unique if I were from Texas, but volleyball is one of the bigger sports in California.

We head to Bowling Green tomorrow to play three really good teams. Loyola Chicago just beat Purdue. We have Bowling Green, and Wright State took a set from the No. 2 team in the country. We'll have three opponents that will offer us a really good opportunity to learn and grow.
Never miss the latest news from TexAgs!
Join our free email list