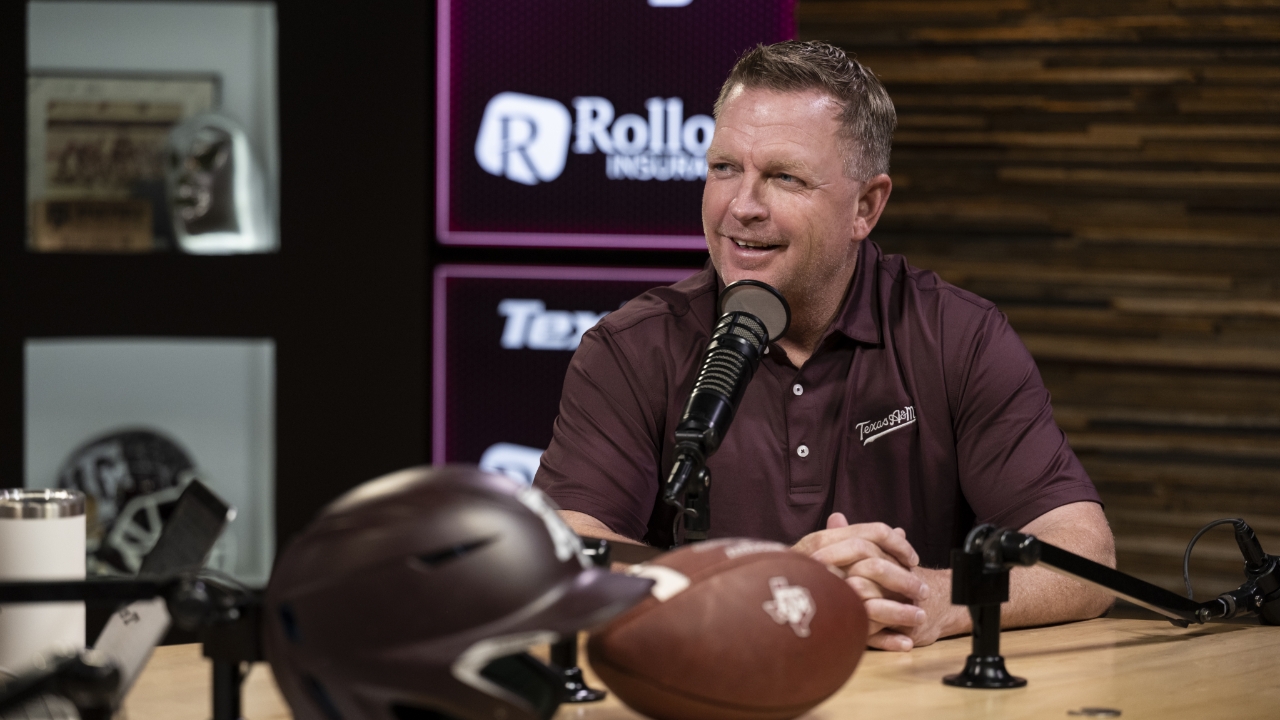 Photo by Jamie Maury, TexAgs
Texas A&M Baseball
Schlossnagle says A&M can change college baseball from facilities standpoint
---
The summer months for Texas A&M baseball were some wild ones, but on Wednesday morning, head coach Jim Schlossnagle spoke to TexAgs Radio about his offseason recruiting efforts, the status of ballpark renovations and getting the guys back together this Friday.
---

Key notes from Jim Schlossnagle interview
Offseason has been super busy. It feels like closer to football season this morning versus the 108 temperatures we have had. It's definitely not an offseason. It's the most active season for us whether it be recruiting, transfer portal or trying to get things moving on the stadium. We have had some staff turnover and trying to fill those spots. It's slowed down in the last week. Everyone is back on campus and looking forward to our first team meeting on Friday afternoon.

The College World Series shortens your summer so much. We will gladly go through that again as soon as we possibly can. The first four weeks after the regional were as long and tenuous times as I can remember in 34 to 35 years of coaching. Nolan Cain and I were driving or flying to try to hold our high school signees out from going in the MLB Draft. You were trying to hire a pitching coach while you are still recruiting the 2024 and 2025 classes. Thank goodness the new rules went into play with the young classes. It would have been insanity to keep on top of eighth and ninth graders. Cain held down the fort while I was doing a lot of head coaching things.

Those guys who left our team are special people. If I start talking about them too much, I will tear up. They are really good players who love Texas A&M, but elite people. As I plan the fall, we talk about how intentional we will have to be as coaches to reinstall or maintain the culture of the program. You return Jace LaViolette and Ryan Targac. There are some guys on the pitching staff such as Jace Hutchins, Ryan Prager and Chris Cortez that can help us with the culture. Those guys that left will go down in my heart as some of my favorite players ever to be around.

We needed a shortstop. Thank goodness we got Jackson Appel, a graduate transfer, early so you felt good about a catcher. I love Max Kaufer, and Hank Bard can help us. You have to have a catcher in every class.

Kaeden Kent can bounce around and play a lot of different positions. We needed a pure shortstop. We have one in Jack Bell and Ali Camarillo, but the draft was so late that Bell was an eligible player. Ali committing to us in the regional was a huge building block.

Max Weiner is building those relationships right now. He is really intentional in that. I had a lot of conversations there were a lot of long nights for me talking to everyone I could. I had an idea of the profile I wanted. The same name kept coming up in Weiner. I met with him. The assistant general manager for the Mariners has been one of my dearest friends for the last several years who I dearly trust. He hated to lose him, but he knew Max's life goal was to be in college baseball.

Max came to his interview and did not check his bag. He has not left. He spent a lot of money at CC Creations, The Warehouse, Aggieland Outfitters and Maroon U. He's decked out in Aggie gear. He has just been working. That's like the player that wants to be there. He said the day you offer me the job is the day I will be there.

The transfer portal guys have to come in and make a difference. There are really not that many elite pitchers that go in there every year. Those guys are hard to get. There are not many elite pitchers going in from our region of the country. We got four to five high school right-handers and three to four high school left-handers. We need to develop those guys. Texas A&M should be able to develop our own pitching. Jason Bodin, Weston Moss, Kaiden Wilson and Austin Vargas are guys I am excited about getting on the mound.

Zane Badmaev was the first one to jump on board. Cain really likes his profile. He is getting his doctorate. He is a really neat guy.

When Tanner Jones was in the portal, he was the top guy. For the most part, we treat every guy as a starting pitching in the fall and see what they are capable of. Eldridge Armstrong was at Team USA. Jace was telling us great things about him. I am super excited about the high school kids we have coming in.

We knew Jace was talented enough that we could ride out his slumps. By giving Jace enough at-bats, he was eventually going to figure it out.

I met our freshmen at the end of summer and said look at Wyatt Langford's career. Junior year, he was a million-dollar signee. In his sophomore year, he was All-SEC and All-American. In his freshman year, he went 1-for-4. He wasn't hurt. Guys like Kent, Tab Tracy or Max Kaufer could have moved on. I want them to play. We are trying to get this thing where 70 percent of our roster is homegrown players.

Talking to Braden Montgomery's dad yesterday, being in the state of Texas was always on his mind. His little brother is a young, good high school baseball player. He has a younger sister who is an elite gymnast. I dont know the gymnastics world but being in Houston, there is a lot of opportunity for her.

Stanford is an elite degree. His mom is a doctor. The academic profile of Texas A&M played a big role in that. Max really wants to attack this pitching thing with him. We also have a great school and a pretty darn good program. Someone was bringing up all these schools. We're freaking Texas A&M, man. If we can figure out the pitching side of things, we will have a pretty darn good lineup around him. Braden is a guy who almost made a perfect score on the ACT. He is a well-rounded human being.

We have our first team meeting on Friday. We'll get things going in the weight room on Monday. Each player is allowed a certain amount of baseball activity per week up until fall baseball. We will start on Sept. 15 and end on Oct. 29. That will be our six-week window of practice. Oct. 6 will be one of our outside fall competitive games right before football plays Alabama. I think we can get a great crowd that night. Houston Christian is the planned opponent.

On the third weekend of October, we will play in Houston. We can't miss class. Those will be our two fall games.

We have had positive meetings on the status of the ballpark. We made a big choice on what side of the field we will put player development stuff. Right now, we will stay on the third base side. We don't want to affect the stadium seating. I want to put chair backs on every chair we can put them. I can't wait to show everyone the things I have seen. I think we have a chance to do something different than any other SEC park. We can change the direction of college baseball from a facilities standpoint. We are totally capable of doing it, but it will take a pretty penny to get it done.

It could take three phases to do this. A phase to knock out the player development stuff, then a phase where you do the setting. Our field needs to be redone. It hasn't been redone in 17 years. Most schools with grass fields do it every four to five years. We are an Ag school. There may be a June to February where we can't use our field when we do that and have to practice to somewhere else. I am glad to do that.

Ted Burton is a guy that put his name in the portal during the season. There are less than 10 players who have hit 40 or more home runs in a Michigan career, and Burton is one of them. He is a right-handed power hitter, and that is something we need. Burton will be a big part of this deal with Targac because we need protection from LaViolette and Montgomery.

Jace will not sneak up on anybody. We will look at him as a center fielder. He did that for Team USA. He does not need to change much. Just keep on that steady rise of progression that he is doing. He is a great young man.

I am so excited for football. I watched Johnny Manziel's doc for the third time last night. Billy Liucci could go to the barber every now and then. He looks great without a hat on.
Never miss the latest news from TexAgs!
Join our free email list