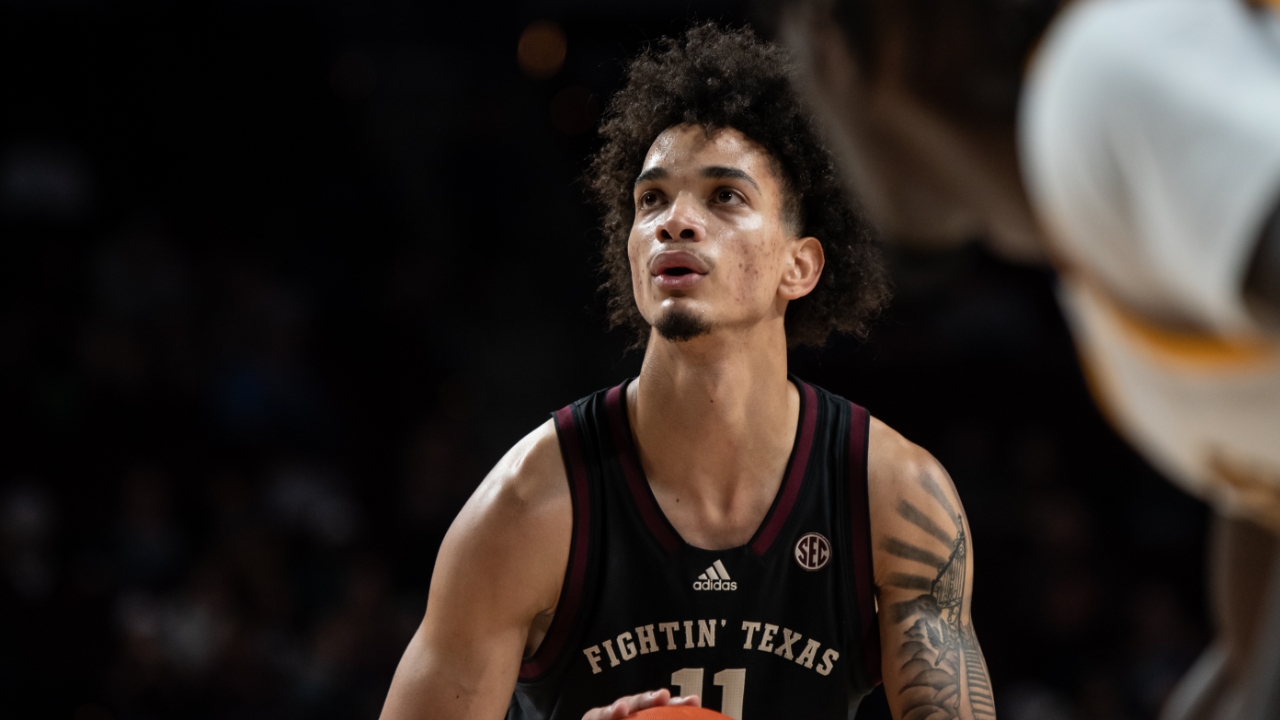 Photo by Jamie Maury, TexAgs
Texas A&M Basketball
Andersson Garcia proves to be invaluable sixth man for Texas A&M
---
One of the more unsung heroes of Texas A&M's resurgence last season in SEC play was the emergence of Andersson Garcia off the bench.
He's not a headliner. He'll rarely carry this team on the stat sheet. He won't be on any preseason All-SEC teams, and when the national season previews are published in the coming months, you won't see his name mentioned much.
But ask anybody close to the basketball program, and they will tell you Garcia is a critical piece of the Aggie basketball puzzle.
A junior transfer from Mississippi State, the undersized 6-foot-7 forward navigated last year's non-conference schedule much like the team as a whole, looking for answers and a direction. He and the rest of the squad put the pieces together and found those answers in the second half of the season.
Against much stronger SEC competition, the Dominican improved in almost every statistical category, increasing his minutes per game (18.4), field goal percentage (54.1), free-throw percentage (75.8), points per game (3.7), rebounds per contest (4.6) and — most impressively — collecting the most offensive rebounds on the team (43). That last stat on offensive rebounding is even more impressive when you consider Garcia played 183 fewer minutes than Henry Coleman III and 189 minutes less than Dexter Dennis, the team's overall leading rebounder.
Now, you know that's music to the ears of Buzz Williams, who loves a no-nonsense, hard-working player like Garcia.
As I mentioned last week discussing the positives of Julius Marble II's transfer, Garcia is a poster boy for what is right about the portal.
He fit perfectly into Texas A&M basketball's blue-collar, high-effort culture, and his rebounding surge late in the season reflected the comfort level he developed within the Williams system.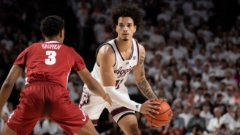 Jamie Maury, TexAgs
I was struck by a comment Garcia made last week in his Stacked interview with David Nuño that clarifies his mentality and why he works well in this unique environment.
Nuño asked him how he seems to be at the right place at the right time to make big plays under the basket.
Garcia's response was illuminating (paraphrasing).
"I don't have the talent of other players, so I have to be smart and read the game and play harder than everybody else."
Now, if that doesn't make you want to run through a brick wall for this young man, I don't know what will.
Let's fast forward to the upcoming 2023-2024 season with Garcia spending another offseason with most of this team returning from last year.
If we saw such a significant improvement in his efficiency numbers in a short period of time last season, extrapolating those improvements to next season after another eight months in College Station should give A&M basketball fans a warm and fuzzy feeling.
Now, that comes with caveats.
In addition to returning starters Marble and Coleman, the Aggies have added a longer big man in UMass transfer Wildens Leveque, and Solomon Washington is expected to elevate his skill set heading into his sophomore year.
There will be more competition at the post positions, and Garcia will need to stay ahead of the competition to earn his minutes.
That's the beauty of this year's roster situation. The talent and experience are at an all-time high, and the competition for playing time will only make each individual player better.
Garcia has proven he can thrive in this system, and I expect him to react positively to the increased competition.
By The Numbers
Let's compare Garcia's performance from his first full season in Aggieland (2022-2023) and his last year at Mississippi State (2021-2022). I've also included his 2022-2023 team ranking in each of these statistical rankings. These are full-season statistics, not the SEC stats I quoted above. You'll notice the improvement in SEC play.
| | | | |
| --- | --- | --- | --- |
| Category | 2021-2022 (MSST) | 2022-2023 (A&M) | Team Rank |
| Points/Game | 4.3 | 3.2 | 9th |
| Field Goal Percentage | 54.4% | 50.8% | 3rd |
| Free Throws | 40 - 58.0% | 38 - 71.7% | 7th |
| Rebounds/Game | 4.2 | 4.2 | T-4th |
| Offensive Rebounds | 47 | 66 | 2nd |
| Steals | 37 | 19 | 5th |
| Turnovers | 41 | 26 | 7th |
| Minutes/Game | 14.7 | 16.4 | 6th |

Scouting Report
Defense and rebounding… Rebounding and defense.
That's essentially Andersson Garcia's game, and why he's on the court wearing Maroon & White.
There are plenty of scorers and playmakers on this roster, but where else can you replicate a bench player that doesn't have an ego, will do anything to help this team win and does it with complete buy-in, intensity and talent?
Those guys are harder to find than you think, especially in this transfer portal era.
Garcia isn't very long for a forward at this level. He isn't big and physical for this level. He doesn't fit the stereotype of what we once thought were the physical attributes of being a good rebounder, but he does have the speed, quickness and intensity to beat bigger opposing players to the ball, especially on the offensive end of the floor.
The proof is in the statistics.
Garcia was Texas A&M's most efficient rebounder in 2022-2023. To standardize rebounding efficiency, I calculated the minutes played per rebound for the top rebounders last season. Take a look…
Minutes Played Per Rebound
1. Andersson Garcia - 3.85
2. Henry Coleman III - 4.73
3. Julius Marble II - 4.93
4. Dexter Dennis - 5.01
5. Tyrece Radford - 5.17
Those statistics look even more dramatic on the offensive end, and that's where he really brings the most value to the team.
When you add speed and quickness to an element of intensity, the result is a lot of offensive rebounding opportunities. That's the secret sauce to the Buzz Williams style of play. He generally prefers quickness and intensity over big and slow under the basket. More times than not, quickness and intensity win out on loose ball opportunities in the paint. Garcia is the best at capitalizing on these opportunities.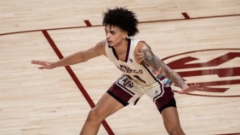 Jamie Maury, TexAgs
That quickness and athleticism also work well in guarding all five spots on the floor.
The Aggies routinely employ a switching defense, which means the big men are required to take on defensive assignments at times on the perimeter. Garcia has the foot speed to guard the perimeter, and he has a knack to draw the charge.
That said, the Aggies will need to adjust to the new charge rules that will be employed next season.
The definition of a charge has been more closely defined by the NCAA, and what was considered a charge in recent years may be a blocking foul going forward. We'll just have to see how the referees interpret this new rule. If this change is strictly enforced, that could cause some early-season heartburn for the Aggies and Garcia.
Surprisingly, the senior shot a head-turning 37.5 percent from beyond the 3-point line, making three of his eight attempts. He can make that shot, but I wouldn't expect him to do a lot of shooting from the perimeter. His value comes in the paint doing the dirty work, and he embraces his role. However, don't be surprised if you see the occasional perimeter shot with the shot clock running down to zero. He is capable.
2023-2024 Areas For Improvement
When it comes to Garcia, we have to define what improvement is given his sixth-man role.
It would be easy to say he needs to score more or shoot more from the perimeter, but that's not realistic or relevant in discussing his role on this team. He won't be asked to be a volume scorer. He isn't needed to be a go-to playmaker in critical game situations. The Aggies already have those weapons in place.
Garcia simply needs to keep doing what he's doing and fine-tune a few areas of his game.
As noted earlier, his rebounding efficiency is just fine. His free-throw shooting (full season 71.7 percent) is certainly in an acceptable range for a sixth-man rebounder. He's a good defender. He also reduced his turnover rate from his sophomore season at Mississippi State.
If we saw such a significant improvement in his efficiency numbers in a short period of time last season, extrapolating those improvements to next season after another eight months in College Station should give A&M basketball fans a warm and fuzzy feeling.
There's not much to improve, but I would like to see him look for more opportunities to score or get to the free-throw line after offensive rebounds. He usually prefers to kick out the ball to the perimeter after an offensive rebound. That's not a bad thing on the surface, and there's certainly a positive to get the ball to an open Wade Taylor IV or Tyrece Radford on the 3-point line.
However, Garcia can raise his game to another level if he works in the offseason to be a more confident scoring threat in the paint after a rebound.
With all things being equal, I'd rather take a put-back from two to three feet on an offensive rebound from a confident big man with a 55 percent field goal conversion rate and a chance to go to the free-throw line vs. restarting the offensive possession again with a kick-out pass.
Garcia has proven to be a pretty good free-throw shooter as well, so I'd like to see him attack the basket more after an offensive board and get to the line… assuming he can do it with confidence and conviction.
Importance For 2023-2024 Team Success
As we're getting to the back end of this roster, I know I'm starting to repeat myself on what is important to this team's success in 2023-2024.
It's all important, right?
Every player has to perform his role with efficiency, whether that's Taylor scoring 20 points a game or Coleman ripping down seven rebounds a game.
What makes Andersson Garcia so important to this team?
I think it's his ability and willingness to do exactly what Buzz Williams wants from his players.
Williams likes charges. Garcia is good at drawing charges.
Williams likes his players crashing the offensive glass. Nobody was better than Garcia last year at grabbing offensive rebounds, including the starters.
Williams loves big men who can play good defense anywhere on the court. Garcia does that as well.
He's a culture guy. He's a glue guy. He's a sixth man that can execute the coaching staff's game plan.
THAT is his importance to this team and to the potential success of this team in 2023-2024.
Never miss the latest news from TexAgs!
Join our free email list