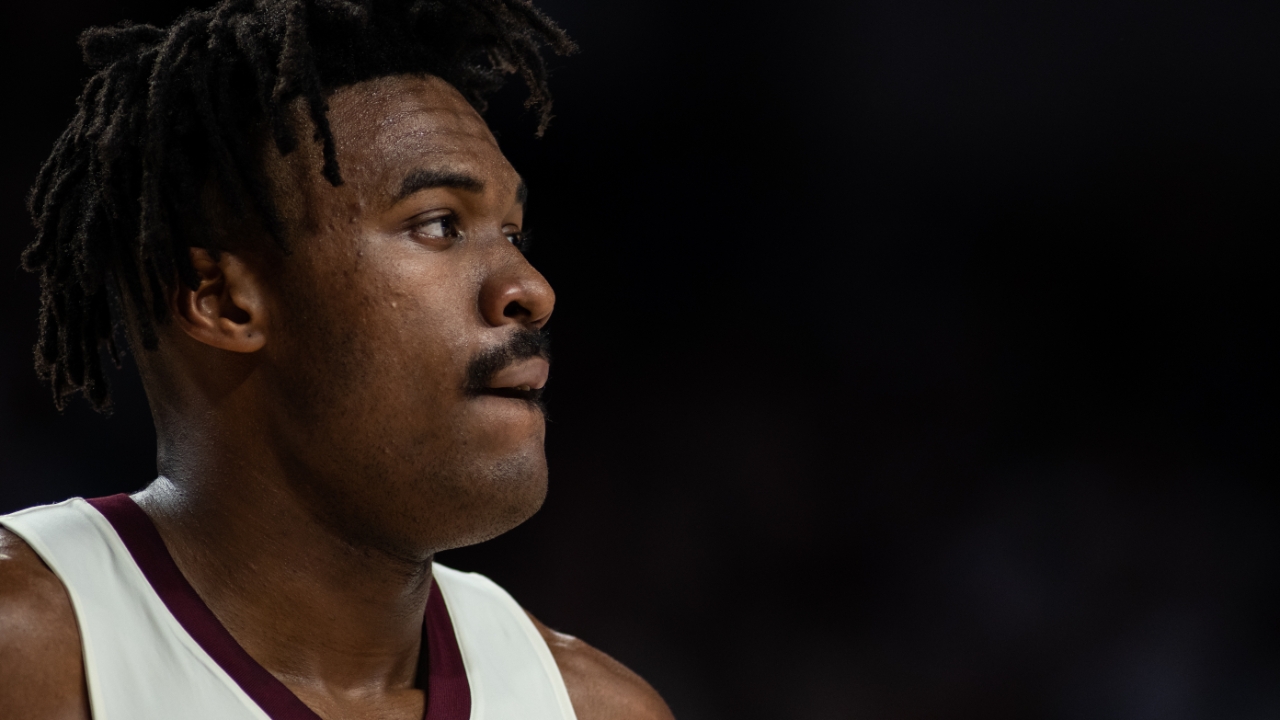 Photo by Jamie Maury, TexAgs
Texas A&M Basketball
Julius Marble II adds yet another experienced weapon in 2023-2024
---
The story of Julius Marble II and his journey from being an under-recruited DFW Metroplex post to playing at Michigan State and then going back to Texas is quite interesting.
With few local Power 5 conference offers in hand, Michigan State head coach Tom Izzo saw a lot of potential in the big man and took a flyer on Marble. He developed into a valuable sixth man off the bench, averaging 6.4 points a game as a junior and was set to be a starter as a senior.
Unfortunately, Marble's father passed away suddenly near the end of his junior season, and he wanted to be closer to his family for his senior season. A&M head coach Buzz Williams and the staff were coincidentally in Michigan when his name entered the transfer portal, and they met with him that same day.
The rest is history.
After starting for the Aggies in 2022-23 and helping lead the team to a second-place finish in the SEC and a trip to the NCAA Tournament, Marble will utilize his extra year of eligibility and return for a fifth season of college ball.
By my count, four of the Aggies' returning starters will include one sixth-year graduate transfer (Tyrece Radford), a fifth-year transfer (Marble), a fourth-year senior (Henry Coleman III) and a third-year junior (Wade Taylor IV). The fifth spot will likely be filled by a third-year junior (Manny Obaseki), a third-year junior transfer (Jace Carter) or a senior transfer (Eli Lawrence).
Oh, and late-breaking news…add a 6-foot-10 senior post to the roster as well (Wildens Leveque from UMass).
This team is loaded with experience and physical maturity.
Jamie Maury, TexAgs
Minus the three transfers and the true freshman Bryce Lindsay‍, the other nine players have been in Buzz Williams' system for at least one year. Based on last season's 17-4 record in SEC games, they appear comfortable and are thriving in this unique culture. You can see why many national pundits and basketball analysts are listing Texas A&M in many of their preseason top 25 rankings, landing anywhere from No. 10 to No. 20 in these early polls.
Let's dig deeper into Marble and what he brings to the court for the Aggies. He had an instant impact on last year's squad, starting 29 games and providing a solid, dependable physical presence in the paint.
By The Numbers
Let's compare Marble's performance from his first season in Aggieland (2022-2023) and his last year at Michigan State (2021-2022). I've also included his 2022-2023 team ranking in each of these statistical rankings.
| | | | |
| --- | --- | --- | --- |
| Category | 2021-2022 | 2022-2023 | Team Rank |
| Points/Game | 6.4 | 9.2 | T-3rd |
| Field Goal % | 59.2% | 53.2% | T-1st |
| Free Throws | 49 - 76.6% | 67 - 57.1% | 10th |
| Rebounds/Game | 3.3 | 4.2 | T-4th |
| Blocks | 19 | 14 | 3rd |
| Steals | 12 | 15 | T-6th |
| Turnovers | 41 | 36 | 4th |
| Minutes/Game | 14.4 | 20.9 | 5th |

Scouting Report
I could make it easy on myself and cut-and-paste much of my Coleman scouting report from last week, and it wouldn't be too far off.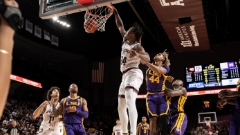 Jamie Maury, TexAgs
However, there are several elements of Marble's game and his stature that separates his skill set from his teammate in the paint.
First, Marble is slightly bigger and longer at a legitimate 6-foot-9, and he's a more formidable defender posting up against longer opponents. He's also more of a shot-blocking presence than Coleman, but overall, the Aggies could use more length and wingspan at the position going forward (and they just got that this week with Leveque's transfer).
That said, Marble's athleticism and ability to easily extend out on the high post and trap off a screen is one of his strengths and the strengths of all Aggie big men on this roster (including Coleman and Andersson Garcia). That's a basic prerequisite for any big that Williams recruits.
What Marble does that is unique on this team is score with his back to the basket in the low post.
He has developed a nice turn-around baby hook that is pretty consistent within eight feet. That's not a scoring component of the other returning big men. We'll see if Leveque can provide some low-post scoring when he arrives in College Station.
Marble can also step out and hit an open mid-range jumper from time to time as well, but he's not a perimeter shooter, nor does A&M need him to be. With all that said, the senior tied for third on the team in scoring, averaging a healthy 9.2 points per contest playing roughly 20 minutes a game.
He's clearly not a one-dimensional defender/rebounder type of big man. He has offensive skills.
He also tied with Coleman for the team-high in field goal percentage at 53.2 percent, which is pretty good for somebody that will shoot away from the basket occasionally.
Overall, Marble is just a good, physical post. He's not flashy and usually won't be the headliner in terms of scoring, but he is versatile that can score from different areas on the court, get physical under the basket and defend effectively both in the low post and high post.
hat versatility along with his durability and consistency combine for a valuable component to the starting college lineup.
2023-2024 Areas For Improvement
The intriguing aspect of Marble's return next season is the distinct areas where he can improve and take his game to another level.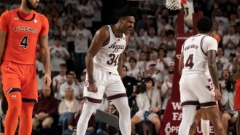 Jamie Maury, TexAgs
First, last season was year one under Williams, and we know how important it is for players to experience a season and an offseason with his unique coaching style and culture. It's a different way of thinking and a different way of doing things, and the fifth-year senior will run it back next season fully immersed in the cultural aspects of this program and seeing the fruits of that system with the second half success from 2022-2023. I expect Marble to improve overall with this comfort level in year two.
From a skill set standpoint, I'm going to sound like a broken record from past basketball spotlight articles, but again, I go to the importance of getting to the charity stripe and making free throws.
It's such an underrated portion of the game. The ability to get fouled attacking the basket and then making those free shots is a slow death for an opposing defense. It's like sticking a finger in the dike to stop the leak, but that causes another leak to spring elsewhere.
In the case of Texas A&M, the program already has two returning All-SEC guards that can get to the free-throw line and convert on 80 percent of those attempts.
Marble struggled at the free throw line last season, hitting only 57 percent of his attempts, which was last on the team among major contributors. However, when researching his last year at Michigan State, his percentage was actually pretty high at 76.6 percent.
If he can get his make percentage back up into that range, it could change the dynamic of his game and how he's defended. Opposing defenders won't be as aggressive in the low post to avoid fouling and putting him at the line. That should give Marble more freedom to utilize his post-up moves and push that field goal percentage even higher, back closer to his career high of 59.2 percent his junior year in East Lansing.
If that happens, look out.
Importance For 2023-2024 Team Success
I don't have any deep thoughts or words of wisdom when it comes to describing how important Julius Marble is to the success of Aggie basketball. It's pretty simple.
The Aggies already have the best back-court in the SEC returning with Taylor and Radford. Coleman, Solomon Washington and Andersson Garcia are all returning in the paint along with Marble, so it's not like next year's team has just enough talent to cobble together a rotation of 8-9 guys.
This will be a very deep, experienced team, but obviously, the more weapons you have on the court and the more versatility a unit possesses to score and defend, the more potent and consistent a team will be over the course of a five-month 35-40 game schedule.
If Marble can establish himself as a more consistent offensive presence through improved efficiencies in his field-goal and free-throw percentages that he showed in his Michigan State career, the sky really is the limit for this team.
As I said a couple of weeks ago in regard to Obaseki's potential rise, the same is true for Marble.
A good opposing coach can strategically take away one or possibly even two offensive weapons with an effective game plan and good on-ball defenders. It doesn't matter how many Xs and Os you draw on a clipboard, a coach can't effectively take away three or more difference-makers on the court.
The Aggies are at two with Taylor and Radford. Who's that number three?
It certainly could be Marble with a few tweaks and improvements to his free-throwing shooting and his low-post game. The potential is certainly there, and he was on the cusp of being that player at times last season.
If he (or someone else) can break through in 2023-2024 and give this team three go-to weapons, Aggie fans better get to Reed Arena to watch it. They could be something to see…indeed.
Never miss the latest news from TexAgs!
Join our free email list
SPONSORED BY