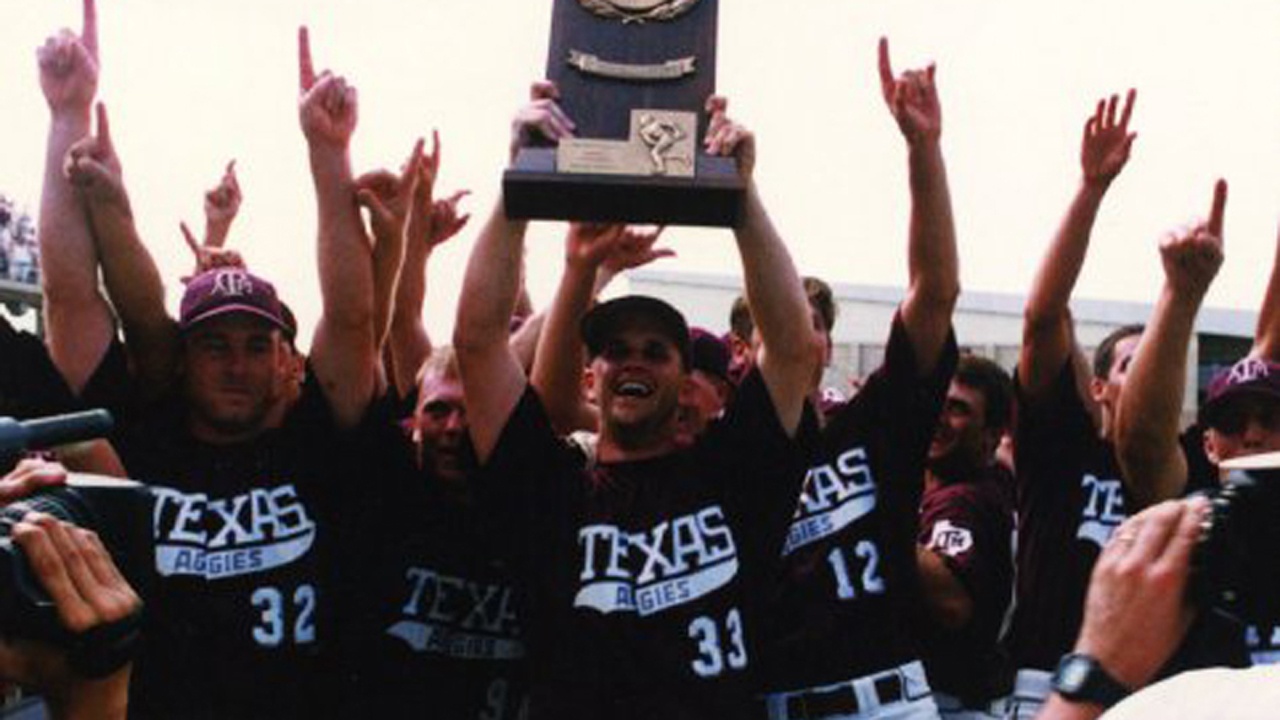 Photo by Texas A&M Media Relations
Texas A&M Baseball
John Scheschuk discusses how A&M can be successful moving forward
---
Former Texas Aggie first baseman John Scheschuk joined Tuesday's edition of TexAgs Radio to offer his thoughts on the 2023 squad's regular season. The Aggie baseball All-American also offered his thoughts on what A&M can do to make a run in the postseason.
---

Key notes from John Scheschuk interview
It's been a grind. With a bunch of guys returning, the outside perspective is, 'Let's compete for a national championship.' Pitching has been a challenge all year long. They did what they had to do at Mississippi State. Ole Miss was the last team in last year and won a national title.

It is a new season. You have to get into the NCAA Tournament. You can win the SEC Tournament. It's been tough. You had to fight, scratch and claw to get to 14 wins in this league. You start a new season now. You talk about the good things you have done. You put that together, and you make a charge and could get back to Omaha.

We had so much success in the regular season. We had some adversity in the Big 12 Tournament in 1999. We also lost a game in a regional. I think you hit the reset button you start over today. You point out the positive portions of the game together and move forward.

You will get offensive production out of your key guys. It's what they have done all year long. With pitching, you have to have your key guys out of the bullpen in order for you to make a run. If you can do that, you can beat Tennessee and get into the NCAA Tournament.

Jace LaViolette is amazing. Physically, I get the hype. He is a large human being. Gosh, it's been impressive to watch him. Congratulations to him and his family. What a season. He has 16 stolen bases. He is a complete player.

Evan Aschenbeck reminds me of Matt Ward. Anybody that was a fan of the 1990s teams knew of Ward. He would freeze guys up but wasn't throwing hard. Aschenbeck trusts his pitches. He has been an incredible part of the pitching staff, and I sure am glad to have him on this club.

I'm happy for Trevor Werner. I've been frustrated by him because I see what everyone sees. He's a big guy with big bat speed. He's a baseball junkie. It was frustrating to see him not live up to his potential. I'm happiest for Trevor as a fan. He has major league-level tools. He is a stud. His arm is second to none. If they want to make another run, he has to continue to perform at this level, and I think he will.

You have some pitchers that have performed well. They don't have to be Cy Young. They have to chew up some innings and command the strike zone. Breathe some life into the team. They will hit the ball and score runs. The starters have to chew up innings and give the bullpen guys opportunities to get outs in key situations.

It's frustrating for Brett Minnich because he is an absolute stud. A&M's offensive roster has pro-ball prospects up and down that lineup. He lengthens it. He has a ridiculous amount of pop in his bat. I hope it works out with him physically so he can do some damage.

Play free. Go out there and compete. Get fear of the future out of your head. The SEC in baseball is like NASCAR. Not all teams have the same level of talent. They have plenty of players similar to other teams. They have proved they that can compete at this level. Play free and loose. Let the talent take over. If they do that, they can win the SEC Tournament, then who knows what will happen. They are good enough.

Coach Jim Schlossnagle is such a competitive person. This program is in good hands. That will transfer to this team. Come playoff time, you have to compete more than the next guy. I want to see relentless competition. There are still high expectations, whoever wants it more, will win.

LSU has a high-end talent level. We need a couple of those kinds of players on this roster. Schlossnagle is the right guy at the helm. It's a reasonable expectation to believe Texas A&M will win a national championship under coach Jim Schlossnagle.
Never miss the latest news from TexAgs!
Join our free email list