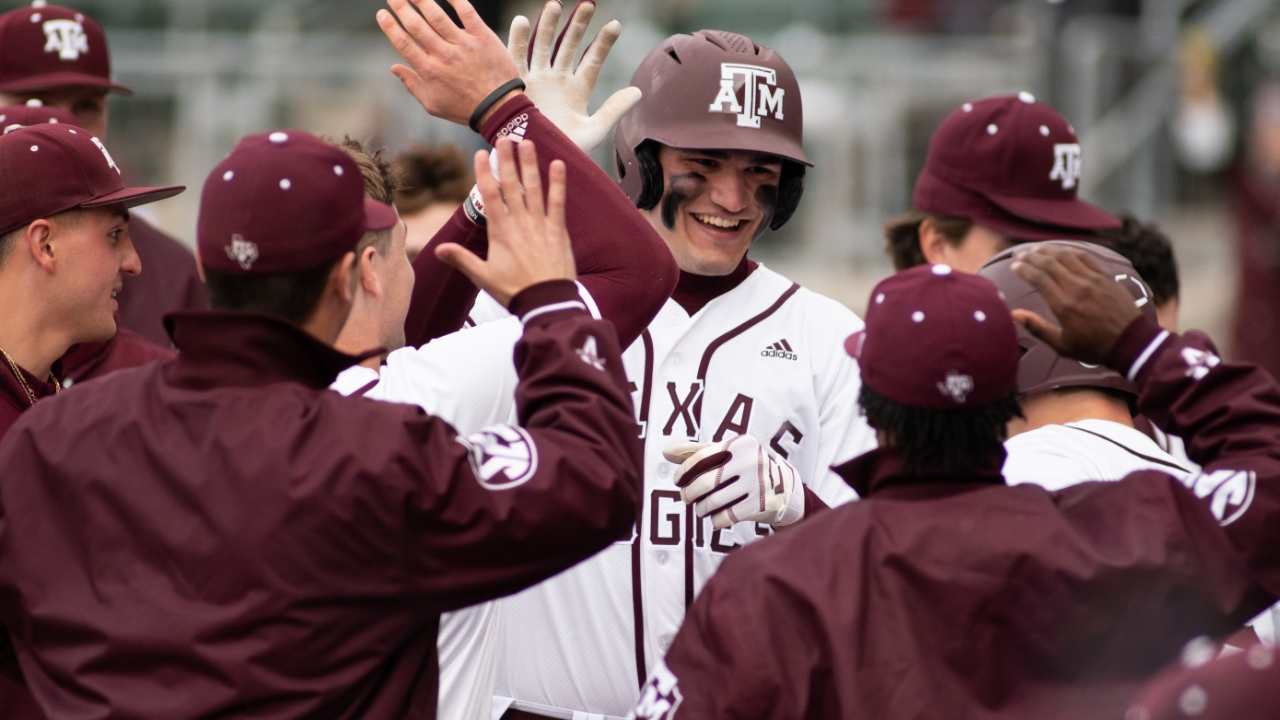 Photo by Jamie Maury, TexAgs
Texas A&M Baseball
A&M freshman Jace LaViolette earns SEC Player of the Week honors
---
Surpassing John Byington's mark for most home runs in a season by a Texas A&M freshman may have felt unbelievable for Jace LaViolette.
But for Aggie fans, it was certainly believable. Perhaps even expected.
That's why the news of LaViolette earning Southeastern Conference Player of the Week honors is hardly surprising after a historic showing during the Aggies' series win over Mississippi State.
LaViolette previously earned Freshman of the Week for batting 6-for-15 (.400) with 10 RBI and three bombs in Week 8.
After unraveling in the series opener and pushing their postseason hopes to the brink, the Aggies desperately needed a hero, and the Katy native delivered when called upon.
Belting three homers exactly one week after Trevor Werner accomplished the same feat, LaViolette accounted for all of A&M's runs in a critical 6-4 win over the Bulldogs.
His first homer provided the Aggies a 2-0 cushion in the first inning.
His second tied Byington's freshman record and regained a 3-2 lead.
Oh yeah, in case you're wondering, that one was an absolute blast, leaving his bat at 113 mph for 442 feet... well BEYOND the right-field bleachers at Dudy Noble Field.
His third — a three-run blast — solidified a must-win game and also made history as homer number 18 on the year.
"That was a feeling I'll never forget… That's unbelievable," LaViolette said postgame. "To be honest, I didn't know what the record was. I don't even know what to say, honestly. That's unbelievable..."
Still, his historic showing on Friday shouldn't completely overshadow his efforts in the opener and rubber match.
On Thursday he drew four walks, including a free ride to home plate with the bases loaded in the fourth inning. He then scored two runs and went 2-for-4 with two walks in Saturday's 15-10 series-clinching victory.
Overall, he hit 5-for-10 on the weekend and leads the team in homers (18) and RBI (57) amongst other offensive categories with the regular season now in the books.
That sort of offensive prowess is unbelievable as a freshman.
But with LaViolette, it's definitely believable. Even if he says otherwise.
Never miss the latest news from TexAgs!
Join our free email list