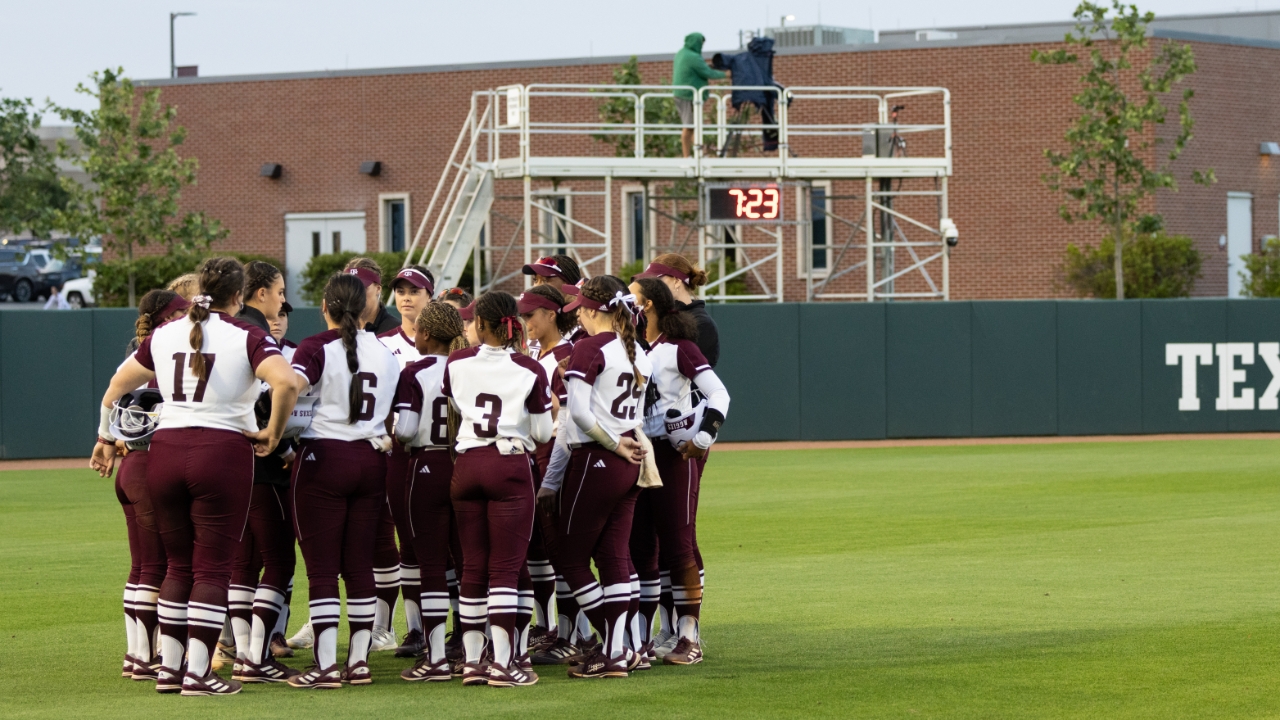 Photo by Chris Swann, TexAgs
Texas A&M Softball
Ags out-dueled by Gamecocks in extra-inning SEC Tournament affair
---
Texas A&M suffered its fourth loss of the season at the hands of South Carolina, dropping Wednesday's matchup in the Southeastern Conference Tournament in eight innings, 1-0.
After extra innings and a four-hour lighting delay, the Aggies fall to 1-9 all-time in the SEC Tournament, six of those being one run losses.
Although their conference run comes to a finish, A&M's pitching staff put on yet another impressive showing.
Starting pitcher Shaylee Ackerman and reliever Emiley Kennedy did not allow a hit until the fifth inning.
"When our pitchers throw the way they did tonight, our hitters just have to step up," A&M infielder Trinity Cannon said.
Ackerman, who has been a consistent weapon inside the circle all season, tallied zero runs, zero walks and zero errors. Tossing four innings, she hit two batters and struckout three.
"We gave ourselves a chance. What you saw that last inning we didn't bring earlier on in the game. That's really the difference between a win and a loss."
Similarly Kennedy, who has been described as A&M's star reliever, allowed only one walk, one hit and one run. She also plunked two batters and tallied five strikeouts through four innings of work.
In the top of the eighth, Kennedy put Emma Sellers and Jordan Fabian on base after hitting both batters. With two outs — both strikeouts — on the board, Kennedy gave up a single to Riley Blampied, which led to Sellers bringing in South Carolina's one and only run of the day.
"I thought she did a great job of complimenting Shaylee (Ackerman)," A&M head coach Trisha Ford said. "She pounded the zone and used her velocity but obviously got herself in some trouble with the hit batters, but she made those big pitches when she needed to."
Although the Aggies showed out in the circle today, they have gone 28 consecutive scoreless innings against the Gamecocks this season. South Carolina swept the regular season series back in April.
Koko Wooley and Amari Harper were the only two ladies in Maroon & White that produced at the plate today — each earning a single against Karsen Ochs.
Donnie Gobourne relieved Ochs in the circle immediately after Wooley's single in the bottom of the third.
Rylen Wiggins almost tied the game with a fly ball to left that was robbed at the fence by Marissa Gonzalez. Nevertheless, the Aggies were still able to build some momentum with Gobourne giving up two walks to Bre Warren and Grace Uribe.
But that momentum was ultimately short-lived as Wooley stepped up to the plate and flew out to left field, sending the Aggies packing back to College Station.
"We gave ourselves a chance," Ford said. "What you saw that last inning we didn't bring earlier on in the game. That's really the difference between a win and a loss."
The Aggies now await their seeding in the NCAA Tournament, which is set to be announced on May 14.
Never miss the latest news from TexAgs!
Join our free email list