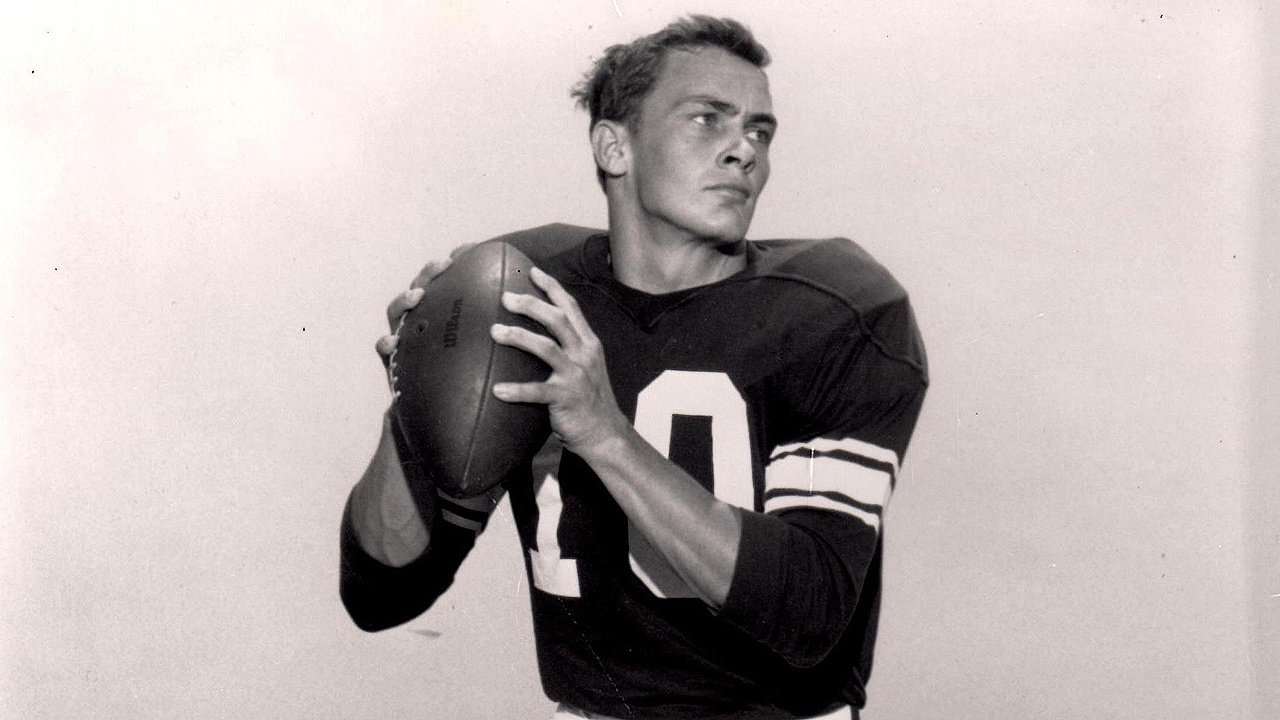 Photo by Texas A&M Media Relations
Texas A&M Football
Edd Hargett will be inducted in Cotton Bowl Hall of Fame on Thursday
---
In 1967, Edd Hargett quarterbacked Texas A&M to a SWC title, followed by a 20-16 victory over Bear Bryant's Crimson Tide in the 1968 Cotton Bowl Classic. A 2023 inductee into the Cotton Bowl Hall of Fame, Hargett joined TexAgs Radio to look back on his playing days.
---

Key notes from Edd Hargett interview
It's quite an honor, and I didn't know the Cotton Bowl had a Hall of Fame. I was working out one day with a gentleman that told me he was going to get me into it. It has worked out, and I will be inducted on Thursday.

When we started in 1967, we thought we had a chance to compete for the conference championship. In the first four games, we lost them all. We lost on either the last play of the game or the next-to-last play of the game against SMU. We lost to Purdue, who had the biggest guys I had seen in my life up to that point. The score was close against LSU, but really, we weren't in the ballgame. We played Florida State in a monsoon the week after that. We went to Texas Tech 0-4 but still knew that if we beat them that we could still win the Southwest Conference. Luckily, we won on the last play of the game, and that started a run that ended in us going to Dallas and the Cotton Bowl.

Texas Tech fans will appreciate this because they always talk about how there should have been a penalty for clipping against Larry Stegent. There was a penalty on that play. Tech was offside. We declined the penalty, took the touchdown and won the game. As we went up the line of scrimmage and had the play call, everyone was going out for a pass. We were on the 15-yard line. Right before the snap, I saw the guy jump. I happened to be looking at the referee and saw his flag come out. I knew I had a free play. Luckily, all of their players went to one side except for one. Stegent blocked him out, and I got into the endzone for the touchdown.

The biggest change in the game is the size and the speed. The teams that tackle and block the best are still the ones that win. It doesn't matter how big and how fast they are, if they don't do their jobs, then you're not going to win ballgames.

Beating Texas on Thanksgiving Day was the highlight of that season. I have often wondered what would have happened because Texas had two losses. Texas Tech had two losses, and we would have had two if Texas had beaten us. I don't know who would have gone to the Cotton Bowl. All of our games against Texas were on Thanksgiving.

When Gene Stallings came to Texas A&M, I was a senior in high school. He came to visit, and I had pretty much made up my mind that I was going to Arkansas even though I had a brother that had played here. I didn't want to come into the situation that A&M was in. Stallings came and visited, and I saw his enthusiasm. That's when I changed my mind about coming to A&M. He had a big sign behind his desk that said "Make Something Happen," and that was his motto. That year, we did make something happen. Even though it was a little tougher to recruit back then, we had a good team. It wasn't very deep, but we had a good team. The next year, everybody got hurt. It made a big difference.

The Cotton Bowl was cold all week. We had to go inside to work out in rodeo arenas or whatever. There wasn't much preparation because we didn't have to watch film. It was going to be the same thing we were doing, and we saw it every day in practice. There wasn't much game-planning for Alabama because we knew what they were going to do, and they knew what we were going to do. I think it was a fun time because there wasn't as much pressure like you'd have today in the playoffs. It was just going to be a fun game, especially with it being the first time Stallings was facing Bear Bryant. All of the things that went on before the Cotton Bowl, Bear Bryant won all of those, but luckily we won the game.

Everybody understood the relationship that Stallings and Bryant had. Our operation was to go into the dressing room after the game rather than standing around and visiting like you see today. I actually didn't see the event of Bryant picking up Stallings. I saw it in the newspaper the next day.

Our 1967 team is very close. We had our 50th reunion in 2017, and we probably had about 40 people here. It was a very good meeting. The funny thing about that meeting is when they introduced us on the field. Coach Stallings had either a heart attack or stroke, I can't remember which, the week before. Stegent called me the Thursday before and said he might not make it because he had been sick. We found out that somebody was going to bring Stallings down, so Stegent called and said he'd be there. We went out on the field to be introduced, and Stallings was driven out on the golf cart. Most people would've just stepped out of the cart, waved and gotten back in the cart. Not Stallings. He said, "Boy, you forget all of those bad things I said to you when you were playing. Don't let me fall." What goes around comes around. I'm still "Boy" to him. "Boy, don't let me fall." He was a young man when he was coaching me, and to have a job like that was a tremendous accomplishment.

I had the authority to do whatever I saw. They sent plays in, but I had the right to change them and audible to anything. They usually sent plays in. In fact, at one game, the coaches came down from the press box at halftime and were chewing me out for calling plays. I wasn't calling the plays they were sending in. I told them that I was calling the plays that were coming in from the sideline.

There are not many people that can see the plays from the sidelines. I can't see it anymore. I just see the ball like everybody else. In high school, I called all the plays. I think that helped. Today, kids are too regimented and don't have the ability to see things because they're not looking for things like we were then.

Last year's team was not 5-7 bad. Sometimes when you're ranked higher, you sometimes back off and do not prepare the way you should. I'm not saying that's what they did, though. They had us ranked No. 6 in the country. They were basing that more on a bunch of freshmen. As you look at the season, so many people got hurt. Ainias Smith was a big part of our offense, and him getting hurt really hurt us. Guys were okay to play, but they weren't 100 percent. That makes all the difference in the world. I am very optimistic. I think they have two very good quarterbacks. Hopefully, the offensive line can start the same group two or three games in a row. Last year, it felt like every game was a different lineup. If they can get right off some of those nagging injuries, I think we have a chance to be pretty good.

In today's world with the center, Bryce Foster has so many calls to make besides what the quarterback is calling behind him. The center is looking and making calls too. A guy can play center, but sometimes they can't make the correct calls and get them into the blocking scheme that they have. We would block big guy on big guy or a running back on a linebacker. Nowadays, they switch and do all sorts of stuff. Having Foster there to make those calls really helps.

We're going to Dallas on Wednesday, and they have a dinner for the inductees on Wednesday night. We'll get to be with the inductees. There is no speaking or anything tomorrow. The induction is on Thursday, and I'm really excited about that. My youngest grandson said he wanted to go, and I thought that was great. I said it was nice that he wanted to be with me, but he told me that he just wanted to get Eli Manning's autograph. He doesn't get to go now. My two sons will be there with me.
Never miss the latest news from TexAgs!
Join our free email list