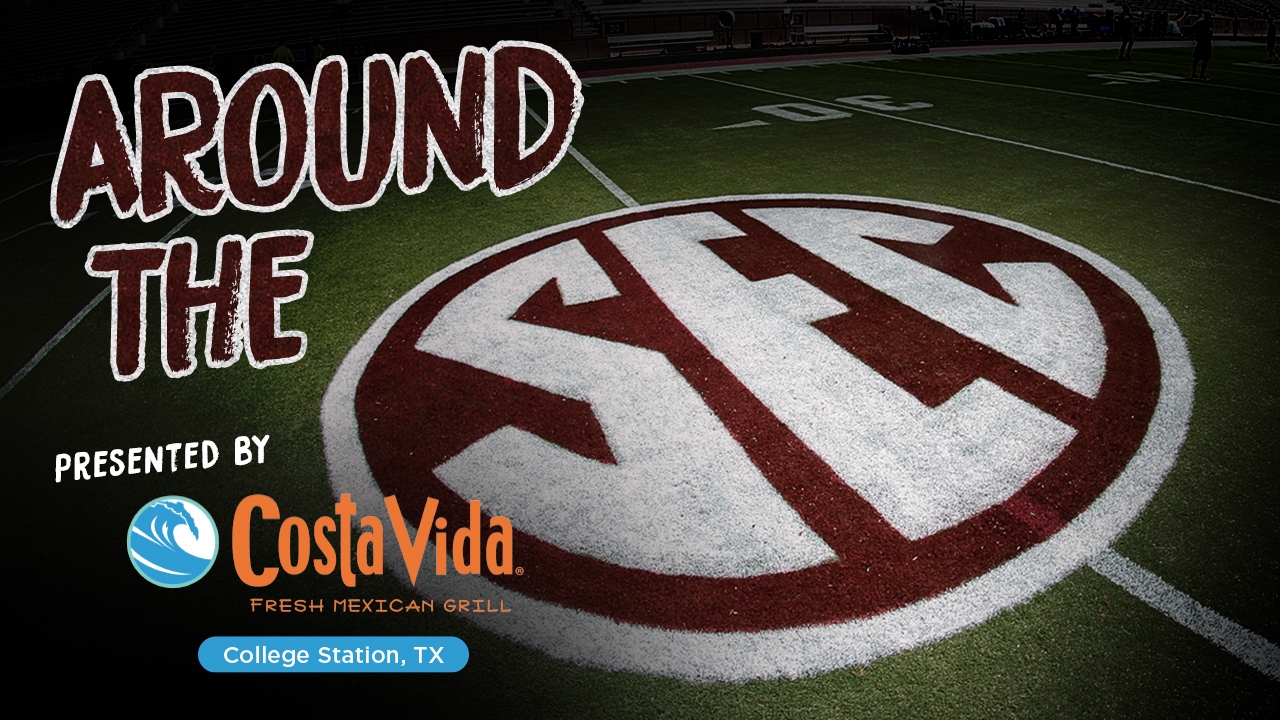 Texas A&M Football Recruiting
Around the SEC: Recruiting News & Trends
---
Plenty of moves are being made as coaches continue to hit the road and prospects make key decisions. It's once again time to take a look at the latest news, notes and headlines from the SEC area.
Big Gets
Louisiana standouts staying home at LSU
TE Trey'Dez Green‍, Jackson (LA) East Feliciana


S Dashawn McBryde‍, Denham Springs (LA)


Hogs stacking in-state talent
DE Charleston Collins‍, Little Rock (AR) Mills


WR Courtney Crutchfield‍, Pine Bluff (AR)


QB Grayson Wilson‍, Little Rock (AR) Central Arkansas Christian - 2025


4-star S Kelvin Hunter‍ stays in South Carolina


LB Cayden Jones‍ to Alabama


2025 OL Dontrell Glover‍ pledges to Tide

Headlines
Hogs on a roll – In addition to recent in-state additions, the Razorbacks also added Aledo (TX) cornerback and former Texas commit Jaden Allen‍. Birmingham (AL) cornerback Tevis Metcalf‍ also announced his commitment to the Razorbacks.
South Carolina heads north – Kelvin Hunter‍ was a big in-state pickup, but the Gamecocks also dipped into Maryland for a duo out of CH Flowers in Upper Marlboro. On April 19, standout corner Braydon Lee‍ and offensive lineman Mike Williams‍ both chose South Carolina.
Oklahoma strikes in SEC Country – The Sooners are not quite SEC, but they are making their presence known in SEC country. In the last few weeks, Brent Venables and staff have added prospects from Mississippi, Louisiana and Texas. WR KJ Daniels‍ out of Louisiana was the first followed by OL Isaiah Autry‍ out of Mississippi, and then there was S Jaydan Hardy‍ of Lewisville, TX to cap off the action.
Narrowing the focus – Fort Smith (AR) Southside OL Kobe Branham‍ announced a top five of Arkansas, Ole Miss, SMU, Oklahoma State and Texas A&M. He also released a decision date of June 23. In Texas, Silsbee (TX) ATH Drelon Miller‍ released a top nine of Tennesee, Florida, Duke, Penn State, LSU, Georgia, Texas A&M and Miami. Longview (TX) RB Taylor Tatum‍ named Georgia, Oklahoma, Texas A&M, Texas, Ohio State, USC and Michigan in his top seven, and Carthage (TX) CB Aeryn Hampton‍ announced a top two of Alabama and Texas. Then there is Hollywood (FL) Chaminade-Madonna S Zaquan Patterson‍, who released his final five of Florida State, Michigan, Ohio State, Miami and Auburn, while Fort Lauderdale (FL) St. Thomas Aquinas RB Jordan Lyle‍ named Alabama, Ohio State, Miami, Georgia and Florida State to his.
New Name to Know
S Decari Prater‍, Prescott (AR) – 2025
At 6-foot-2, 175 pounds Prater is a long, rangy athlete capable of playing a variety of positions in the secondary. The tape shows him manned up in coverage, dropping into zones and flying across the backend of the defense to make plays.
He describes himself as a ballhawk with the ability to quickly find the ball and make a play regardless of his position, so it comes as no surprise his role models include NFL standouts Sauce Gardner and Jalen Ramsey. It's also no surprise he recorded six interceptions and five pass break-ups on his way to 76 tackles as a sophomore in 2022.
In addition to standing out at Prescott, he also showcases his abilities on the 7-on-7 circuit with Arkansas Elite. Marshall has already extended an offer and interest has arrived from UNLV, Georgia Tech and Memphis.
In addition to football, he also competes on the track and he is a two-guard on the basketball court. He also has a family history of athleticism: His cousin Derruin Thompson is a DB at Henderson State, and his cousin Jaylen Hopson is a running back at Southern Arkansas. Both were recent standouts at Prescott.
What's up with the top
Top SEC-area ATHs (Alphabetical Order)
Terry Bussey‍, Timpson (TX)
Braylon Burnside‍, Starkville (MS)
Jamyri Cauley‍, Dallas (TX) South Oak Cliff - SMU
Jonathan Echols‍, IMG Academy - Tennessee
Daniel Hill‍, Meridian (MS)
Mike Matthews‍, Lilburn (GA) Parkview
Lawayne McCoy‍, Miami (FL) Central – Florida St
Derrick McFall‍, Tyler (TX) Tyler High
Kam Mikell‍, Statesboro (GA)
Drelon Miller‍, Silsbee (TX)
Top SEC ATH commits (Alphabetical Order)
Martavious Collins‍, Rome (GA) - Auburn
Jonathan Echols‍, IMG Academy – Tennessee
Marcus Goree Jr.‍, Cleveland (TN) Bradley Central – Tennessee
Sacovie White‍, Cartersville (GA) Cass - Georgia
Never miss the latest news from TexAgs!
Join our free email list
PRESENTED BY