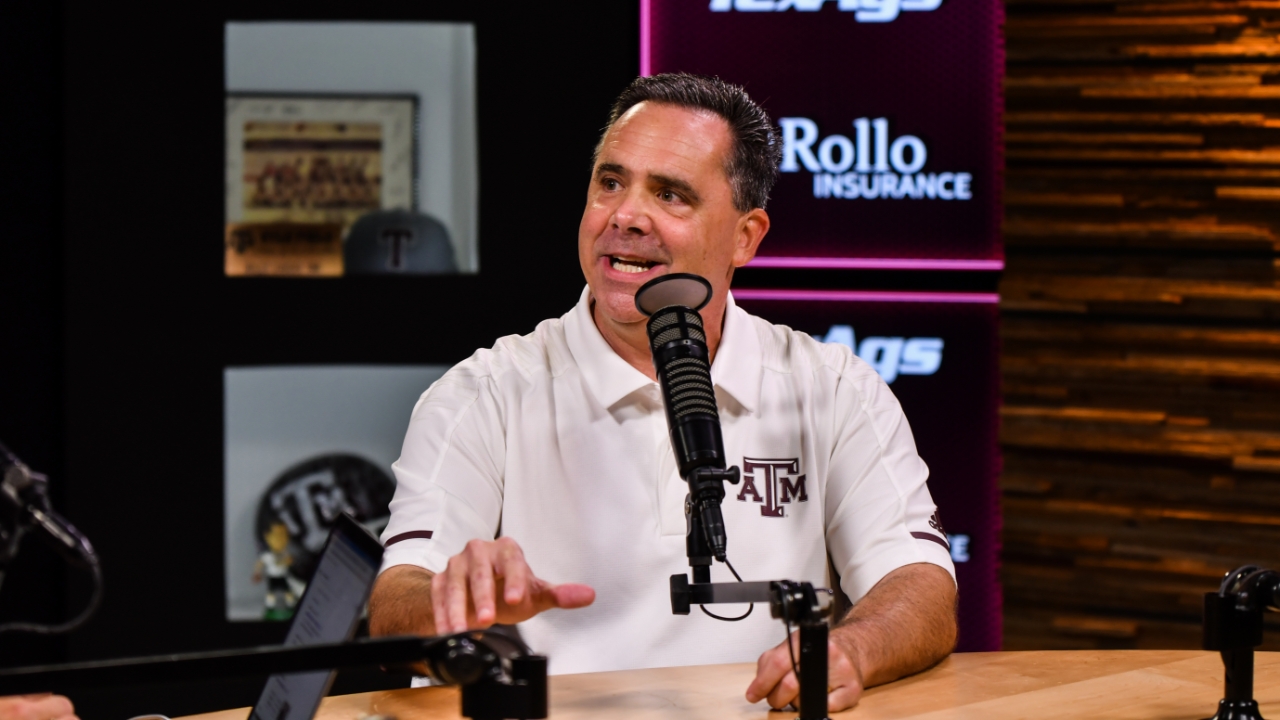 Texas A&M Football
Play-by-play man Andrew Monaco talks football, baseball, hoops & more
---
Spring football is rolling along, A&M baseball's SEC gauntlet continues, the Masters begins this week at Augusta National, and the NCAA Tournament just wrapped up. Of course, Texas A&M play-by-play voice Andrew Monaco is ready to talk about it all.
---

Key notes from Andrew Monaco interview
The game last night was a great night. There are so many different storylines, and I thought it was a great match-up. Hassan Diarra was an Aggie, but I was very happy for him. He is a terrific person to be there and win that championship. He was terrific. He was the big reason down the stretch through the SEC tourney and the NIT last year. How many big shots did he hit while he was here, but it wasn't just that. He would have fit right in if he had stayed. That is all his personal decision. But a chance for him to get closer to home was really good for him. He's an NYC kid.

I don't think you can discount — as you are going through college basketball, football and baseball — that experience matters. Where I'm excited is the experience that A&M has gotten. They are getting that experience, they are fixing the mistakes. Going from 15-3 and then also having a lot of disappointment, they know what both feel like. Where Buzz Williams has this program is in really great shape though.

Whoever they recruit, they have to have a specific work ethic. It is a large pool of talent, but if you want to play here, there are a lot of things you have to do. Here at A&M, Buzz brings in the people who fit and want to meet those requirements.

Buzz said, "I don't know if it's the right way," but as a head coach, it is his way. I appreciate his way and method. I think his athletes trust him, and they will do anything for him. He has 52 wins in the past two years. Not a lot of people can say that, and his athletes want more of that.

We just sat down with Sam Bennett. I love what NBC has done with his story. He's not necessarily an open book, but this story really allows you to understand who he is and why he is so successful. It's more than just the five words tattooed on his arm. If you read that story — even if you know nothing about A&M golf or the Masters — you read that story you will be rooting for him. His mentality is, "Keep doubting me, and I'll show you." He has confidence in himself. We know golf is never going to be perfected, but it's everything that Bennett has done. Basketball, baseball and golf. You know one bad shot can ruin a round, but it doesn't have to with him. He's just a tremendous golfer, and he is everywhere on campus as well. You see him at all the games, baseball and basketball. He is there, and he cares about his place here at A&M.

For baseball, their schedule to start the season had a lead in the majority of games. I think when that schedule came out, LSU was a little worried they had A&M right off the bat. Now that we have a couple of guys back, I think that is going to help a lot. What we saw on Sunday is what a strike-thrower can do. You take a look at Ole Miss, they have a different pitching lineup. I'm a big "baptism by fire" guy. You find out if you belong here or not through that. I don't if Evan Aschenbeck knew that, but now he does. You have to pitch, not just throw, and that is what Jim Schlossnagle is looking for.

It's the experience that these guys go through that matters. You have the experience of this team and know that Jack Moss is going to hit along with a couple of other guys. You get excited when they are on the mound because their experience has shown what they can do.

I haven't heard someone call a lineup physical before, but Schlossnagle attached physical to the lineup. You could see that in Ole Miss. It's almost like a throwback to Big John Byington's playing. I don't want them hunting just the fastballs. Are they being patient?

Spring football, it's not a matter of making a player uncomfortable. It's a matter of moving them around. Jimbo Fisher has done that throughout. Spring isn't the end all be all, but spring is important. You think about Kenyon Green. Can you do a couple of different things that make you more valuable? For Kenyon, it was inside and outside. The thing about the spring is to see the guys that are returning assume the leadership. At the Orange Bowl, I saw a team that was leading. When you have to answer to a teammate, it becomes way more important. Coach-fed, player-led.

Jimbo always says, "When I'm not yelling, that's a good day." They are getting it. No one was happy with 5-7, but Ainias Smith knows that was the aberration. He wants to be a part of what's next. Jimbo said that when the freshman class came in a year ago that they were driven, and we will see that in the fall. I think this is a great building block.

You can look at baseball in regards to spring football and see that Schlossnagle is asking which run is going to be the most important, which play is going to be the most important. Well, now it's every play. You want to look at all the contributors and say that multiple people helped this team win. During LSU's season, they were making those plays, and then when they met A&M, it was A&M that was making those plays. Bryce Anderson and Jacoby Mathews, with all the snaps they got, they don't want to be going 5-7 again.

Noah Thomas, Donovan Green and Mark Nabou, when Jimbo says they like everything about ball, that weight room is part of it. That's why you can't say these 18-year-olds are going to be the same throughout the whole year. You don't know if they are going to take to the weight room. When your mind knows what is happening, that makes you faster. When you process more things quickly, that makes you quicker on the field.
Never miss the latest news from TexAgs!
Join our free email list