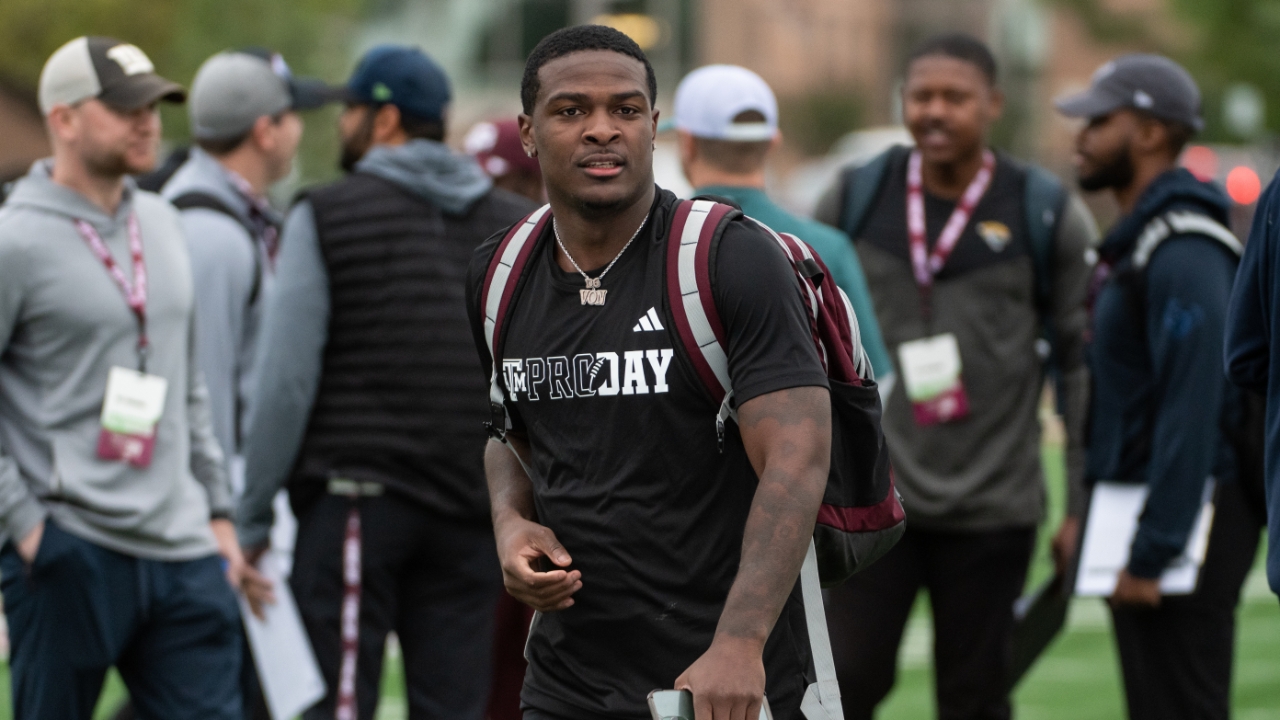 Jimbo Fisher
Antonio Johnson
Jaylon Jones
Devon Achane
Texas A&M Football
Devon Achane's versatility showcased, sought after on A&M's Pro Day
---
The NFL franchise located in a Missouri city should draft the Texas A&M star from Missouri City.
That's not a prediction that the Kansas City Chiefs will select A&M running back Devon Achane in the NFL Draft next month.
But if any team can appreciate — and utilize — Achane's considerable talent and remarkable 4.3 speed, it's the Chiefs. In a way, they already have.
Seven years ago, the Chiefs selected running back/receiver Tyreek Hill in the fifth round of the 2016 draft.
Of course, Hill, who is now with the Miami Dolphins, is similar to the 5-foot-9, 185-pound Achane in size and speed. He developed into one of the NFL's most dangerous big-play threats and helped the Chiefs win a Super Bowl.
The Chiefs, who have the last pick in the first round, may see the similarities between Hill and Achane and look to duplicate history. But they won't be able to wait until the fifth round to get Achane.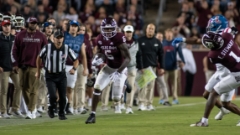 Jamie Maury, TexAgs
Representatives from all 32 NFL teams attended Texas A&M's Pro Day on Tuesday. The group included four defensive backs coaches — on hand to scout Jaylon Jones and Antonio Johnson — two special teams coaches and two running backs coaches.
Achane is an intriguing prospect. His workouts and his game tape are outstanding. He flashed his great speed with a 4.32-second 40-yard dash in the NFL Combine. Last season, he rushed for 1,102 yards behind a struggling offensive line and caught 36 passes. He also returned two kickoffs for touchdowns in his A&M career.
"He can be an elite returner, he can be an elite receiver, and (he has) the ability to run the football inside," A&M coach Jimbo Fisher said after Pro Day. "He's a good pass blocker. He's physical. He understands how to do that.
"The most under-talked-about thing about him is he's highly intelligent. He's a very easy guy to coach. He picks things up very easily. Football makes sense, and he's a very smart guy.
"He can do everything that the modern-day game does," Fisher added. "I expect him to be a great pro. I really do."
There is really no reason to doubt that opinion. The biggest question might be at what position.
Achane, who came to A&M from Fort Bend Marshall High School in Missouri City, earned All-SEC recognition at running back. In three seasons at A&M, he rushed for 2,376 yards on 369 carries (6.4 yards per attempt) and 21 touchdowns.
"Devon is going to be a three-down guy," Fisher said. "The way the NFL is now with the situations and the diversity, I think he will excel in that game.
"He can be an elite returner, he can be an elite receiver, and (he has) the ability to run the football inside. A good pass blocker. He's physical. He understands how to do that."
"Every year for us, he caught 30-something passes. He was a 30-something catch guy with 1,000 yards (rushing) yards every year. That's a lot of touches, but you can create that with him."
Achane performed typical running back drills on Pro Day. However, he also ran various routes to catch passes. On some plays, he lined up split on the line like a wide receiver. Achane acknowledged after the Combine some teams told him they wanted to see him work more at receiver.
Achane had several big catches for A&M. He caught a 52-yard touchdown against South Carolina in 2020. The next season, he had a key 33-yard catch on a wheel route against Alabama. He also made a leaping catch of a poorly thrown pass for a 27-yard completion against Missouri.
Last season, he caught 36 passes for 196 yards and three touchdowns.
Yet, Achane still compares himself to one of the star running backs in the NFL.
"I like looking at (49ers running back) Christian McCaffrey," Achane said. "I feel like his game is very unique. He's a very great route runner from the backfield. I feel like I can do that as well."
He can. That's why some team is going to get tremendous value by drafting Achane in the second or third round.
That is, unless the team in the Missouri city takes him in the first.
Never miss the latest news from TexAgs!
Join our free email list
PRESENTED BY