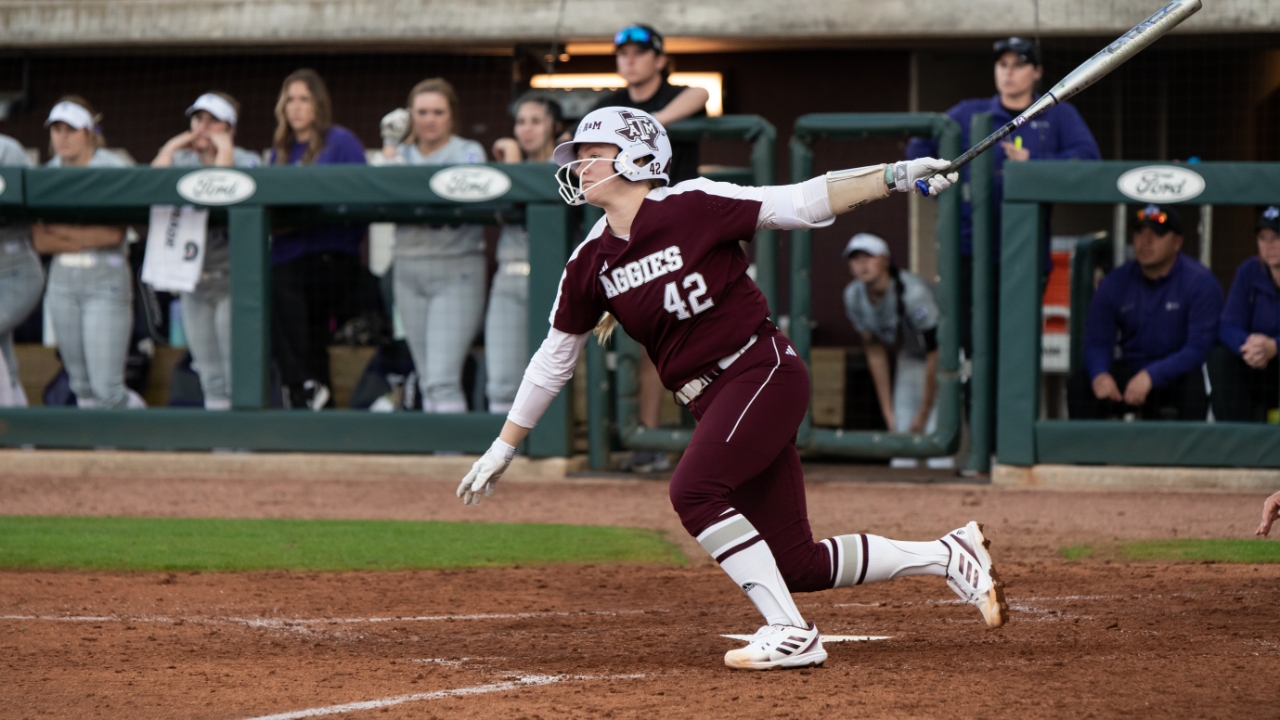 Trisha Ford
Warren & Cottrill
Texas A&M Softball
Pair of two-run homers powers No. 24 A&M past Louisiana Tech, 6-3
---
After being swept over the weekend, No. 24 Texas A&M took care of business on Wednesday evening with a 6-3 victory over Louisiana Tech at Davis Diamond.
The ladies in Maroon & White had an impressive outing offensively with the entirety of their starting lineup swinging above .200. Defensively, they only allowed four hits and tallied eight strikeouts.
Emiley Kennedy started in the circle for the Aggies and pitched three total innings, allowing the Lady Techsters three hits and three runs with one of those hits being a home run by KB Briley in the third inning. Kennedy subsequently gave up two bases-loaded walks as Louisiana Tech staked a 3-1 lead.
With Kennedy struggling to take control, Emily Leavitt took over in the fourth and held the Lady Techsters scoreless through the rest of the game. In the process, she tossed five strikeouts and earned her fifth win of the season.
Leavitt's relief performance wasn't the only impressive outing, though.
Junior outfielder Bre Warren had two incredible diving catches. The first coming in the third to escape a bases-loaded jam and another in the fifth to leave two runners stranded.
"I felt confident in my ability to get the ball," Warren said.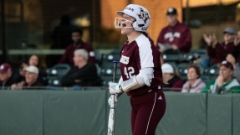 Jamie Maury, TexAgs
After Julia Cottrill broke the seal in the first with a sacrifice fly, it took the Aggies a few more innings to completely pull through. Gracyn Coleman found a spark in the fourth as she plated Star Ferguson via a sac fly.
In the fifth inning, the Aggies blew the game wide open with four runs, all coming from two-run homers from Cottrill and Rylen Wiggins.
"It was a sigh of relief," Cottrill said. "I feel like I've been making good contact with the ball the last couple of weeks. I just haven't been getting the hits we needed. Sometimes that's how softball goes."
After the pair of timely homers, the Aggies never looked back. Leavitt allowed only one more hit afterwards and retired five consecutive batters to close the game.
"I'm excited to get back on the right track," A&M head coach Trisha Ford said. "This obviously was a good win for us. Kentucky is going to be tough, but I love tough."
The Aggies will travel to Lexington to face the Wildcats in another Southeastern Conference series beginning on Friday. First pitch is set for 5:30 p.m. CT.
Never miss the latest news from TexAgs!
Join our free email list