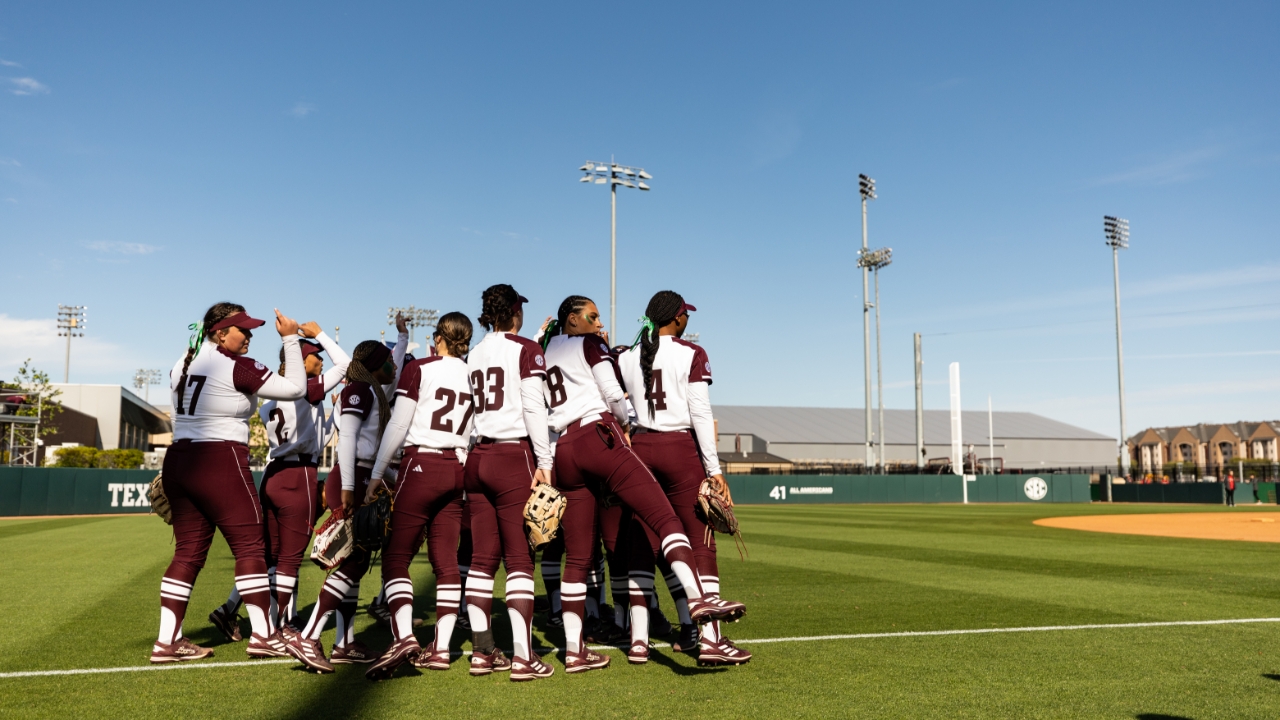 Photo by Chris Swann, TexAgs
Texas A&M Softball
No. 17 Bulldogs punch first as No. 21 Aggies fall in SEC home opener, 7-5
---
No. 21 Texas A&M returned back to Davis Diamond on Friday to take on the No. 17 Georgia
Bulldogs. Although it was St. Patrick's Day, the Aggies couldn't find the luck of the Irish to pull out the upset.

The Aggies came into the top-25 matchup after an impressive series win against then-No. 7 Arkansas last weekend, but were victims to a slow start in Fayetteville, dropping Friday's contest. Similarly, the Bulldogs got off on the right foot and scored four runs in the first off of standout lefty, Emiley Kennedy.

Kennedy dished two strikeouts, seven hits and four runs through the first two innings. She was then relieved by Shaylee Ackerman, who also handed out two strikeouts and one run through three.

"I didn't think that Emiley (Kennedy) threw bad, to be honest with you," A&M head coach Trisha Ford said. "I thought she was commanding the zone. I wanted her to command, and I thought she threw well in her second inning."

It did not take long for the Aggies to respond after the Bulldogs' hot start.

In the bottom of the second inning, Bre Warren stepped up to the plate and smashed a double to left field, bringing in Rylen Wiggins. After holding the Bulldogs to zero runs in the top of the third, the Maroon & White's hot bats continued and brought in three runs to make it a 4-4 ballgame.
"I was happy with our fight back. I thought we came out and fought back and got
back into the game."
The Aggies grabbed ahold of the lead in the bottom of the fourth, with Julia Cottrill reaching second base on an error to send Amari Harper home.
"I was happy with our fight back," Ford said. "I thought we came out and fought back and got back into the game."

However, it was all Georgia after the fourth. The Bulldogs' Sydney Chamberly immediately responded with a home run off of Ackerman that hushed the Aggies' dugout and fans at Davis Diamond.
Aggie pitcher Emily Leavitt relieved Ackerman in the circle but gave up an RBI double as Georgia regained the lead, 6-5. To seal off the Aggies' fate, the Bulldogs sent another ball over right-center field in the seventh and claimed the victory.

The Aggies are set to rematch Georgia for the second game of the three-game set, beginning at 5 p.m. CT on Saturday.
Never miss the latest news from TexAgs!
Join our free email list