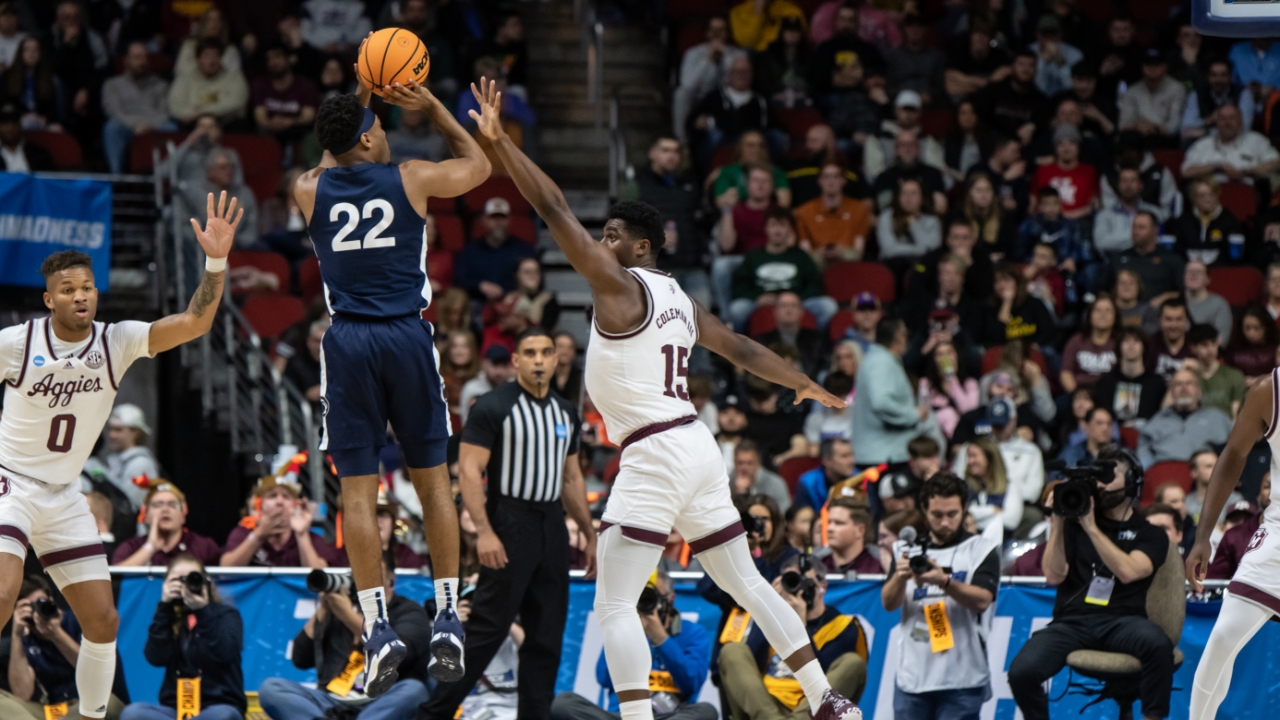 Texas A&M Basketball
Penn State hits 13 triples in First Round beatdown of Texas A&M, 76-59
---
Press conference video courtesy of the NCAA.
---
DES MOINES, Iowa — The maroon script etched across their white jerseys read Aggies.
But in a Thursday night debacle, No. 7 seed Texas A&M was hardly recognizable to the tough-minded basketball team that finished second in the treacherous Southeastern Conference.
Those Aggies followed a strict recipe for success. They played tough defense. They attacked the rim. They drew fouls. They hit free throws.
These Aggies seemed intent on getting into an ill-advised 3-point shootout with one of the best 3-point shooting teams in the nation.
The result was an embarrassing 76-59 beatdown at the hands of No. 10 seed Penn State in the First Round of the NCAA Tournament.
Even with their mascot written across their chests, it appeared the Aggies forgot who they were.
Penn State entered the game ranked 13th in the nation in 3-point shooting percentage and sixth in 3-pointers per game.
A&M was 251st nationally in 3-point percentage. Yet, the Aggies attempted 12 more 3-pointers than Penn State and made three less.
Don't argue A&M launched 34 shots from behind the arc in hopes of rallying from a massive second-half deficit.
The Aggie curiously attempted more treys (11) than Penn State's sharpshooters (9) in the first half. That was alarming. Even more alarming is that Penn State converted six and A&M converted just two.
"We made some adjustments at half. At times it was OK. They are a good defensive team in regards to not fouling, not allowing you to get to the paint. But our problem was defensively."
That was a major factor in A&M falling into a 38-22 halftime hole from which they could not climb out of.
The question would be why? Why did A&M get drawn into a shootout with an opponent packing significantly more firepower?
Did the Aggies get caught up in the flow of the game? Or did Penn State's defensive scheme prevent their usual attacking style of play?
"A little bit of both," A&M coach Buzz Williams said. "I think we were completely stressed out in what they were doing offensively, and we were not sharp. We were not sharp in our help on #22 (Penn State guard Jalen Pickett) nor our coverage on the weak side.
"We made some adjustments at half. At times it was OK. They are a good defensive team in regards to not fouling, not allowing you to get to the paint.
"But our problem was defensively."
No question, defense certainly was a big problem. Williams implores the Aggies to celebrate three consecutive defensive stops, which he calls "turkeys."
This game was like a vegan Thanksgiving. Turkeys were that hard to find.
Still, A&M's willingness to accept a 3-point shooting duel just did not make sense.
Especially when the Aggies had an apparent advantage in the paint on which they originally looked to capitalize on.
A&M made four of its first five shots. Forward Julius Marble II made three of them on layups and jump hooks.
However, it wasn't long before the Aggies ventured out to the perimeter. They rarely attacked the rim. Indeed, in the first half, they attempted just one layup and just one dunk but missed them both.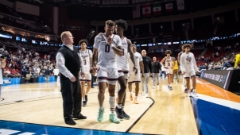 Jamie Maury, TexAgs
A&M hit just four field goals the rest of the half. By halftime, Penn State was in complete control with a 38-22 lead.
The Aggies could not get back in contention in the second half. Dexter Dennis, playing in his final college game, valiantly competed on. He scored 17 of his team-high 19 points in the second half.
Tyrece Radford and Wade Taylor IV combined for 24 points but also combined to hit just 7-of-20 shots.
Meanwhile, Penn State was raining 3-pointers. And A&M drowned in the deluge.
Pickett, the Nittany Lions' All-American guard, was as problematic as advertised. He was somewhat neutralized when Dennis guarded him. But when A&M switched its defense, Pickett was just too strong for Radford, Taylor, Andre Gordon or anyone else who tried to contain him.
Pickett, who scored 19 points, muscled them inside for short jumpers. When the defense converged to help, he passed to open teammates for six assists in the first half alone.
He finished with eight assists. Several went to guard Andrew Funk, who hit eight times from 3-point range and scored 27 points.
The lopsided loss was shocking for several reasons. Two weeks ago, the Aggies knocked off mighty Alabama. Last week, they beat Arkansas and Vanderbilt en route to reaching the SEC Tournament final.
That's no small accomplishment. The SEC was 5-1 on the first full day of March Madness.
Arkansas defeated Illinois by 10. Auburn defeated Iowa by eight. Illinois and Iowa are Penn State's Big Ten brethren and were seeded higher than the Nittany Lions.
Arkansas and Auburn were seeded lower than A&M.
Maybe A&M spent too much time earlier this week complaining about their No. 7 seed. Maybe the Aggies underestimated Penn State.
Or maybe they just forgot who they are.
Never miss the latest news from TexAgs!
Join our free email list