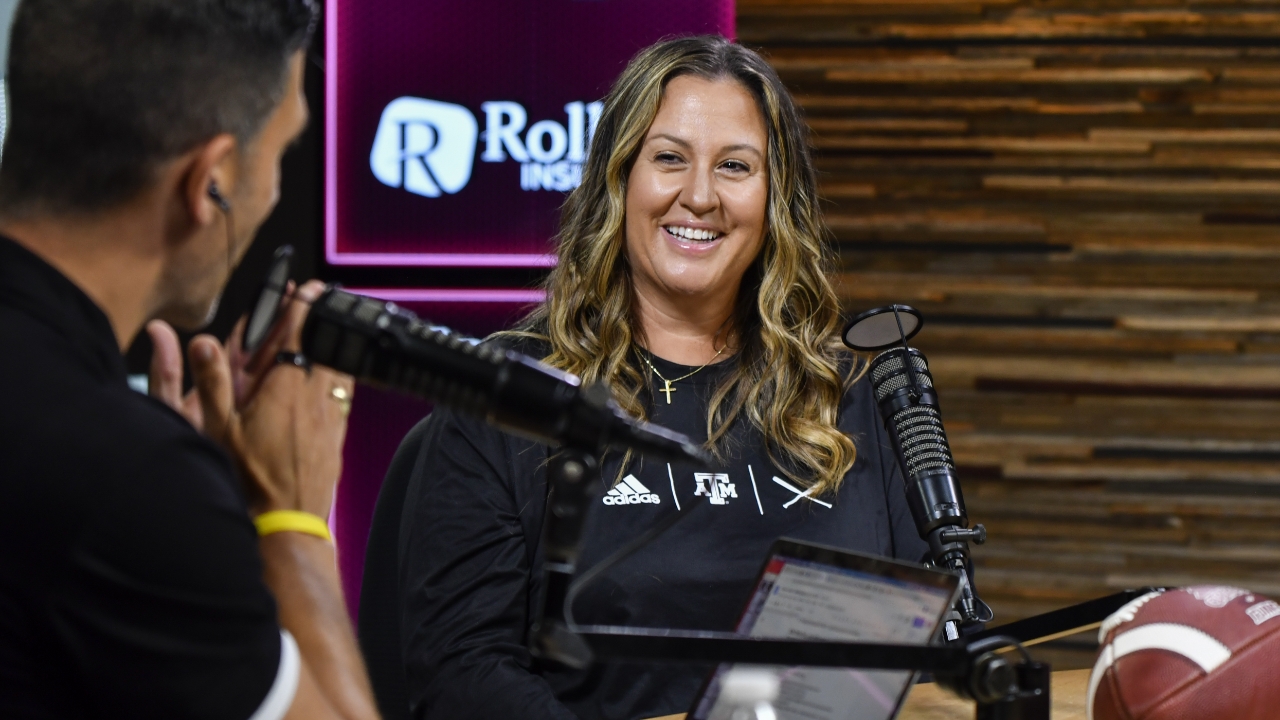 Photo by Jamie Maury, TexAgs
Texas A&M Softball
A&M softball already able to overcome adversity in Ford's first season
---
For the first time since 2018, Texas A&M softball won its opening conference series of the year when the Aggies took down then-No. 7 Arkansas in Fayetteville. On Tuesday, head coach Trisha Ford spoke to TexAgs about the weekend that was as well as what's ahead for her Ags.
---

Key notes from Trisha Ford interview
It was a good weekend, so I'm in a good place!

After day one at Arkansas, I'll be honest, you don't get some sleep because you feel like you have to change some things. I was proud of how we bounced back. Talking to our players, it was their first conference game, and they were pressing a little bit because they were so excited. We just got back to playing Aggie-branded softball.

This shows our fight. We're getting some grittiness, and this is who we are. Our pre-conference schedule helped us with that, and now our team doesn't think twice about flushing adversity. We have a lot of young players doing that. I'm excited about it.

I don't want another team to feel comfortable with us. I want to throw everything at them until they get the last out. We're going to fight. I want us to execute the way we can execute. We're also doing a good job with pitching, and it has helped keep us in a lot of games. It was great to see our offense explode on Sunday. Morgan Smith had a great weekend, and so did Trinity Cannon. It was good to get Julia Cottrill back in the lineup.

This weekend, Shaylee Ackerman had a great outing. Emily Leavitt came in during a high-leverage situation on Sunday. Madison Preston is getting some innings now, which allows our other arms to only face the lineup twice. It gives us a lot more strategy.

This place is special. I feel like there are a lot of good people that bring you in right away. Part of what brought me to Texas A&M is the home feel. Jim Schlossnagle texted me this weekend to congratulate me. This is what Aggieland is about, and I love it. I'm not planning on moving again, so you guys are stuck with me.

Our brand starts in practice and what we put emphasis on. In practice, you're not supposed to dive on a ball down the line, but what if the game is on the line? In our practice, we'll dive. It can save you a ballgame. You have to make mistakes if you're making mistakes aggressively. The one thing that will kill me is playing the game passively. You can't live scared. Don't be scared.

I don't envision the future. We had a great weekend. I was pleased with our bounce back. We got home Sunday, and I was on to watching Georgia film.

This weekend, I came into the team room for something on Saturday night. There were 10 girls in there hanging out. That's the good stuff.

I'm just not familiar with SEC hitters yet. I'm watching double the amount of video that I normally do. I want to know our opponent's lineups by heart, who the pinch hitters are and how they're going to attack. That's why I started watching film on Sunday night. My first time around, I just watch. I'll make some notes. My second time, I'll watch slow-motion and look at count sequencing, lefty-righty splits and all that extra stuff. We have all this information, but I have to find what works for me and how we can apply it.

We have to keep reminding them that we're not that good. Let's get out there and play our game. We all remember that Friday night feeling. What changes is that we put our heads down and went to work.
Never miss the latest news from TexAgs!
Join our free email list