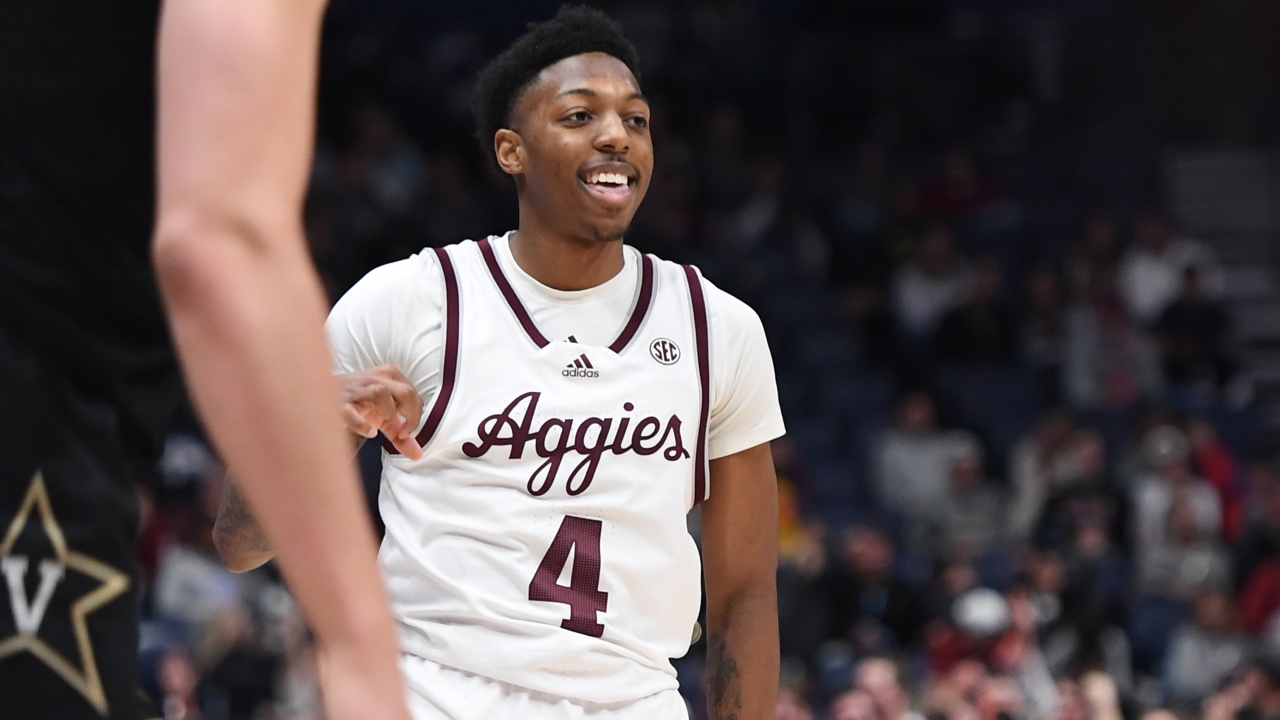 Texas A&M Basketball
IV on the floor: Texas A&M downs Vanderbilt in SEC semifinal, 87-75
---
NASHVILLE — A 27-point Texas A&M lead dwindled to 12.
Tension was building. Pressure was mounting. Decibel levels in Bridgestone Arena were spiking.
Needing to get their offense in gear, the Aggies didn't flinch.
They had IV on the floor.
Wade Taylor IV — aka "Four" — scored 13 points in four minutes to turn back a Vanderbilt rally and propel Texas A&M to an 87-75 victory in the semifinals of the Southeastern Conference basketball tournament on Saturday afternoon.
The No. 2 seed Aggies (25-8) face No. 1 seed Alabama on Sunday at noon for the tournament championship. A&M defeated Alabama 67-61 last week at Reed Arena.
They might not have gotten another shot at the Crimson Tide had Taylor not quelled a comeback bid by the stubborn Commodores.
Vanderbilt pulled within 58-46 with 13:09 remaining and twice missed 3-pointers that could've trimmed the deficit to a single digit.
"I think (Taylor) understands time, score, momentum arguably as much as any fourth-semester college player in the country. Not just because he's the point guard. I think he has an elite feel."
At that point, A&M coach Buzz Williams considered calling time out but opted to consult with Taylor and Tyrece Radford during a break.
"I can't remember exactly what happened. Maybe it was an official review," Williams said. "I asked him and Boots, 'Do you want me to call timeout, or are you going to stop the shenanigans?'"
That's when Taylor — who scored a game-high 25 points — took over.
He banked in a running layup high off the backboard with 11:56 to play. He drilled a 3-pointer from the top of the key. He hit a pair of free throws. He hit another runner. He scooped in a layup. He hit two more free throws.
"I would just say I was trying to control the game a little bit," Taylor said. "That was scoring, trying to get stops, assists."
Boosted by Taylor's outburst, the Aggies outscored Vanderbilt (20-14) 18-7 in that four-minute span to take a 76-53 lead with 7:54 to play.
"I think (Taylor) understands time, score, momentum arguably as much as any fourth-semester college player in the country," Williams said. "Not just because he's the point guard. I think he has an elite feel.
"Yes, I understand he can score. Yes, I understand he's fun to watch. What makes him so special is he is comfortable on that invisible line of, 'Should I shoot? Should I create for someone else? Should we go faster? Should we go slower?'"
Vanderbilt made a late rally, but the Aggies were never seriously threatened. The Commodores got no closer than 11 points in the final two-and-a-half minutes.
In the early going, it appeared A&M might not be threatened at all.
Junior forward Julius Marble II, who scored 10 of his 13 points in the first half, set the tone with a couple of jump hooks as the Aggies roared out to a 19-5 lead.
The Aggies shot 69 percent from the field and hit seven times from 3-point range en route to building a 49-25 halftime lead.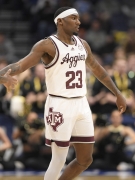 Steve Roberts-USA TODAY Sports
Taylor had a trio of 3-pointers in the first half. Radford, who finished with 16 points, hit two.
Marble took a little credit for those treys.
"I think I opened it up for everybody, honestly, because I got the first couple of baskets," Marble said with a smile. "They started hitting 3's. I think I kind of opened up a little bit, started feeling it."
Although A&M extended its lead to 52-25 on a runner by Taylor, Vanderbilt started feeling it early in the second half.
Guard Jordan Wright scored 11 and forward Colin Smith had six in a charge that trimmed A&M's 27-point lead to 12.
The Commodores had overcome a huge deficit. But they just couldn't overcome IV.
A&M advances to the SEC Tournament final for the second consecutive year and a third time since joining the SEC in 2012. The Aggies are looking for their first tournament victory.
"(It's) Just another chance to make history," Taylor said. "Alabama is No. 1 in the conference championship. We're going to go another night, film session, recovery, go tomorrow and win another game."
A victory would not only give A&M the SEC Tournament title but could boost seeding in the NCAA Tournament next week.
Most projections have the Aggies as a No. 6 or No. 5 seed.
With a win, they could possibly even be a No. 4. That's largely because of IV.
Never miss the latest news from TexAgs!
Join our free email list