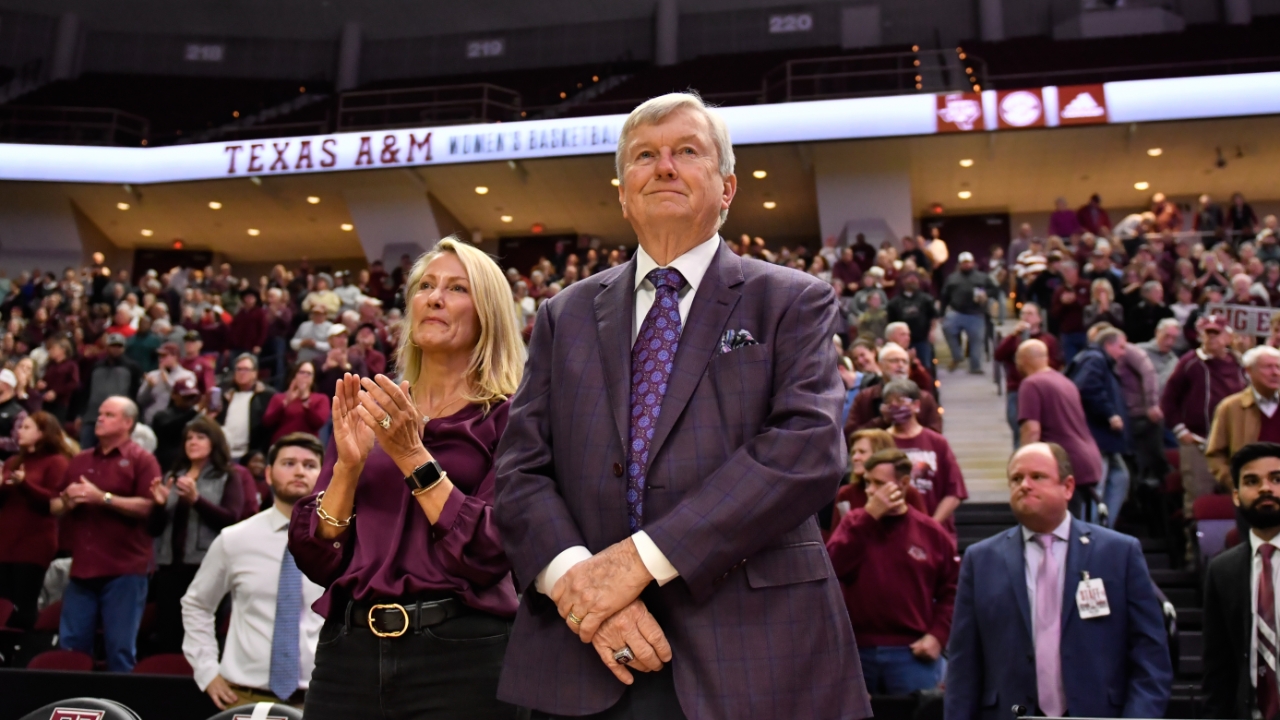 Photo by Jamie Maury, TexAgs
Texas A&M Women's Basketball
Texas A&M legend Gary Blair named to Naismith Memorial Hall of Fame
---
The world's most distinguished basketball institution finally recognized what Aggies knew for many years — Gary Blair is a Hall of Famer.
The pioneering women's basketball titan and Texas A&M coaching legend was named to the Naismith Memorial Hall of Fame at Final Four Weekend in Houston.
Other members of the 2023 Class include NBA icons Dirk Nowitzki, Dwayne Wade, Tony Parker and the league's all-time winningest coach Greg Popovich.
The enshrinement ceremony will occur in Springfield, Mass. from Aug. 11-12.
"This is an incredible honor that I never thought was possible," Blair said via press release. "I am thankful to the Naismith for this recognition, and I am blessed to represent the five schools that I was able to coach for. When I am enshrined in August, I will be enshrined with all of the players, coaches, support staff, administrators and fans that helped me get there. This is our moment, and I am excited to celebrate everything we accomplished."
What Aggies knew to be true about Blair was affirmed several times throughout the years as he was previously admitted to nine different halls of fame, including the Women's Basketball Hall of Fame in Knoxville, Tenn.
Now, he'll be etched into basketball's undisputed pantheon of all-time greats.
This is the second year Blair has been nominated for enshrinement, and there is plenty of evidence to suggest he should have been a first-ballot selection.
The 77-year-old ended his 19-season tenure with the Aggies last season as the school's winningest basketball coach with 444 victories. He also ranks 12th all-time in Division I wins with 852.
This is the second year Blair has been nominated for enshrinement, and there is plenty of evidence to suggest he should have been a first-ballot selection.
Blair's resume is highlighted by a 2011 National Championship, 16 consecutive NCAA tournaments, eight Sweet 16 appearances and 16 WNBA draft selections.
His coaching tree spans nearly 60 former players, assistants and support staff — which notably includes Kim Mulkey and Vic Shaefer.
However, for all he accomplished on the hardwood, he initially seemed destined for a career on the diamond.
Blair was an all-city honors center fielder for Bryan Adams High School in 1963. Despite flunking out of Texas Tech following high school, he returned to play baseball for the Red Raiders after serving two years with the Marine Corps and briefly running a restaurant in Los Angeles.
Coaching baseball was in his sights upon graduation, but the opportunities proved scarce. He settled on becoming the physical education coach at South Oak Cliff High School in 1973. Though Blair also hoped to coach baseball there, he was asked instead to lead their first women's basketball team.
Blair spent seven years with SOC and won three 4A championships. He even coached the sisters of fellow Naismith Hall of Fame member Dennis Rodman and occasionally played ping pong with "The Worm."
The offer he previously wished for as a baseball coach arrived after his first championship with SOC.
Yet, his priorities had changed by then.
Blair's decision to stay within women's hoops paid off immediately as he entered the collegiate ranks as an assistant at Louisiana Tech in 1980.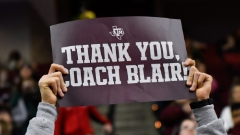 Jamie Maury, TexAgs
In Ruston, he was a part of four Final Four appearances and contributed to two national championships — including the first-ever NCAA women's title in 1982.
It wasn't until three years later in 1985 that he earned his first head coaching stint at Stephen F. Austin. In eight years in Nacogdoches, he led the Ladyjacks to six NCAA Tournaments and seven consecutive conference titles.
Coincidentally, his first game as a head coach ended in an 83-59 loss to the Aggies.
In 1993, Blair joined the Southeastern Conference when he took the helm of Arkansas. The Razorbacks became a regular fixture in the NCAA postseason under Blair and even played in their first and only Final Four.
Blair is only one of three coaches to have taken two different programs to the Final Four.
A change was on the horizon after spending 10 years in Fayetteville. That's why in 2003 he decided to come home and inherit an Aggie program that hadn't enjoyed a winning season in eight years.
It proved to be the challenge of a lifetime.
"I'm very passionate about my job, and I'm very passionate about the job that is in front of us," Blair said at his introductory press conference. "Sometimes in life, you have to be ready for change. I plan on being here, and this will be my last stop.
"It's basically a sleeping giant. It was underachieving. It has all the resources. It has the stadium and the recruiting base. All it needed was for someone to come in and restart the engines.''
Blair didn't just restart the engine. He rebuilt it completely and used it to drive the Aggies to the top.
His legacy was made by transforming a once despondent Big 12 program into an SEC powerhouse and consistent contender on the national scene.
"A&M is a destination school as most of you know. This is my destination, I will always be in the stands following every one of you."
His legacy began going door-to-door in his first season giving away tickets that helped spark a 156-percent increase in home attendance within three years.
His legacy was solidified with a 76-70 win over Notre Dame in the 2011 National Championship.
His legacy lives on as the namesake of the court inside Reed Arena — an honor only five other Division I women's basketball coaches have achieved.
"This is an incredible honor," Blair said ahead of his naming ceremony last February. "Having my name on that beautiful floor is a humbling experience. It will be a symbol of all those that helped build this program and all the Aggies that battle on that court, not just in women's basketball but in men's basketball and volleyball as well.
"My former players, assistants and staff members deserve all the credit. We dedicated our lives to this program and A&M and built it on doing things the right way, the Aggie way."
Blair may be retired now, but you can still count on him being at Reed.
He attended every home game this past season and would walk around the floor before tip-off, these days without his famous bucket of candy, and greet faces both familiar and new. Quietly sitting a couple of rows behind "Gary Blair Court," he watched his successor Joni Taylor lay a new foundation for Aggie women's basketball.
"A&M is a destination school as most of you know," Blair said during his retirement press conference in October 2021. "This is my destination. I will always be in the stands following every one of you."
Texas A&M and Gary Blair were destined to be together.
While he's traded the sidelines for the stands, his legacy is destined to transcend generations in the Naismith Memorial Hall of Fame.
Never miss the latest news from TexAgs!
Join our free email list