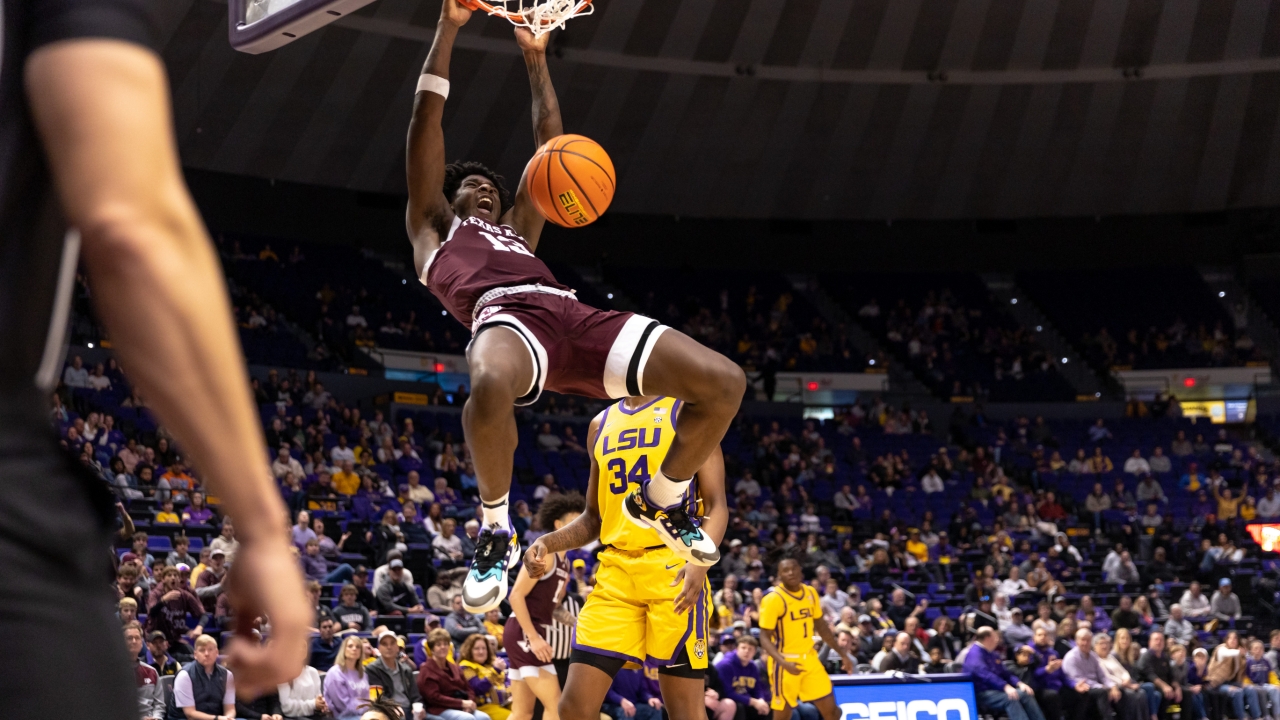 Photo by Stephen Lew-USA TODAY Sports
Texas A&M Basketball
Tiger Kings: A&M halts second-half surge to complete series sweep of LSU
---
Although a fantastic first half gave way to a frantic second half, Texas A&M, as is now typically the case, made key plays when it mattered most.
Those clutch plays enabled the Aggies (18-7, 10-2) to stave off an LSU rally and capture a 74-62 Southeastern Conference basketball victory on Saturday night in Baton Rouge.
The Aggies led by 29 points in the first half, but the margin shrunk to 61-53 with just over four minutes remaining.
However, Baton Rouge native Tyrece Radford converted a clutch three-point play with 3:36 left. The Aggies then made eight more free throws, and Andre Gordon scored on a dunk as A&M swept the season series with LSU (12-13, 1-11) for the first time since the 2016-17 season.
A&M previously defeated LSU 69-56 at Reed Arena on Jan. 7.
"We were thankful for the win at the front part of January. Then, to be able to finish it with a sweep, that's really good for our guys. There's a lot of good things that are happening."
"We were thankful for the win at the front part of January," Texas A&M coach Buzz Williams said postgame. "Then, to be able to finish it with a sweep, that's really good for our guys. There's a lot of good things that are happening."
A lot of good things happened for A&M on Saturday.
Wade Taylor IV hit five treys and was perfect in six trips to the foul line en route to a game-high 23 points.
He also had four assists. Dexter Dennis, from Baker, La., scored 13, and Radford had 12 and six rebounds.
Henry Coleman III added eight points, while Andersson Garcia and Solomon Washington each scored six off the bench. Garcia also had eight rebounds.
Overall, A&M shot 47.6 percent (20-of-42) from the field, 50 percent (8-of-16) from 3-point range and 81.3 percent (26-of-32) from the foul line.
The Aggies were hot from the outset. They shot 52.2 percent, hit 6-of-9 from 3-point range, and only committed one turnover in the first half en route to taking a 41-17 halftime lead.
Perhaps even more impressive was the suffocating Aggies defense, which limited LSU to a mere 26.1 percent shooting in the half.
LSU did not score its second field goal until 8:14 was showing in the half. By then, A&M had a 26-7 lead.
The Aggies built the margin to 41-12, but LSU scored the last five points of the half. The Tigers' final points came via an Adam Miller 3-pointer with just three seconds remaining in the half.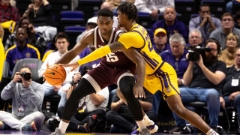 Stephen Lew-USA TODAY Sports
"I think their sixth basket was at the buzzer," Williams said. "There was a long time they were at one basket. They were at two baskets. I think at the fourth media timeout, they were at four baskets.
"We were locked into what we were doing. We knew what we were doing. Even as they began to make adjustments to their plan, our guys were sensing, 'Hey, that's not it, we need to do this.'"
But LSU found its offense in the second half. The Tigers shot 53 percent and hit seven times from 3-point range in the second.
Miller, who scored 15 of his team-high 18 points in the second, drilled a 3-pointer to pull LSU within 61-53 with 4:08 to play.
Unfazed, Radford just beat the shot clock with a layup and drew a foul on Miller. Radford converted the three-point that broke the Tigers' spirit.
"Time goes slower when the ball is in his hands," Williams said. "I think he just has a glide speed where you're going to have a hard time speeding him up. He can get where he wants.
"He's not trying to get where he wants for himself. He's trying to get where he wants to make a play for Texas A&M. Even on that and-one, there was two seconds (on the shot clock) counting down to one when he shot it. He had probed baseline and probed middle — and they did a good job defensively — but he had probed trying to make the right play."
Not only did Radford make the right play, he made the decisive play.
But Taylor converted four consecutive free throws, Dennis made two, Radford hit two more and Gordon slammed a breakaway dunk just to make sure LSU would have no miraculous finish.
Never miss the latest news from TexAgs!
Join our free email list