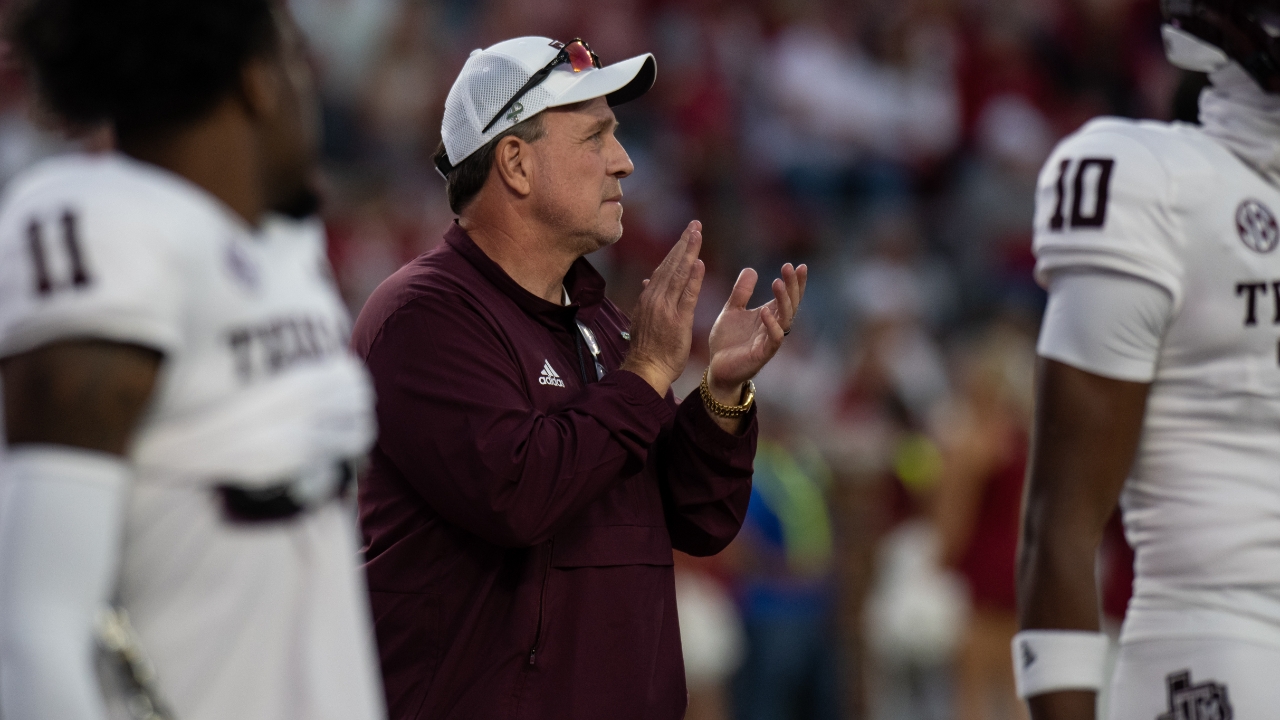 Photo by Jamie Maury, TexAgs
Texas A&M Football
Room for Improvement: 10 reasons why A&M should take a step forward in 2023
---
Therapy can be highly beneficial. Discussing one's fears can lead to healing and hope.
Aggies who labored through the burden of the 2022 Texas A&M football season certainly need healing and hope.
A 38-23 victory over LSU provided some measure of healing and hope, but more is needed to feel secure there will be no relapse of last year's 5-7 debacle.
Sure, Aggies may not be dwelling on that now. Basketball is surging. An upcoming stellar baseball season is anticipated.
But nightmares of 5-7 often appear like buzzards circling above, waiting for the body to stop moving.
Discussion may help some relieve some residual disgust. And, frankly, there is no bad time to discuss Texas A&M football.
More than half a year must pass until football season. But as of mid-February, here are 10 reasons to expect a dramatic reversal of fortunes for the Aggies.
You are encouraged to consider each item and discuss. It could be very therapeutic.
1. Law of averages: Last season, the Aggies had 34 players miss multiple games because of injury. If nothing else, the law of averages would suggest A&M won't again be plagued by rampant injury issues.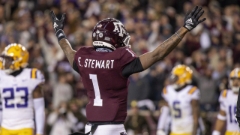 Jerome Miron-USA TODAY Sports
2. Pups should be dogs: The starting lineup was infested with true freshmen in 2022. There were 14 true freshmen that started at least one game last season. Of those, 13 are still on the roster. Regardless of how talented true freshmen are, they're usually at a physical disadvantage. They're still playing in the powerful Southeastern Conference, typically against highly-recruited players that have had a year or two to develop. Last year's freshman project to be bigger, faster and stronger, thus better.
3. Improved offensive line: Admittedly, this is based on assumption and conjecture. However, here's some facts to consider. First, the entire offensive line will return intact. Second, the four of A&M's highest yardage-producing games against FBS opponents last season were posted in the five games in which guard Kam Dewberry was a starter. Third, center Bryce Foster will be back from an injury which forced him out of all but four games (possibly a redshirt year). Fourth, left tackle Trey Zuhn figures to be healthy after playing hurt most of last season. Finally, the Aggies might benefit from being in their second year under offensive line coach Steve Adazzio. They certainly showed marked improvement in 2020, their second season under former line coach Josh Henson.
4. Receiving corps: Not sure I get the angst about the receiving corps. Evan Stewart (53 catches, 649 yards), Moose Muhammad (38 caches, 610 yards) and Ainias Smith (127 catches, 1,612 yards, 17 career touchdowns) give the Aggies a dangerous starting trio. Sophomore Noah Thomas and UTEP transfer Tyrin Smith (71 catches, 1,039 yards, 7 touchdowns) bolster that unit. But there are pleas for even more depth to be added. To those pleas, I say, "puh-lease." Go back to the stellar year of 2020. Ainias Smith was A&M's leading receiver with 53 catches for 564 yards. Chase Lane was next with 29 catches. No other receivers had more than 18 catches. True, you say, but the Aggies had a productive tight end in sophomore Jalen Wydermyer to pick up some receiving slack. Donovan Green says hello.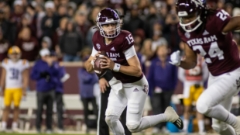 Jamie Maury, TexAgs
5. Weigman (1): Yes, the sample size is small. Conner Weigman only appeared in five games last season. But he showed amazing promise as a true freshman. It's probably not a coincidence that three of A&M's four most productive games against FBS opponents was with Weigman starting at quarterback. He completed 55.3 percent of his passes for 896 yards and eight touchdowns. That is not bad at all for a true freshman with just four starts, but what really stands out is Weigman had zero interceptions. He takes care of the ball. Turnovers have been a major problem for A&M quarterbacks. In fact, in four of the five seasons previous to 2021, A&M quarterbacks threw at least nine interceptions. Predictably, the only year in which that wasn't a problem was in 9-1 finish in 2020 when Kellen Mond had just three interceptions.
6. Weigman (2): The greatest offensive weapon in football today is a quarterback that can run. That doesn't necessarily mean a quarterback that can lead the Southeastern Conference in rushing like Johnny Manziel in 2012. A quarterback that can scramble for a first down and make defenses hesitate to pursue on running plays is invaluable. Weigman fills that bill. He only rushed 27 times for 97 yards last season. But reference the Aggies' best win, 38-23, over LSU. In that game, Weigman twice scrambled for first downs on third-and-7 or farther. The Aggies scored on both drives. Since joining the SEC, A&M has had its best seasons with quarterbacks that were threats to run.
7. The Petrino factor: It's been repeated often: One more touchdown a game and Texas A&M goes 10-2 last season. The addition of Petrino figures to add octane to an offense in desperate need. Petrino is known as an elite play-caller who finds ways to utilize his best playmakers — and he'll have several at A&M. In 13 seasons at FBS programs, Petrino's teams ranked among the nation's top 17 in scoring nine times. Ten of his teams averaged at least 31.2 points per game.
8. Bond, Randy Bond: The value of a reliable kicker cannot be overstated. Bond proved himself once he took over for the erratic Caden Davis. After assuming place-kicking duties three games into last season, Bond converted 13-of-17 field goal attempts. One near miss was from 53 yards in a win over Arkansas. Another was blocked when Mississippi State somehow got away with being way offsides. That's not on the kicker. He also missed twice from 45 and 47 yards in inclement weather against UMass. Aside from those misses against UMass, Bond was 3-for-4 on attempts between 40 and 49 yards and also converted from 51. He was also perfect on extra points. Quite frankly, Bond showed enough to project as one of the better kickers in the SEC in 2023.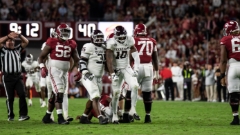 Jamie Maury, TexAgs
9. Anticipated improved pass rush: The Aggies recorded their fewest number of sacks (19) since entering the Southeastern Conference in 2012. They had 20 fewer than in 2021. That number has to increase significantly. I'm betting it will. Why? Well, Fadil Diggs was showing signs of becoming a dominant pass rusher until an injury that forced him to miss all of the last four games. He had two sacks against Alabama and another against South Carolina. Defensive tackle McKinnley Jackson can provide an inside push, but he was also slowed by injuries that forced him to miss all or a good portion of six games. Further, five true freshmen linemen posted a sack in 2022. They will be bigger, stronger and more equipped to compete in the SEC in 2023. A&M led the nation in pass defense without a strong pass rush last season. Imagine what the Aggies' secondary could be with more help.
10. The run defense has to be better, right?: Seriously, it couldn't get any worse. The Aggies allowed 209 rushing yards per game last season. That was the worst run defense in the SEC and 123rd in the nation. It shouldn't take much to be better. Edgerrin Cooper and Chris Russell were full-time starting linebackers for the first time last season. Improvement can be expected in the second year as a starter. The expected strength gains and experience for the young players up front will help, too. Also, defensive coordinator D.J. Durkin surely realized he shouldn't use a three-man front unless he has conducive personnel. At least, we can certainly hope so.
Never miss the latest news from TexAgs!
Join our free email list
PRESENTED BY