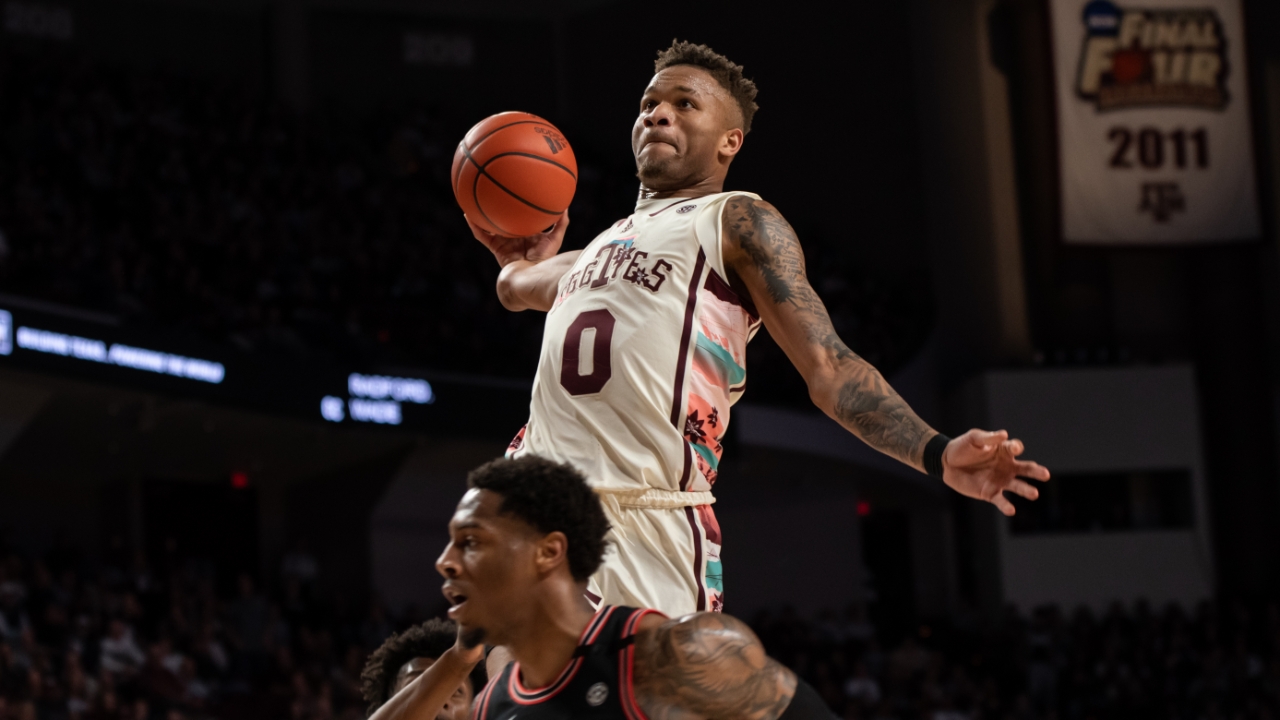 Buzz Williams
Texas A&M players
Texas A&M Basketball
Texas A&M shoots the lights out on Georgia in rout at Reed, 82-57
---
The Aggies' performance was worthy of a country song on Saturday night.
That's the night they shot the lights out on Georgia.
Texas A&M (16-7, 8-2) converted 50 percent from the field, including nine times from 3-point range, in an 82-57 Southeastern Conference basketball annihilation of the visiting Bulldogs (14-9, 4-6) before a crowd of over 12,000 at Reed Arena.
Henry Coleman III and Tyrece Radford each scored 15 points, Dexter Dennis had a dozen, and the Aggies dished out 22 assists in their second-most lopsided victory in SEC play.
Despite that offensive outburst, there was some question as to whether the Aggies were more impressive on the offensive end or the defensive end.
Even A&M coach Buzz Williams seemingly couldn't decide.
"I thought there was great connectivity, cohesiveness, symmetry — whatever words you want to use in those adjectives — not just offensively, but defensively," Williams said.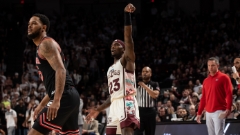 Jamie Maury, TexAgs
The Aggies limited Georgia to just 30.4 percent (17-of-56) shooting. The Bulldogs made just 16.1 percent (5-of-31) from 3-point range. Georgia was just one of 12 from deep in the second half.
Complicating matters, Georgia didn't have the services of leading scorer Terry Roberts, who sustained a concussion in a loss to Auburn on Wednesday night.
Guards Justin Hill and Jabri Abdur-Rahim scored 20 and 18, respectively, to pick up some of the slack, but it obviously wasn't nearly enough.
"I do think we were playing well, but it would be foolish to not say that Georgia is different without (Roberts)," Williams said. "I think our zone press was very, very effective, and I thought the game plan we had in the half court … we did a really good job.
"I think there was some unsettledness (for Georgia). Maybe some of what we created, but they are different without him."
There was something different about a well-rested A&M team.
The Aggies endured a grueling road trip to Arkansas earlier this week. Inclement weather forced their plane to be diverted to Wichita, Kansas, on Monday.
Then they had to bus four hours to a hotel in Tulsa. The next morning they took another bus to Fayetteville. Not surprisingly, the Aggies fell, 81-70.
They were obviously rejuvenated with four days rest.
"We had a really good two day (practice), really good one day (practice)," guard Andre Gordon said. "Today, shoot-around was amazing. Energy from the start."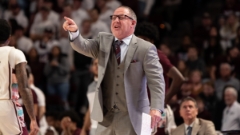 Jamie Maury, TexAgs
An early 14-0 run — highlighted by 3-pointers from Radford and Wade Taylor IV — staked the Aggies to a 15-2 lead less than six minutes into the game.
A few minutes later, Dennis capped a 10-0 run with a thunderous dunk that brought the crowd of 12,640 to their feet.
That provided A&M a 25-7 lead midway through the first half.
Even though in one stretch Georgia converted three consecutive treys, the Aggies' lead never dipped below double figures en route to taking a 38-22 halftime lead.
The margin reached 26 points, 63-36, on Radford's conventional three-point play with 10:51 to play.
Soon after, Williams removed all starters. It didn't matter. Georgia managed an 8-0 run but never against got closer than 19 points.
Indeed, the only suspense was whether seldom-used Erik Pratt could get in the scorebook in the final three minutes.
Typical of the night, Pratt hit two 3-pointers.
Never miss the latest news from TexAgs!
Join our free email list