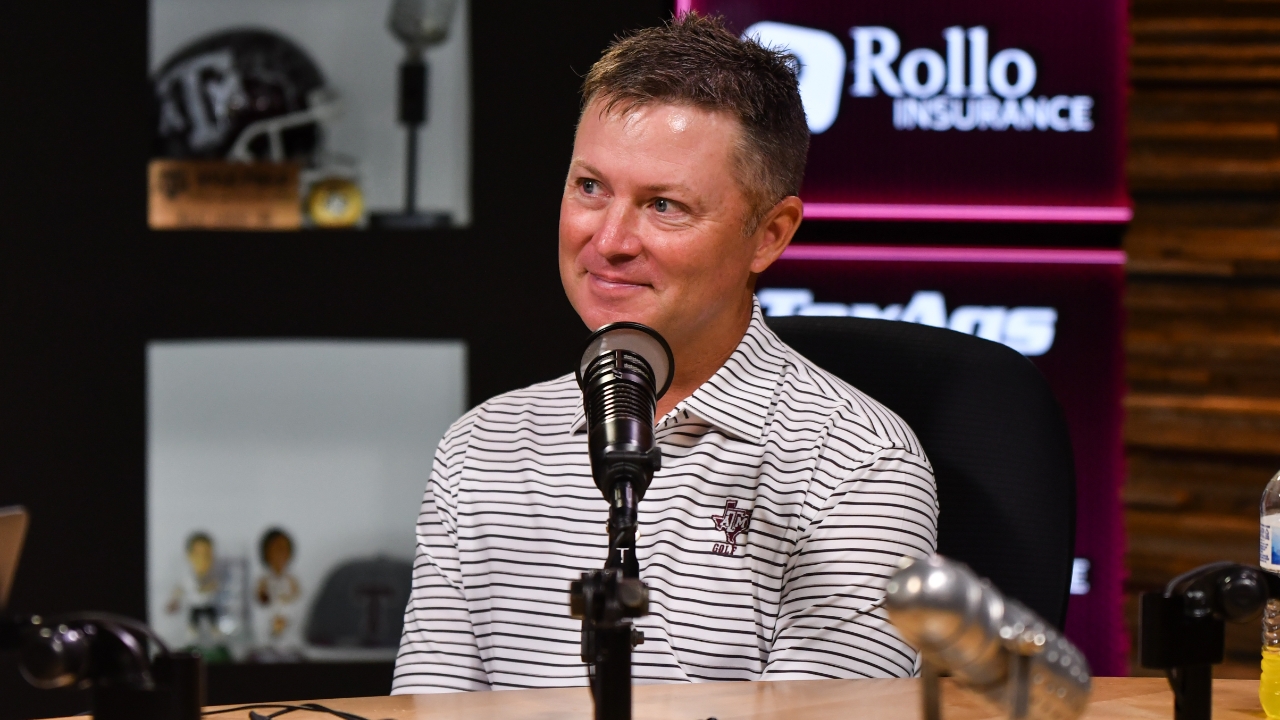 Photo by Jamie Maury, TexAgs
Texas A&M Women's Golf
Chadwell, No. 3 Aggies riding match play success into spring slate
---
No. 3 Texas A&M women's golf opened their spring slate with a victory at The Cactus Match Play in Scottsdale a couple of weeks ago. Ahead of next week's UCF Challenge in Orlando, head coach Gerrod Chadwell joined TexAgs Radio to discuss the latest with his program.
---

Key notes from Gerrod Chadwell interview
Arizona and The Cactus Match Play went well. It was good to get out of here and get some match-play experience. Jennie Park and Adela Cernousek were out sick, so we had some young ladies that hadn't played. I wasn't expecting to go win. We played well. On our last nine holes, we snuck in and beat everybody.

This team keeps surprising me, and that's a good thing. At East Lake, we got drummed by Auburn in a match-play format. You worry that will be an issue in that format. We worked a lot, so to see them have success in match-play, hopefully, it means we'll have success in the postseason.

Jennie Park is healthy and was invited to the Augusta National Women's Amateur. That's the pinnacle of amateur women's golf. We'll have a signee there as well as Cayetana Fernández García-Poggio, Blanca's sister, will compete in the tournament too. Hopefully, we have a presence there going forward. Hopefully, we can see an Aggie takeover at Augusta National in the future.

Our qualifying is stroke play, so it's hard to get match play experience where you have to look somebody in the eye, go head-to-head and beat them. For us to get that is truly invaluable. When we look back at the end of the year, most of the match play comes in the summer, and then it comes back to determine the national championship. It's so different from stroke play. Now when we show up at the SEC Championships, we'll have some buzz from that format.

The best thing you can do as a coach is know your team better than anybody else. Sports psychology is such a delicate space. We hit it off with Ryan Pittsinger last year in the middle of the spring. A lot of the girls will work with him individually, and we'll do team sessions. It's a blank canvas of what's going on, and you can reference that throughout the year. Golf, at best, is five hours alone with your thoughts. Those that can control the mind space, that's who end up being the best. If we can control that, we can compete for a national championship.

We're been recruiting in Orlando recently, so I've seen the course for the UCF Challenge. It's a public course and open. I think it will be windy. It should be a good field next week, and No. 2 Wake Forest will be there. Some teams will have rust. We've had some good practices and qualifying going. I'm excited to see them compete, and I think it will be a good event for us.

It will be February when we compete in Orlando. That tournament counts as much as the one in September or April. It's freezing right now, but if we can keep a wedge and a putter in their hands, that will be huge. You lose touch and feel the quickest. We have the ability to practice inside, but it can be a bad thing too. We'll manage the weather as best we can, but we will have time to get ready.

The ICON Invitational and that course are always special to me. We're taking a great team to compete there. Our spring is scheduled really well, so we can compete and get rest. We'll have time to get back and debrief between tournaments.
Never miss the latest news from TexAgs!
Join our free email list