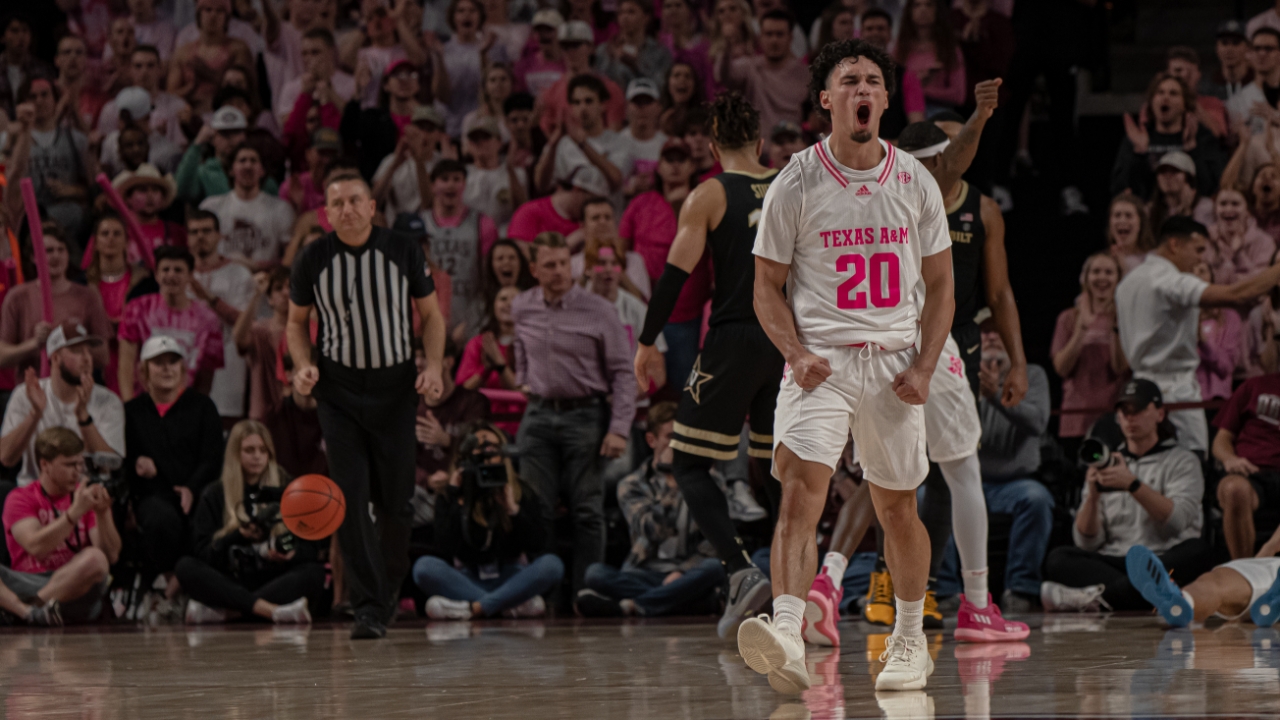 Buzz Williams
Radford & Coleman
Stute & Stackhouse
Texas A&M Basketball
A&M survives late Vanderbilt run to improve to 7-1 in conference, 72-66
---
Just when the Aggies appeared to be clutching their throats, they came through in the clutch.
After a 13-point lead evaporated in a few minutes, Texas A&M (15-6, 7-1) made all the clutch plays down the stretch to pull out a thrilling 72-66 Southeastern Conference basketball victory over Vanderbilt (10-11, 3-5) on Saturday night at Reed Arena.
In the final three minutes, Andersson Garcia scored a key putback, Wade Taylor IV snatched a vital steal and the Aggies hit five free throws while holding Vanderbilt scoreless to capture a victory they let get away.
"Nobody seemed very nervous towards the end," junior forward Henry Coleman said, who led A&M with 18 points.
The Aggies might not have been nervous, but a stressed-out crowd of 12,646 certainly was. So the Aggies made sure they all remained engrossed and in the arena.
A&M could not easily settle the issue but made only five of 10 free throws in the pivotal minutes to provide more suspense than necessary.
"You're playing SEC basketball. Stuff happens. If you're worried about what just happened on the last play, you're going to stay on that last play. That play is going to affect this play."
"We had to make sure the fans didn't leave too early," joked guard Tyrece Radford, who scored 14 points.
Actually, there appeared to be little suspense with about eight minutes left.
Taylor, who scored all of his 14 points in the second half, hit a 3-pointer with 12:17 showing to launch a 15-2 run.
That run gave A&M a seemingly comfortable 64-51 lead with 8:33 left.
But A&M did not score another field goal for more than seven minutes. That cold spell enabled the Commodores to answer with a 15-1 run. They took a 66-65 lead on a pair of free throws by guard Tyrin Lawrence with 2:59 to play.
As Coleman indicated, the Aggies were unfazed by the Vanderbilt rally.
"You're playing SEC basketball," Coleman said. "Stuff happens. If you're worried about what just happened on the last play, you're going to stay on that last play. That play is going to affect this play.
"We talk all the time in the locker room and during practice, 'What's next? What's your mentality?' You have to be prepared for the moment and the next moment."
What came next was a major shift of momentum, much of which was provided by Garcia, the backup junior forward who finished with five points and eight rebounds, six of which were on the offensive end.
A minute after the Aggies had forged a 66-66 tie on a Radford free throw, Garcia grabbed an offensive rebound and scored the putback for a 68-66 lead with 1:06 remaining.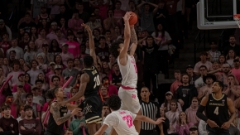 Zoe Kelton, TexAgs
"I think Andersson Garcia only finished with five points tonight but was probably MVP of this game, having six offensive rebounds," Vanderbilt coach Jerry Stackhouse said. "He kept balls alive for them and gave them second chance opportunities. Can't afford to give teams, especially on the road, those second-chance opportunities. That was the difference in the game tonight."
A huge defensive play by Taylor followed.
The Commodores' Jordan Wright's inside drive was stalled by Coleman. When Wright hesitated, Taylor sneaked up from behind to snatch a steal.
He was promptly fouled and made both free throws for a four-point lead with 43 seconds left.
Vanderbilt then missed four consecutive 3-point attempts as the Aggies closed out the victory.
That was a dramatic reversal of fortunes for the Commodores' perimeter shooters. Vanderbilt hit 12-of-32 shots from beyond the arc, including five consecutive in the first half.
Most of the damage was done by guard Myles Stute, who hit seven treys and led Vandy with 22 points. He made his last triple with 3:54 remaining.
Stute never got a good look again. A&M adjusted its defense. When Stute looked to shoot, he was often harassed by the 6-foot-8 Coleman.
"We changed some of our coverages on a few things in the second half," A&M coach Buzz Williams said. "And then changed it again. We changed some other coverages specific to (Stute)."
And changed the momentum to pick up another big victory.
Never miss the latest news from TexAgs!
Join our free email list