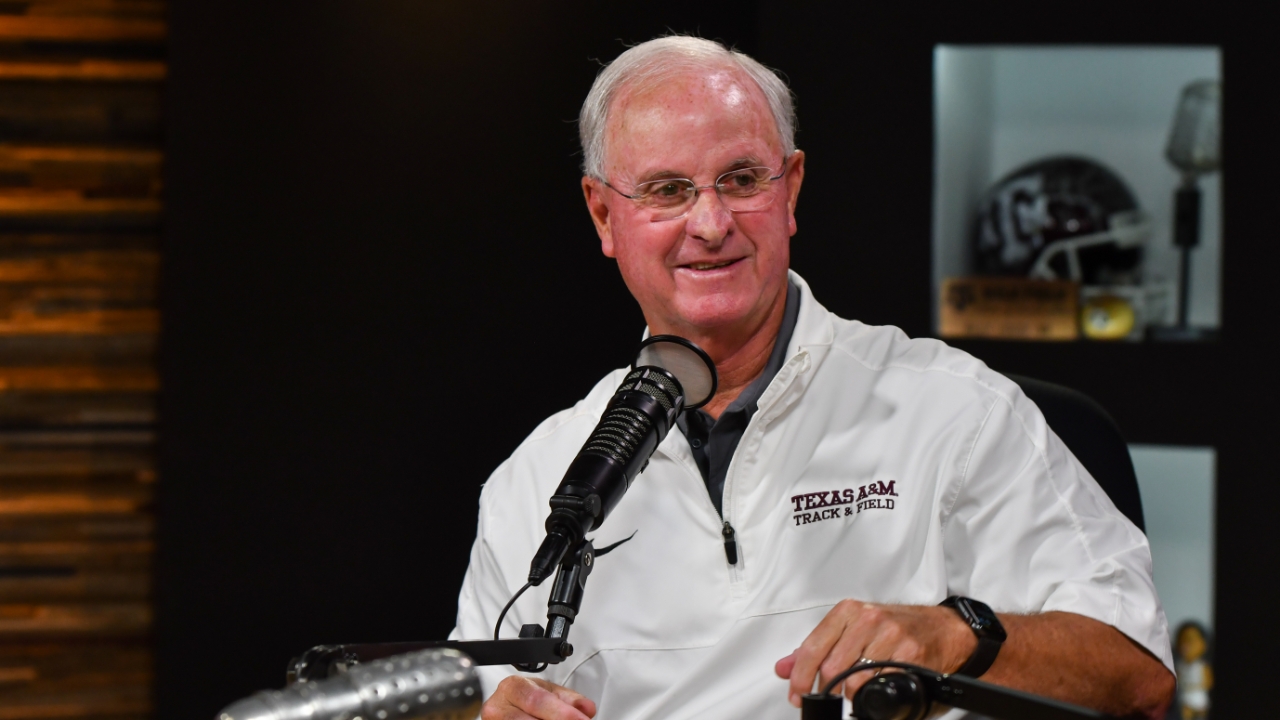 Photo by Jamie Maury, TexAgs
Texas A&M Track & Field
Track & Field Report: A&M's indoor season to ramp up this weekend
---
With back-to-back indoor meets in the books, Texas A&M track & field travels to Fayetteville for a highly-anticipated Razorback Invitational this weekend. Ahead of the road trip, head coach Pat Henry joined TexAgs Radio for the Track & Field Report.
---

Key notes from Pat Henry interview
What a great thing it is to be able to watch a game on TV and see what's going on and report on the guys. Then you come to track, and you don't see the guys. We're out of town every weekend. It's a completely different mindset. Ours isn't always about winning or losing as a team every weekend. It's an individual sport that has a team score at one point in the season. I know it's hard for some people to follow. You have to look at it individually and see what this person did on one weekend and see if they got better. It's a time, it's automatic, and there is a tape measure. The tape tells you if you're getting better. That's our sport.

Our sport is all about rehearsal. These are all rehearsals. It's about getting better each time you're on the track, the runway or in the ring. You have one date where you have to perform your best, and if you don't, you're out. The conference meet is a great competition. For indoors, the top 16 marks in the country qualify for the national meet. That's our goal right now.

If you get out of bed, walk out the door and run, you're setting yourself up for some failures down the road. You can get away with it, but you have to take some time. You have to get some things loose and get your brain ready to go too. We take almost an hour a day to work on flexibility and warm-ups. Getting joints situated and moving is important. Getting your heart rate up during the drill portion helps you prepare to hit it when it's time to actually hit it.

Warming up is an individual thing. Like Eric Casarez, he goes through a certain pattern every morning, but the guy next to him has something that's a little different. For the team, warmups are a social time. You get to talk. When you get a group of young people around each other, it's a great time to talk about who we are and what we're trying to get done. It shows who is mentally prepared and who is not during those time frames. It has to be fun. Your boys want to do what they want to do because they're better at it than somebody else. That keeps him coming back. When Eric was a little guy at recess, he could outrun somebody. That makes it fun. That brings you back to sport. Putting the ball through the basket more efficiently than somebody else brings you back. We have to remember that. I have to always remember that sport is still fun for young people, and that's what it's all about.

The Red Raider Invitational went well. We had 20 personal bests this weekend and six event winners. We had a number of performances that joined our top-ten list. That's significant in our sport.

G'Auna "Gigi" Edwards jumped 20-9. She's a transfer. We're getting to know her. She's a talent. She hurdles well too. She's going to do the multi-event competition this weekend.

Zach Davis went 17-9 in the pole vault, and if you told me that two years ago, I would've said you're out of your mind. It's fun to watch him pole vault. He's not a very good athlete, but he can pole vault. If you wanted him to play soccer, I don't think he'd do well. Still, he's a good pole vaulter. He puts everything he has into what he's doing. He's having a great time doing it, and that keeps him back. He's really smart in the classroom too.

Jaiya Covington, a short hurdler, ran a top-ten time. Joniar Thomas jumped 20-4. She's new to our program from a junior college. Kennedy Wade is a sophomore. She's a little-bitty thing, and she's getting better each time. She's going to run really well too.

This weekend is when Lamara Distin will get her season started. For some athletes, when you run as well as you do, you have to have good competition to continue to run well. When you have bad races, you run down to the level of the competition. I don't want to put talented individuals in lower-level situations.

It was a disappointing effort this weekend in the relay. Our leadoff leg, Ashton Schwartzman, had one of his worst efforts. He's trying to get things figured out. The last three guys ran well, but we got beat. We have some depth, but we have to have a group of four step up. I don't know who that four is yet. We're searching. We have the talent to run fast, but we have to have the right four on the track at the same time. On the ladies' side, we had a new person step in, and we ran about a second faster. We're still going to run faster in certain competitions. With the men, it's about putting the right four out there.

Arkansas this weekend will have 10 or 12 schools that are as good as any. It's that kind of meet. USC, Florida, LSU, Arkansas and us. When you put those kinds of teams together, you know it's going to be a good competition. Our season is like a step ladder. It should get better each week. Albuquerque is a really good competition as well. You get into the championship part of the indoor season really quickly.
Never miss the latest news from TexAgs!
Join our free email list