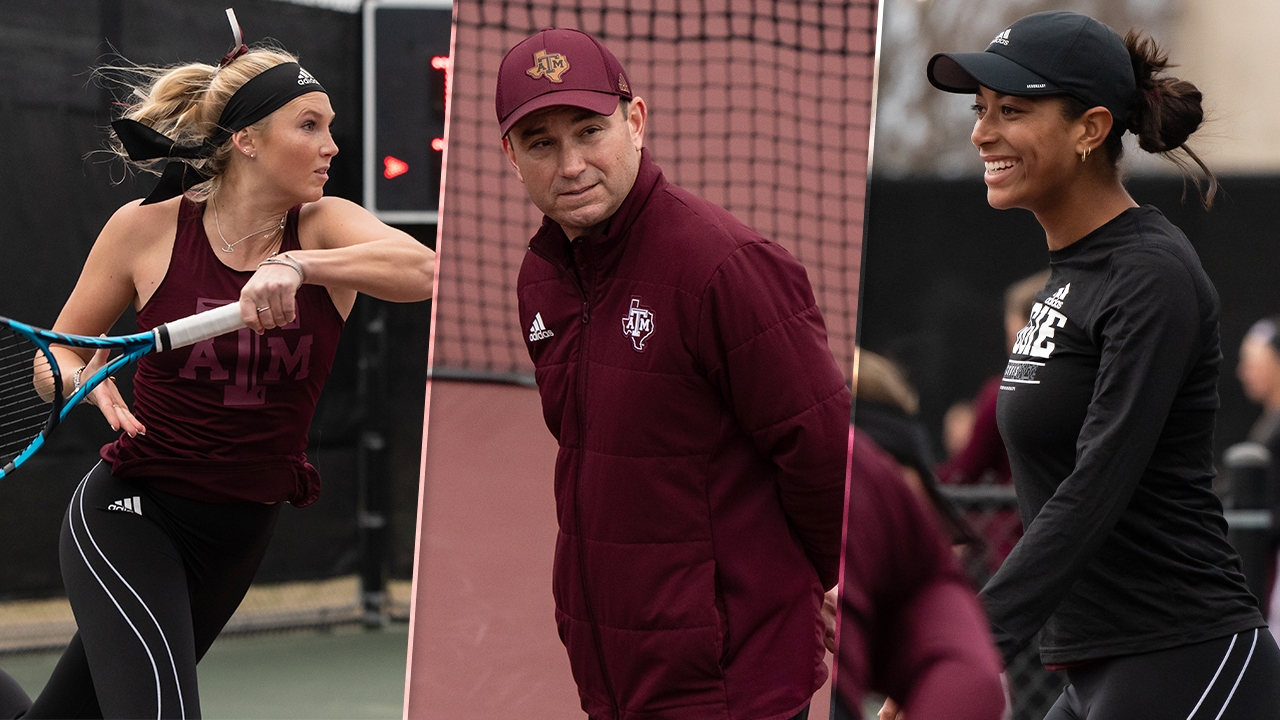 Photo by Jamie Maury, TexAgs
No. 5 Texas A&M women's tennis off to 3-0 start to 2023 campaign
---
Fresh off an NCAA quarterfinals appearance last year, No. 5 Texas A&M women's tennis has started hot in 2023. On Tuesday, head coach Mark Weaver and All-Americans Jayci Goldsmith and Salma Ewing joined TexAgs Radio as the Aggies prepare for ITA Kickoff Weekend.
---

Key notes from Mark Weaver
We've got three matches under our belt. We are 3-0, and this weekend, the ITA Kickoff will be a new challenge for us. We play Florida Atlantic on Saturday and are hoping to advance to probably play Florida on Sunday.

With Salma Ewing transferring to Texas A&M, it was a great pickup for us, and it has been great getting her on the team. We now have three All-Americans on the team. Mary Stoiana is ranked No. 9, so that's almost like having another All-American. There aren't too many teams that have four All-Americans on their team.

We are very fortunate with the team chemistry. We work hard at the athletes we recruit. We are known as a hard-working culture. We want athletes with high work ethics. Most of the players on our team have pro aspirations.

Personality plays a big part, especially when you think about doubles pairings. Not only in doubles but the team as a whole too. It's an individual sport as well, but it's also about the team as a whole.

Tennis is an international sport. We have caught fire on American recruiting. We have been very international going 10-12 years back. It's been nice to have more Americans, and the top Americans are looking at Texas A&M. It's a difficult sport to recruit because you can't just go to your local high school and find a tennis player. We are trying to get the elite of the elite. One of our signees, Mia Kupres, is from Canada, and we have another excellent signee coming in from the international ranks.

It's been nice having more Americans, and I think it's going to help with the crowds as well as getting to know the girls. Social media helps with recruiting and is an easier way to reach out and message kids. We are fortunate that there are few big international tournaments that we can attend.

This weekend is a big weekend for us. We are able to host the ITA Kickoff weekend because of how well we did last season. Being able to advance to the national indoors would be great, but we don't get much indoor practice. We have a lot of big hitters. I really hope to advance to Seattle.

Getting the crowds out there might be a tricky weekend with the weather, but I think we will have a nice crowd.
Key notes from Jayci Goldsmith
I'm in grad school right now in the human resource development program. I'll have this season and then head off into the real world.

This first weekend was great. I was nervous a little bit going into the first match, but it went great. It's great being around the new team.

I started hunting when I was young and with my family. We have a lease in South Texas.

We have momentum in our favor this year. I think our team is even stronger this year. We're pushing each other on and off the court. Listening to our coaches and helping the new girls is going to keep us going up and up.

It's time to go to work this weekend. We have more confidence now after the first weekend, for sure.
Key notes from Salma Ewing
I have been at A&M for two or three weeks now. I went to Hurricane Harry's. I'm not sure I'd go back, but for my first concert, it was an experience. I enjoyed being out and with my teammates. Eli Young Band performed. It was fun.

The team culture brought me here. I've always been friends with Carson Branstine playing with her growing up. I played against Jayci in juniors. I'd see Coach Weaver at tournaments growing up, and I always wanted to be part of it. I wanted to use my last year of eligibility to be at a school that could help me thrive.

It feels like home. I feel comfortable. Everybody is so nice and welcoming.

I like running. I like to bake. I like horseback riding.

Every day in practice, everyone tries their hardest. Everyone really loves and respects the coaches and wants to do it for them. It's a collective effort. Everyone gives their best effort every day. That's something we want and all we could ever ask for.
Never miss the latest news from TexAgs!
Join our free email list