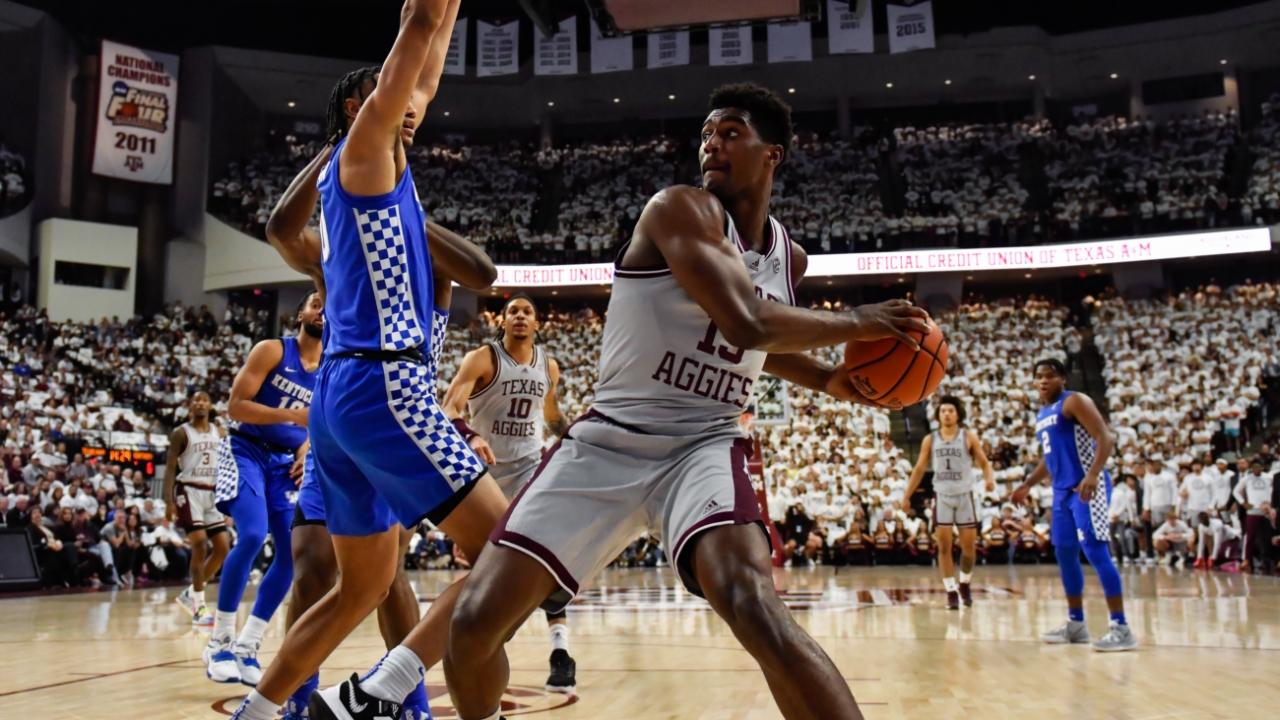 Photo by Jamie Maury, TexAgs
Texas A&M Basketball
Strong defense, balanced offense gives A&M a chance at Kentucky
---
Some long-suffering Texas A&M basketball fans might complain about misfortune.
The Aggies (13-5, 5-0) travel to Rupp Arena on Saturday for a 1 p.m. game against Kentucky (12-6, 3-3), which appears to have found its footing after stumbling into Southeastern Conference play.
Darn the luck.
Except the Aggies aren't really counting on luck to extend a seven-game winning streak. They're relying on a defense that has suffocated five consecutive SEC opponents into submission.
A&M has allowed its five conference foes an average of just 57.6 points. The Aggies have been extremely stingy in the first half, in which they've limited SEC opponents to 26.4 percent shooting, 17.8 percent from 3-point range and 18.6 points.
Containing Kentucky is a much larger challenge, though. The Wildcats average 76.1 points per game. They lead the SEC in 3-point shooting percentage. They're third in field goal percentage.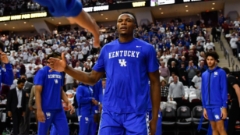 TexAgs
"If our defensive numbers are going to be good enough to have a chance to win, it'll be: Can we finish a possession with a rebound?" A&M coach Buzz Williams said. "If our defensive numbers are going to be what we need to be to have a chance, we've got to prevent them from getting second chances.
"In the last two games, they're shooting 28 free throws a game. In our last game, we shot seven. So, can we defend without fouling, and then can we finish a possession with a rebound? I think that's what will give us a chance, defensively."
Both are tall orders primarily because of Kentucky's tall Oscar.
That's Oscar Tshiebwe, a 6-foot-9, 260-pound forward who averages 17.3 points and 13.8 rebounds. He has also shot almost twice as many free throws as anyone else on the Kentucky roster.
"They attack the rim with (Tshiebwe)," Williams said. "The pressure they put on you offensively is at the rim. It's at the rim with (Tshiebwe). It's at the rim with Zero (forward Jacob Toppin). It's at the rim with 22 (guard Cason Wallace). (Wallace) will shoot threes, but he does a great job putting pressure on the rim.
"You have to have a plan. If you think normal, 'Let's just box out...' That won't work. They shoot a very high percentage of their shots at the rim."
But just about a week ago, the Wildcats seemed to be far from a vintage Kentucky team.
Big Blue was staggered by big blowouts. Missouri defeated Kentucky by 14 points. Alabama beat the Wildcats by 26. They also lost — at home — to South Carolina and fell to 1-3 in the SEC race.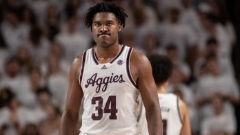 Jamie Maury, TexAgs
But Kentucky rebounded by winning at Tennessee and dominating the second half in a victory over Georgia.
"You could argue, over the last week, they're playing as well as anybody in the league," Williams said.
Of course, the same argument could be made for A&M.
The Aggies' defense has been spectacular, but they've been productive on the offensive end, too.
Junior forward Julius Marble II has emerged as an offensive weapon. He's averaged 15.6 points in SEC play while converting at least 50 percent of his shots in each game.
Also, grad transfer Dexter Dennis has scored in double figures in each of the last three games.
Meanwhile, guards Wade Taylor IV and Tyrece Radford and forward Henry Coleman III are all averaging double figures.
With A&M's balanced scoring and excellent defense, luck would be welcome but might not be necessary to get a win over Kentucky.
Never miss the latest news from TexAgs!
Join our free email list
PRESENTED BY