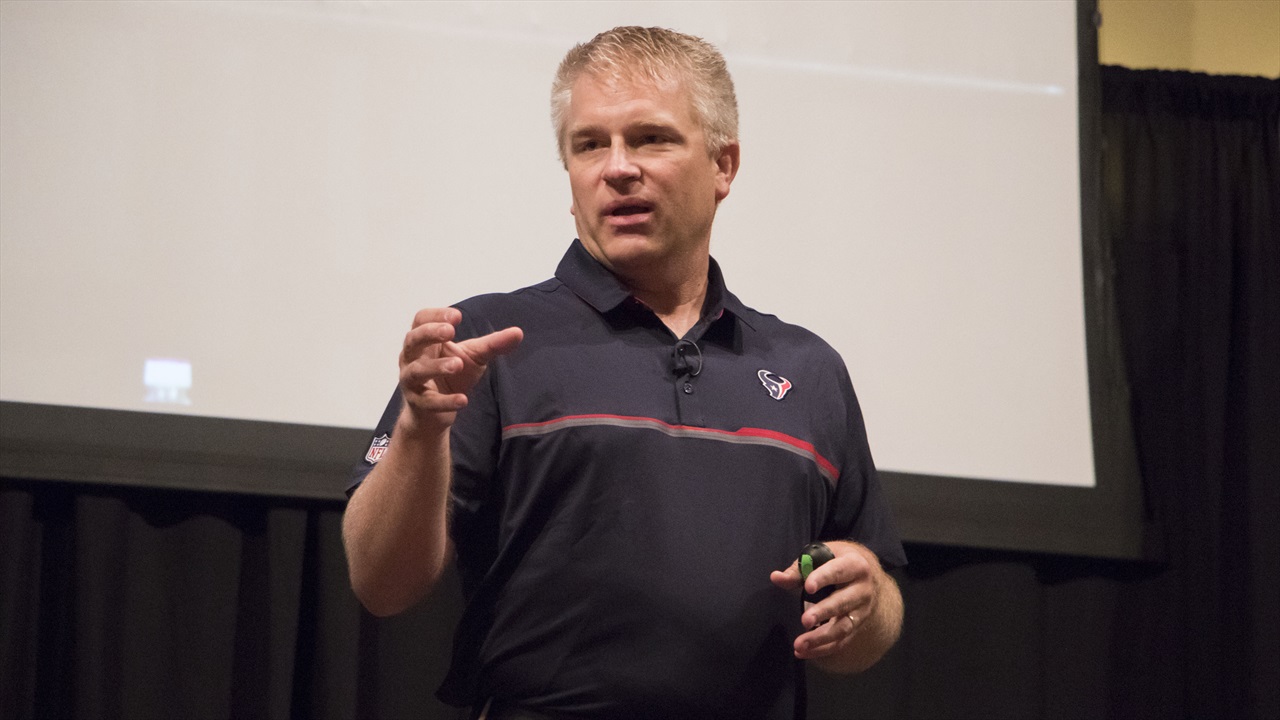 Photo by Alex Parker, TexAgs
Texas A&M Football
Football Takeover's John Harris discusses nuances of running back position
---
The Houston Texans' John Harris joined TexAgs Radio to detail the tailback position at the high school, college and professional levels. The football genius provided insight on Rueben Owens‍' potential in Aggieland and how dynamic backs can be used, now more than ever.
---

Key notes from John Harris interview
I love hockey. I wish Houston had a team. Going to college in the northeast, one of the most fun things was going to the hockey games. The women's games were fun too. Go to college and enjoy it.

Getting to talk to people around the area, I was asking Joe Gleason about Rueben Owens‍. He said, "Boy, he is electric, dynamic and everything you want." He didn't know if Louisville would stick. I'm glad the closest school in A&M tugged at Owens' heartstrings. Owens brings that different gear. He could be like Quinshon Judkins, who stepped in with Zach Evans, and now he's doing it better than anybody in the SEC. If you have got it right with Conner Weigman and a healthy offensive line, you think back to Devon Achane in the Orange Bowl. He can have an impact right away. Hopefully, Owens comes in there and does what people think he can do.

What's interesting is to watch the dynamic of NFL running backs. You can go get a running back anytime. In the league, they are going to get a couple and put them as higher draft picks. Teams have devoted efforts to a couple of running backs. You are seeing lighter boxes. You are seeing the safety coming down, and that guy may not be a good tackler. Teams are going to run the ball. Does it result in a team running it 45-50 times a game or a first-round draft pick? I don't know, but it's become more important. Look at Austin Eckler. He can catch the ball. The Texans slowed down the Chargers' run. They threw it to Eckler five times in the fourth quarter, scored twice and beat the Texans. If you have a guy back there where they don't know what you will do, defenses will panic. I'm curious to see how they will use those skills of Owens.

I had a talk with Chris Pezman, the athletic director at Houston, when they were hiring Dana Holgorsen. There is a run focus to that offense. Tennessee is a great example. It's the Art Briles offense. They use space to get out wide one-on-one and create space in the middle. Defenses are smart too, and they start to make changes. The chess match goes with the aspect of space. As a defense, what do you do? It's a cyclical game. At some point, someone may bring the wishbone back.

Whoever comes in to be the offensive coordinator at Texas A&M, I hope it is someone who has the philosophy that's not going to be straight jabs. There has to be a combination. Hopefully, Jimbo learned there has to be more diversity in the offense, and you can't be worried about if your receiver wears sleeves or not.
Never miss the latest news from TexAgs!
Join our free email list