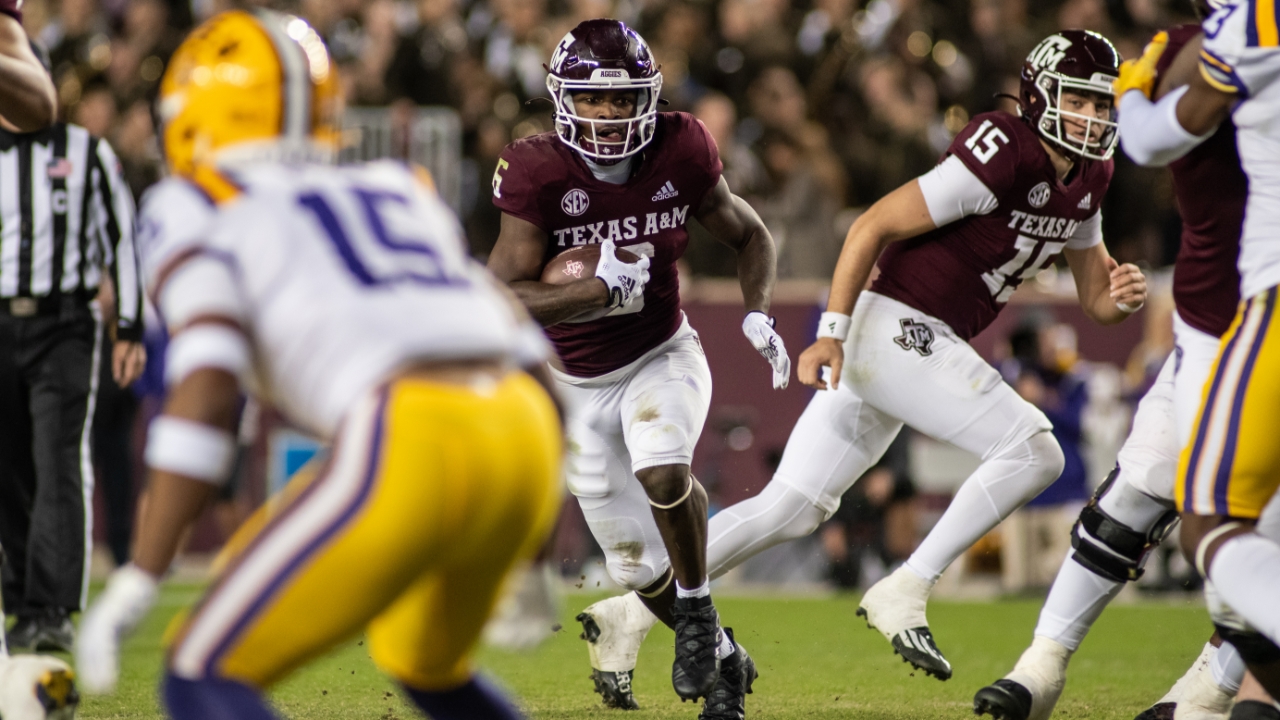 Jimbo Fisher
Devon Achane
Layden Robinson
Demani Richardson
Antonio Johnson
Brian Kelly
Texas A&M Football
Aggies spoil LSU's cornflakes & playoff hopes with shocking 38-23 win
---
No postseason appearance awaits Texas A&M, so facing a reviled rival on Saturday night served as the Aggies' bowl game.
Call it the "Cereal Bowl" because — like senior receiver Jalen Preston suggested last week — the Aggies metaphorically pissed in No. 5 LSU's cornflakes.
Behind Devon Achane's dynamic running, Moose Muhammad's circus catches and another Demani Richardson touchdown via fumble return, the Aggies upset LSU, 38-23. In doing so, they flushed LSU's hopes of getting into the four-team College Football Playoff field.
LSU (9-3, 6-2) still faces Georgia next week for the SEC Championship, but now, the Tigers have no shot at a national title.
Yet, the Aggies (5-7, 2-6) might have been even more perplexed. Their postgame emotions mixed celebration and frustration.
"It's kind of frustrating," Richardson admitted. "After we've won it, now, it's like we could have done this all season. We have the talent. We have the coaching. We just had to put it all together and execute on all cylinders. Mainly frustrating because we could have been doing this all season."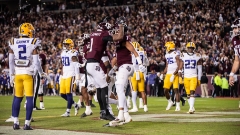 Jamie Maury, TexAgs
Their first complete game of the season demonstrated what the Aggies are capable of. They opened the season ranked No. 6 in the nation. They were projected to be contenders in the SEC West division race.
But in the previous 11 schizophrenic weeks of the season, the Aggies never resembled the team that delighted the 93,578 assembled at Kyle Field.
A&M head coach Jimbo Fisher suggested the Aggies — who have started a dozen true freshmen because of a plague of injuries — had just endured growing pains.
Against LSU, they grew up.
"Our kids just relaxed and played," Fisher explained. "They grew up. They matured. There were a lot of injuries and young guys all year. It's not an excuse, but it's the facts of life.
"This game, we finally put it together for 60 minutes and played a really good game. It's that simple."
Nothing has been simple for the Aggies this season. They'd lost five games by six points or less. Their four other victories were hard-earned. They needed a late defensive stop to turn back Miami.
They needed a Richardson fumble recovery for a touchdown and a last-play missed field goal — the "oink doink" — to topple Arkansas.
Meanwhile, LSU — in its first season under coach Brian Kelly — was among the nation's most surprising teams. They frequently came from behind for victories. They made the clutch play to beat Alabama.
But from the outset, there were indications that something special might be brewing at Kyle Field.
"This game, we finally put it together for 60 minutes and played a really good game. It's that simple."
A&M forced LSU to punt on its opening series. The Aggies then drove 90 yards in 15 plays for a 10-yard Achane touchdown.
Achane gained 54 yards on the opening series. That launched a spectacular performance in which he rushed for a career-high 215 and scored two touchdowns.
The Aggies went on to take a 17-10 halftime lead after freshman quarterback Conner Weigman threw a three-yard touchdown pass to freshman tight end Donovan Green.
But the Aggies managed only one yard on the opening drive of the second half. Their second series also failed.
Meanwhile, LSU running back John Emery scored his second of three rushing touchdowns to forge a 17-17 tie.
That conjured uncomfortable thoughts of a 41-24 loss to Florida. The Aggies led at halftime but were shut out in the second half.
This time would be different. Much different.
Elusive LSU quarterback Jayden Daniels was called on to convert a third-and-1. Instead, he was hit by A&M linebacker Edgerrin Cooper, forcing Daniels to fumble.
Richardson scooped up the loose ball and sprinted 27 yards for a touchdown which allowed A&M to reclaim the lead.
The Aggies added to their margin on the first play of the fourth quarter.
Weigman threw into the end zone for Muhammad, who made a spectacular one-handed grab with his left hand between LSU safeties Sage Ryan and Greg Brooks.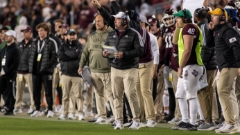 Jamie Maury, TexAgs
"At practice, he's always making one-handed catches, so it wasn't like a surprise," Achane said of Muhammad. "It's something I knew he could do because he's always doing it. Coach always yells at him to put two hands on the ball. But he catches them, so I have no problem with him doing it."
On the Aggies' next series, Muhammad made another circus catch for a 39-yard gain. That led to another 10-yard Achane touchdown run which gave A&M a 38-17 lead with just 7:46 remaining.
Closing out the victory was more distressing than it had to be because… well… because that's how these Aggies roll.
LSU was able to quickly rush downfield for a touchdown. Then, A&M had to sweat out a review of a fourth-down incompletion in the end zone.
Replays showed cornerback Tyreek Chappell jolted the football loose from LSU receiver Jaray Jenkins in the back corner of the end zone with 2:37 left.
And with that, the Aggies were relieved. Just like Jalen Preston said they would.
Never miss the latest news from TexAgs!
Join our free email list