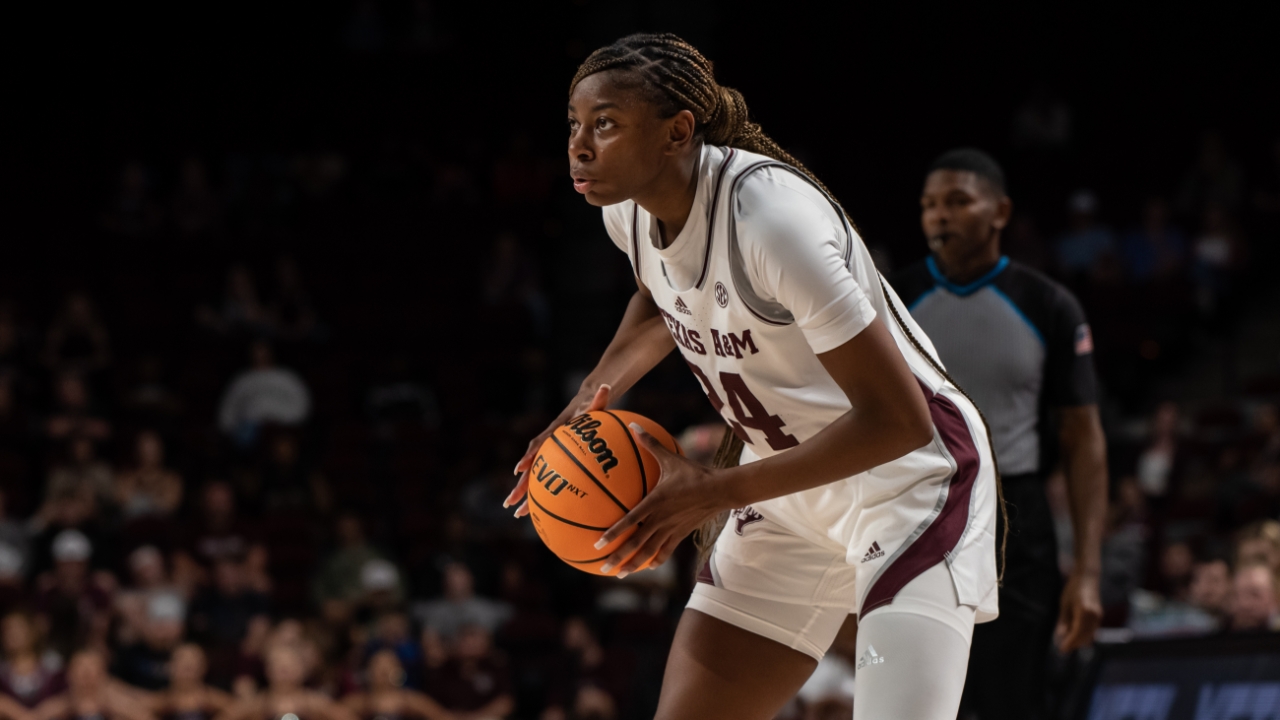 Photo by Jamie Maury, TexAgs
Texas A&M Women's Basketball
Jones & Barker tally 17 each as Aggies beat Texas Southern, 67-54
---
Far from its best, but just enough to right the ship.
Coming on the heels of their first loss at Duke, Texas A&M bounced back with a 67-54 victory over Texas Southern on Sunday at Reed Arena. The Aggies were never able to distance themselves as much as anticipated, struggling all afternoon with sloppy play that culminated in 20 turnovers and being out-rebounded 47-41.
"I think it's disappointing," A&M head coach Joni Taylor said. "Coming off of a loss of Duke, there are some things that are correctible that we've gotta be done talking about, and to come out and not have everybody do that is disappointing."
Freshman forward Janiah Barker echoed the same sentiments.
"I wouldn't say it's the response we're looking for," Barker said. "I mean, I'm super glad we won, but this is the team that we should have beaten by 50.
"I feel like, for our expectations as a team, they should be higher, and I feel like we have to be better than that."
Barker and Sahara Jones kept the team afloat with 17 points apiece and combined for 17 rebounds. Sydney Bowles followed behind with 10, while Tineya Hylton chipped in seven.
"Coming off of a loss of Duke, there are some things that are correctible that we've gotta be done talking about, and to come out and not have everybody do that is disappointing."
A pregame technical called on A&M for a shot clock malfunction gifted Texas Southern a free throw to start the game. The unconventional call allowed the Tigers to grab an early lead, but Bowles found Jones on top of the key for a 3-pointer that ignited a 12-0 run to take control.
Despite A&M never relinquishing the lead, careless mistakes spoiled an otherwise dominating start.
In the first half alone, the Aggies committed 14 turnovers and allowed 10 offensive rebounds that were converted into 14 second-chance points — including a triple by Micah Gray that mowed the deficit down to just five.
Gray accumulated a game-high 27 points for Texas Southern and tormented A&M from beyond the arc and off the dribble.
"That's [Gray] going to be Alabama. That's going to be Florida," Taylor said. "That's going to be a ton of people that we play in our league. And so either right now, the conversation is either show that you can guard it, figure out how to guard it, or we just got to create a four-guard lineup. But that's not to our advantage."
A 7-0 charge fueled entirely by transition points from Gray once again pulled the Tigers within single digits. Barker responded with a three-point play to regain some cushion, but Gray opened the fourth with back-to-back triples to turn a once 10-point advantage to just two.
A&M was able to slow down and create more opportunities inside, but doing so exposed a woeful performance at the line. The Aggies shot a putrid 40.9 percent from the stripe (9-of-22), with Barker going 3-for-11.
"I feel like, as a team, that's one thing that we do struggle with during games," Barker said. "It's crazy because, in practice, we practice free throws a lot. Like a lot, before any water break. For me to be 3-for-11, I'm really disappointed in myself particularly."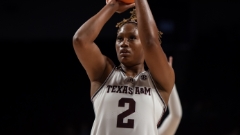 Jamie Maury, TexAgs
After a big 3-pointer from Hylton with just under five minutes remaining, Kay Kay Green came up with a steal and layup to push the lead back to 11. The win was eventually solidified with another and-1 opportunity from Barker at the rim.
Defensive tenacity and up-tempo offense — both staples of Taylor's brand of basketball — were largely absent against the Tigers. Though the Aggies forced 26 turnovers, it didn't translate to nearly as many points as Taylor would have liked to see.
"Was everything going to be perfect out there today? No," Taylor said. "There are some habits that they've got to change and get rid of and some we have to create.
"But to come out there and not have maximum effort after having another chance to play at home in front of the 12th Man, that's not okay, and it's never going to be okay. So that was a shock."
The Maroon & White face Texas State on Wednesday to continue a three-game homestand. Tip-off is scheduled for 4 p.m. CT.
Never miss the latest news from TexAgs!
Join our free email list