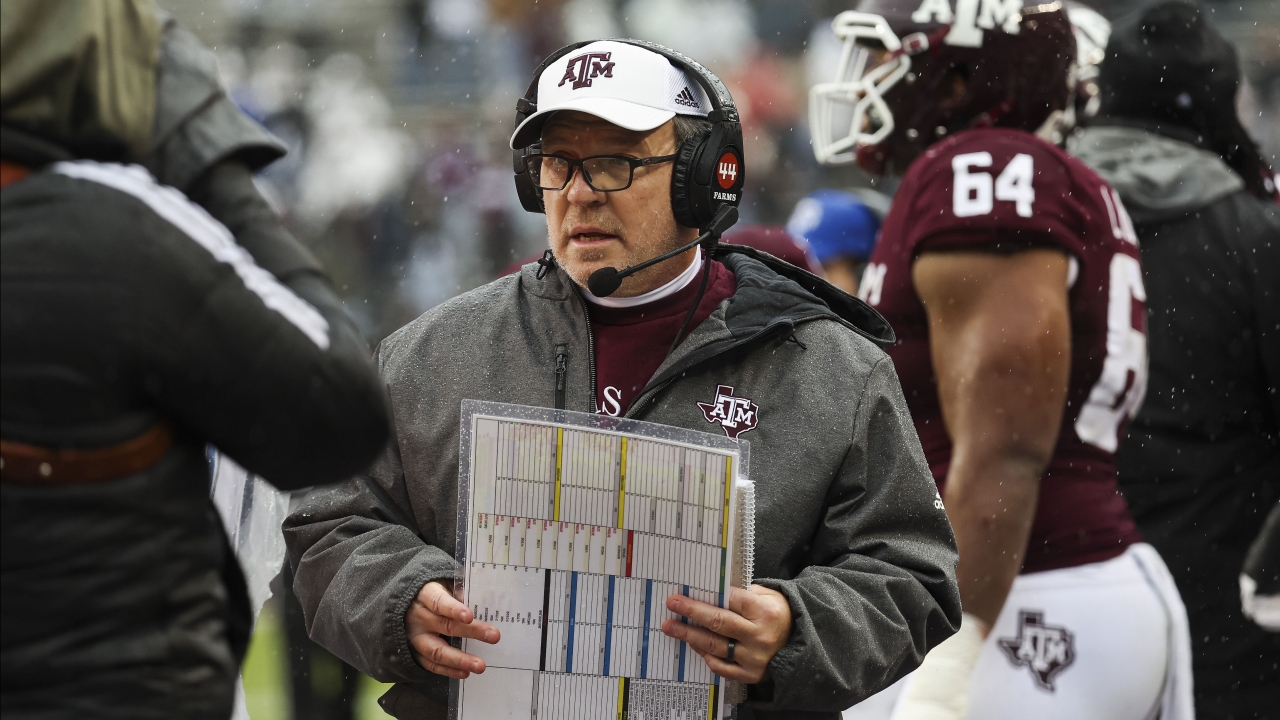 Jimbo Fisher
Layden Robinson
Edgerrin Cooper
Texas A&M Football
A&M prevails over UMass in cold, wet conditions to end six-game skid
---
The starving will welcome any meal. But not every meal — just like not every football victory — is the same.
Dinner can be a medium rare T-bone. It can also be a bowl of gruel. An epicurean isn't needed to distinguish the difference.
That's why the bowl of gruel that was Texas A&M's lackluster 20-3 victory over Massachusetts on Saturday is more a reason for frustration than a cause for celebration.
It doesn't matter that A&M (4-7) ended a six-game losing streak. Beating UMass was just an aspirin for a severe migraine.
Of course, A&M coach Jimbo Fisher begged to differ. He seemed to equate the victory with a hard-fought Southeastern Conference triumph.
"Our kids played their hearts out. They played tough and did the things they had to do to win the game. Any win you have is a win. I'm proud of our kids for doing it."
"Any win is a great win, and it's a really good win," Fisher maintained.
And, of course, players parroted that proclamation.
"It's always good to get a win," junior guard Layden Robinson said. "You don't take those for granted because they're hard to come by, especially in this league."
That's just it. UMass literally isn't in the Southeastern Conference. And UMass figuratively isn't — or shouldn't be — in Texas A&M's league.
Massachusetts is widely regarded as the worst of the 131 Football Bowl Subdivision teams. The visiting Minutemen are 1-10. Their only victory was by 20-3 over Stony Brook, an FCS program that's 2-9.
Yet, the Aggies and Minutemen were locked in a struggle until A&M freshman running back Le'Veon Moss broke off a 12-yard touchdown run with just over five minutes remaining.

With that touchdown, A&M avoided joining Stony Brook as the only Minutemen opponent to score less than 20 points. Instead, they joined Eastern Michigan, which also managed 20 of them.
A&M demands more. The Aggies aspire to be contenders in the treacherous SEC West division. Their goal is to win the West, the SEC and eventually the national championship.
In reality, competitive losses to Ole Miss and Florida — even bewildering losses to woeful South Carolina and Auburn — were more encouraging than a win over Massachusetts.
Again, Fisher doesn't see it that way. Beating UMass, he insisted, was a victory of which to be proud.
"Our kids played their hearts out," he said. "They played tough and did the things they had to do to win the game. Any win you have is a win. I'm proud of our kids for doing it."
Actually, there were some encouraging elements within the game the Aggies could take pride in.
Freshman quarterback Conner Weigman had a solid performance in his third career start.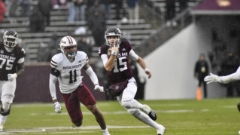 Brooke Homfeld, TexAgs
He completed 11-of-19 passes for 191 yards and threw a 22-yard touchdown pass to freshman receiver Noah Thomas.
Weigman also showed a willingness to run. While previous A&M quarterbacks have appeared hesitant to leave the pocket, Weigman scrambled for 66 yards. He would have led the Aggies in rushing had he not been sacked three times for 16 yards in losses.
"Conner is a really good athlete," Fisher said. "You don't say he's 4.5 (speedster), but I mean, he's really athletic.
"The decisions and what he can do in a game … Boots, nakeds, sprints in the pocket and throwing the football. He can do all those things. I thought he did a really nice job making really good decisions, getting what he could, getting down (to avoid tackles) and dinking and dunking the ball when he was on the edge. I thought he played really well."
Moss did, too. He rushed for 78 yards on just 12 punishing carries. One delivered a blow at the end of a 23-yard run that sent a tackler stumbling out of bounds.
Also, Moose Muhammad returned to action after being benched last week for insisting to wear sleeves under his jersey. This time, he had tape strips to protect his arms. Muhammad had three catches 75 yards.
He had one reception for 38 yards, though he lost a fumble at the end of the play. Still, that was one of nine A&M plays that covered 20 yards or more.
The defense had a few good moments, too.
Freshman linebacker Martrell Harris forced a fumble on a sack of UMass quarterback Brady Olson.
Freshmen defensive end Malick Sylla also registered a sack.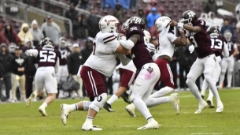 Brooke Homfeld, TexAgs
The Aggies' defense, one of the worst against the run, only allowed 113 rushing yards. Of those, 70 were gained in the first half.
But against a grossly overmatched opponent, A&M should allow minimal rushing yards. The Aggies should get multiple sacks. They should make several big plays.
It wasn't an impressive win. But it was a win. For Fisher, after six straight losses, that was enough.
"It (the win) reminds you what it feels like," Fisher said. "Reminds you what it is. Things aren't that far away. Everything goes back and forth based on how you practice and what you do, and what you do on that day. It still feels good to go do that. That's what you're there for. That's the ultimate goal."
No, the ultimate goal is a championship.
A listless win over a poor opponent is just a reminder of how far away the Aggies are.
Never miss the latest news from TexAgs!
Join our free email list