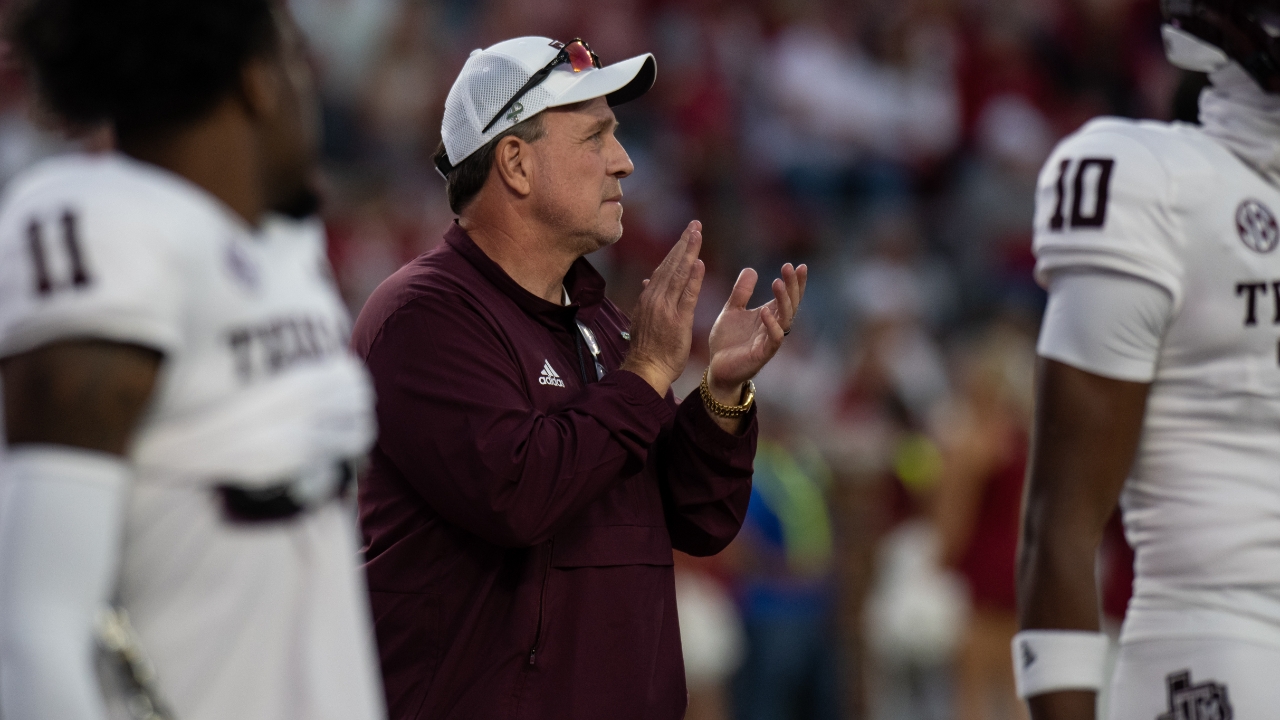 Photo by Jamie Maury, TexAgs
Texas A&M Football
Keeping young stars & attacking portal vital to A&M's quest for turnaround
---
Trapped in the mire of a six-game football losing streak, Aggies everywhere seem to be panicking.
With each loss, optimism and enthusiasm for Texas A&M football seem to sink into a quagmire of despair.
Yet, if Texas A&M doesn't become "Texodus" A&M, there could be a quick fix for escaping the quicksand.
The threat of a mass exodus of talented players from the No. 1 rated 2022 recruiting class is certainly real. Some have already unofficially checked out.
But keeping the vast majority of that class intact would be a giant first step to right A&M's seemingly sinking ship.
Coach Jimbo Fisher seems confident the Aggies will avoid a mass "Texodus."
"The grass is not greener," Fisher said on Monday. "People have pride, too. Players have pride. They want to do it right, stay here and see it through.
"(They say) 'I want to stay here and prove 'em right. I want to win. I want to build this to be successful. I was part of this.'
"Not everybody wants to run and jump. A lot of guys want to prove we've got a good team, we have a good group. 'I love A&M. I love all that.' That's why our guys keep playing."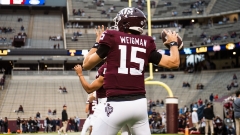 Jamie Maury, TexAgs
Maybe that's a delusion. Maybe that's denial. Aggies are hopeful Fisher is dead-on.
An old coaching adage says to expect one loss for every true freshman starter.
Eight true freshmen — including quarterback Conner Weigman — started for A&M in the loss to Auburn last week. No less than 13 true freshmen have started games this season.
Keeping those players in College Station is vital. So is getting others back from injury.
The Aggies must also be more active in the transfer portal.
Finally, Fisher will have to make much-needed changes in his offense and on the coaching staff.
Do those things, and the Aggies could bounce back in a big way in 2023.
That's not a sunshine-pumping pipe dream. Dramatic turnarounds aren't that uncommon in college football.
Heck, A&M went from 7-6 in 2011 to 11-2 in 2012. Notre Dame was 4-8 in 2016. The following season, the Irish went 10-3.
Michigan managed just two wins in the pandemic-shortened 2020 season. The Wolverines struggled so mightily that some in the media called for the firing of coach Jim Harbaugh. The following year, Harbaugh led Michigan to a 12-2 finish and a place in the College Football Playoff. The Wolverines are now 10-0.
Of course, Arkansas rebounded from three wins in 2020 to post nine victories in 2021.
Hawaii followed an 0-12 finish in 1998 with a 9-4 showing in '99.
The ultimate turnaround was turned in by Auburn.
The hopelessly inept Tigers suffered through a 3-9 season in 2012. The following year, Auburn went 12-2 and came within 13 seconds of winning the national championship.
"Work is always the key to everything. As long as you put in the work — grind — you'll get what you want. Don't always expect quick things to happen. Things don't always go the way you expect them to."
But those teams did not contend with the transfer portal. Then, players were — in most cases — bound to the programs with which they had originally signed.
Of course, that's no longer the case. Players now transfer and immediately play elsewhere. Also, rivals tamper with players without fear of penalty from the toothless NCAA.
But A&M senior safety Demani Richardson would advise teammates against rushing to the transfer portal.
"No matter where you go, it's always about the process," Richardson said. "Don't always expect something to happen right away. If you transfer, the things you expect to happen won't happen. Work is always the key to everything. As long as you put in the work — grind — you'll get what you want. Don't always expect quick things to happen. Things don't always go the way you expect them to."
Aggies certainly know that. No one expected A&M to have a disastrous season.
But if Fisher can keep most of the 2022 class together, A&M could reach lofty expectations in 2023.
Never miss the latest news from TexAgs!
Join our free email list