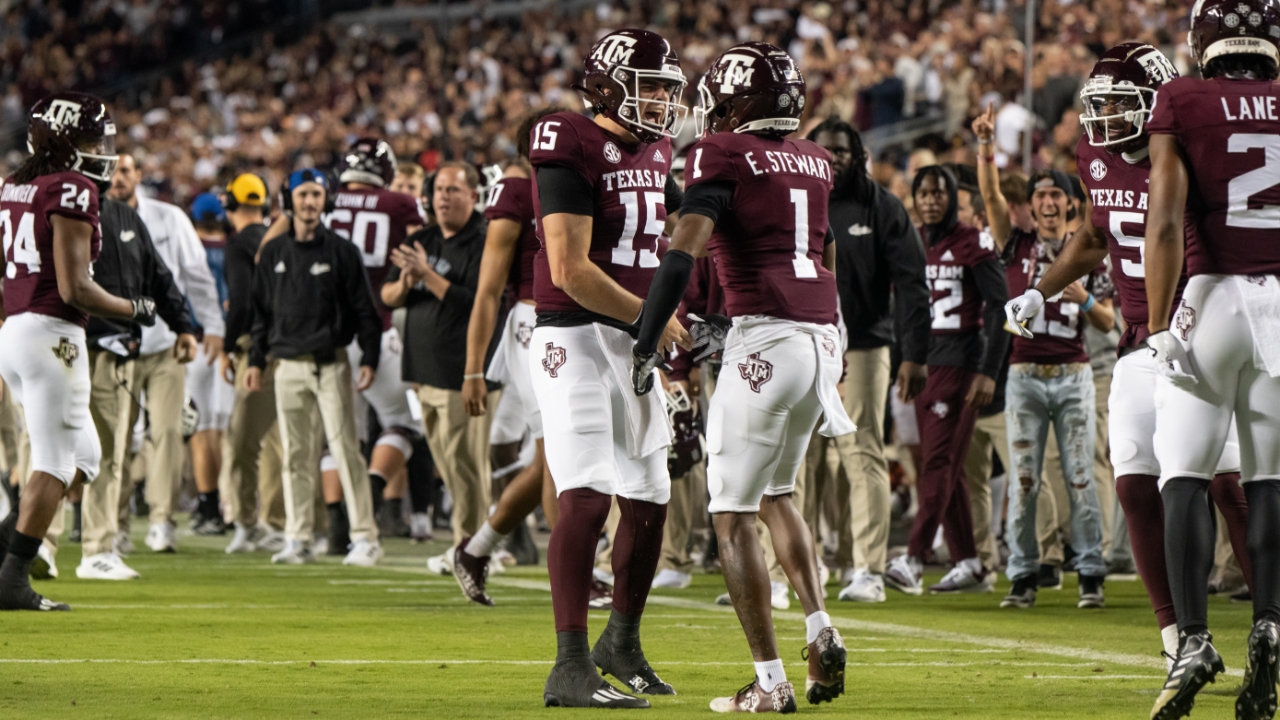 Jimbo Fisher
Devon Achane
Sam Mathews
Texas A&M Football
Talented true freshmen are A&M's foundation for future success
---
There may be one ray of hope breaking through the smog of Texas A&M's polluted football season.
The Aggies (3-6) have plummeted from No. 6 in the early national rankings to the bottom of the Southeastern Conference West division standings.
But the fall is cushioned by the fact that an inordinate amount of true freshmen from the top-rated 2022 recruiting classes have been thrust into action.
Indeed, a dozen true freshmen have started at least one game.
They're not just starting. Some are making significant impacts.
Evan Stewart leads A&M in receiving. Donovan Green has the most catches among tight ends. Le'Veon Moss has emerged as the primary backup for star running back Devon Achane.
Defensive ends LT Overton and Shemar Stewart have posted sacks and have been credited with four quarterback pressures.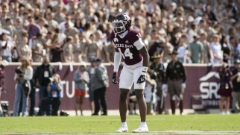 Jamie Maury, TexAgs
Safeties Bryce Anderson, Jarred Kerr and Jacoby Mathews have been impressive.
Quarterback Conner Weigman threw for 338 yards and four touchdowns in a start against Ole Miss. Weigman came down with the flu last week and did not start in a 41-24 loss to Florida.
Fisher said Weigman has been cleared to play and will start against Auburn on Saturday night.
Weigman and the other freshmen could be the foundation for future success. That is if head coach Jimbo Fisher can keep the team together.
That won't be easy.
Disappointment often leads to disgruntlement. In today's college football, a disgruntled roster can quickly become a depleted roster as players can opt to enter the transfer portal.
That's the danger A&M faces. Fisher said he's facing it head-on.
"You worry about that all the time," Fisher said at his weekly press conference on Monday. "But this team is a very tight-knit, very unified group of guys. Especially that young group."
A couple of freshmen from the celebrated recruiting class have already sat out multiple games due to suspensions. It would come as no surprise if those players left.
There have also been reports that other programs — some within the state of Texas — are already pursuing and encouraging A&M players to transfer.
To make matters worse, A&M on Monday lost the commitment of five-star linebacker prospect Anthony Hill‍. There's fear other committed prospects may soon reconsider, too.
"You worry about that all the time. But this team is a very tight-knit, very unified group of guys. Especially that young group."
That would make keeping the 2022 class intact even more crucial.
Weigman may be the key. Talented quarterbacks tend to attract other players. If Fisher can keep Weigman, perhaps the majority of the other freshmen will stay.
At least for now, Fisher appeared confident that the nucleus of the freshman class will remain intact.
"They've been great," Fisher said. "We've had conversations about (the future). They're excited about where they're going, what's happening and the future of what you're doing.
"We talk to them every day about it. As a matter of fact, two of them came up to me today and go, 'I know we're short, but man, we're going to be a good team. We can still be a good team this year. We like where we're going in the future.'
"They like each other. They practice together. They spend a lot of time together and unify."
Obviously, Fisher hopes they will spend at least two more seasons together.
Never miss the latest news from TexAgs!
Join our free email list