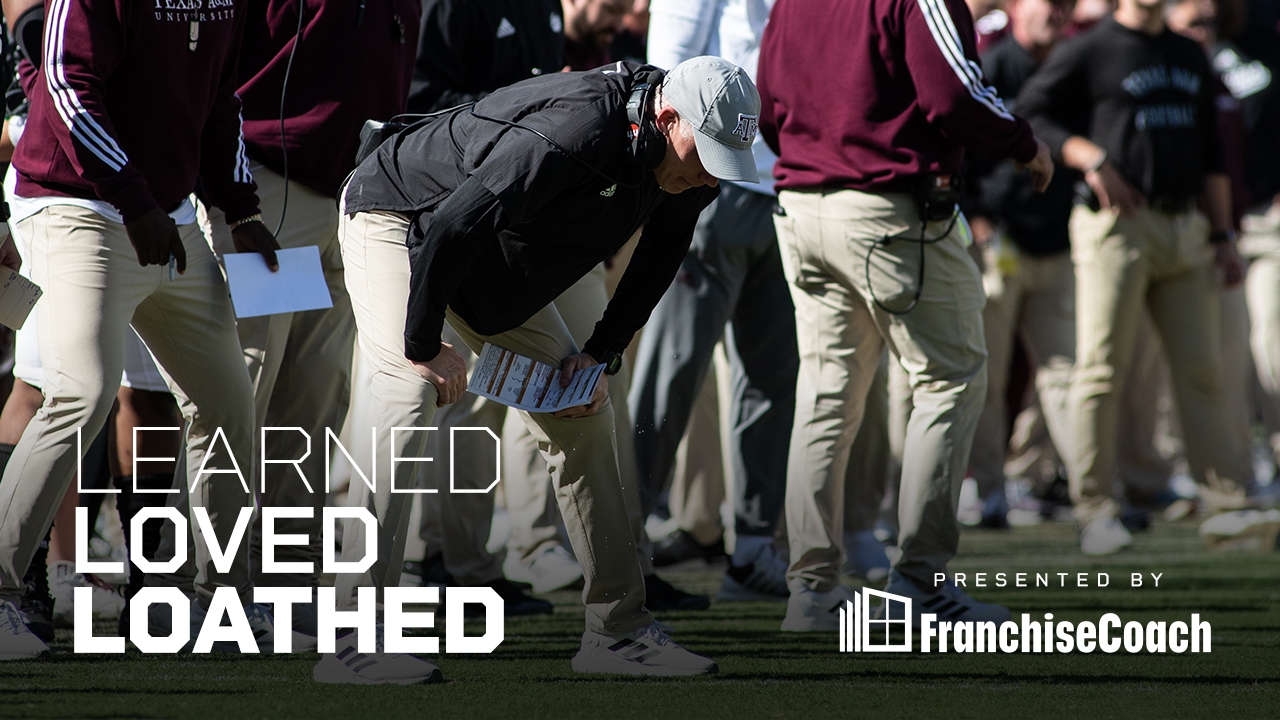 Photo by Jamie Maury, TexAgs
Texas A&M Football
Learned, Loved, Loathed: Florida 41, Texas A&M 24
---
Looking back on what was learned, loved and loathed in the Texas A&M 41-24 college football loss to Florida on Saturday:
Learned
Flu shots should be a team rule. A flu outbreak resulted in more than a dozen players being out of action. The list included freshman quarterback Conner Weigman.
Defensive end Fadil Diggs and cornerback Deuce Harmon are out for the remainder of the season. In a postgame press conference, coach Jimbo Fisher revealed they were sidelined with undisclosed injuries. Diggs is A&M's leader in sacks and forced fumbles. He and Harmon are added to a list of players out for the season that includes — but is not limited to — offensive linemen Aki Ogunbiyi, Bryce Foster and Jordan Moko, quarterback Max Johnson and receiver Ainias Smith.
Max Wright can play a significant role in the passing game. Wright previously hasn't been a big part of the offense. Coming into the game, Wright had just seven career receptions. However, he had a career-high five catches for a career-high 59 yards. He made a couple of difficult catches, too.
Loved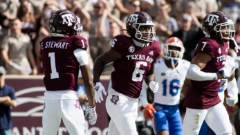 Jamie Maury, TexAgs
Devon Achane is practically a weekly entry here. He definitely deserves some love for his work. Although he was also reportedly weakened by the flu, Achane rushed for 122 yards and two touchdowns and caught a touchdown pass. His first carry resulted in a 65-yard gain even though blocking on the play was subpar. The play was meant to go around the right end, but there was no running room. He broke a tackle attempt by Florida linebacker Ventrell Miller, reversed field, avoided two more tackle attempts and cut upfield. He was forced out of bounds at the Florida 10-yard line. An extra five yards was added because of a face mask penalty.
Emerging receiving duo of freshman Evan Stewart and sophomore Moose Muhammad. If A&M can keep them together, Stewart and Muhammad could emerge as one of the nation's better tandems in future seasons. Stewart caught eight passes for 120 yards. Muhammad had 99 yards and seven catches. There were some drops, but they're both first-year starters and should continue to get better.
The first-half offense. The Aggies were sharp and productive to start. They accumulated 307 yards of total offense and scored on four of five possessions to take a 24-20 halftime lead. However, there are two halves…
Loathed
…Then there was the scoreless second half. A&M gained only 29 yards in the third quarter. Quarterback Haynes King was sacked and lost fumbles twice in the fourth quarter.
King's hesitancy to run. He isn't expected to be a running threat like Florida's Anthony Richardson, but there were plays on which King passed up opportunities to pick up positive yardage. King's speed is supposed to be one of his greatest assets. Yet, he rarely takes advantage of it.
A&M's run defense. Maybe the Aggies should consider going to an old-fashioned 5-2 alignment. Nothing else is working. Once again, A&M's turnstile run defense was routinely gashed as Florida rolled up 291 rushing yards. That's the fourth time this season the Aggies have allowed an opponent more than 240 rushing yards. Just in the last two games, A&M has surrendered 681 rushing yards. That's more than Michigan has allowed in nine games this season. A&M seemed ill-prepared for Florida's zone read. Richardson had touchdown runs of 10 and 60 yards off the zone read.
Never miss the latest news from TexAgs!
Join our free email list
PRESENTED BY