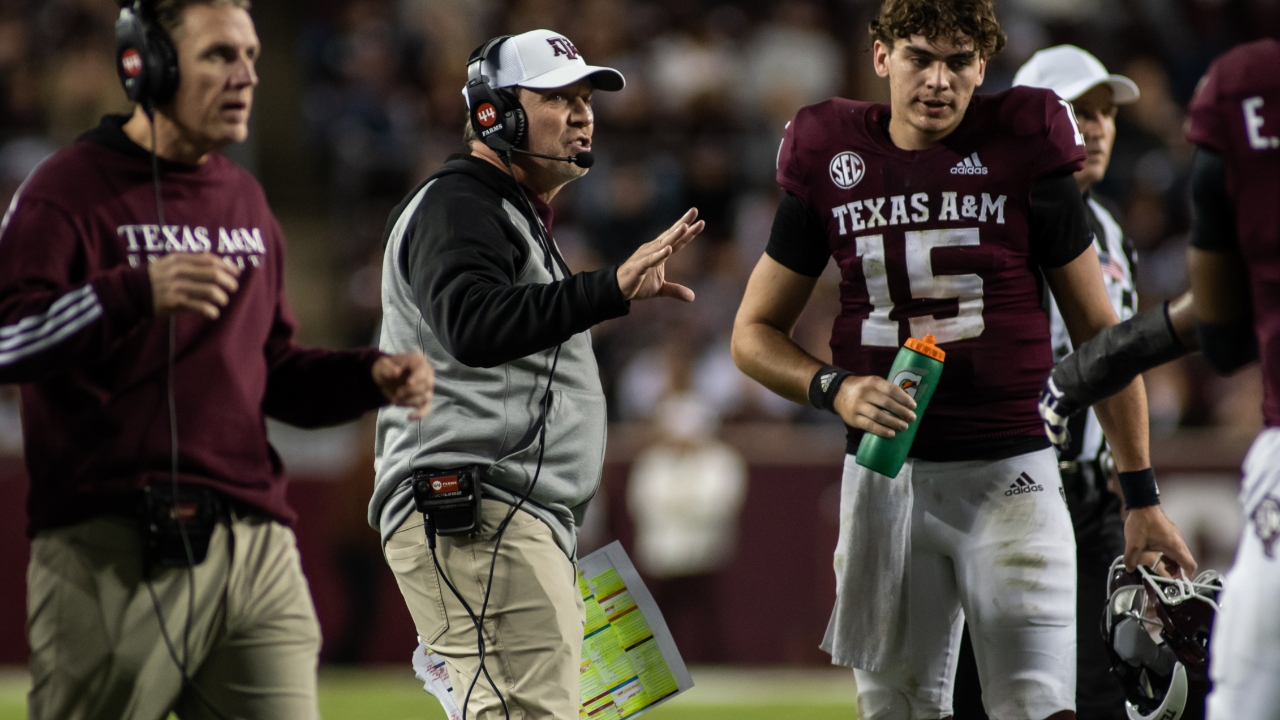 Jimbo Fisher
Albert Regis
Max Wright
Lane Kiffin
Texas A&M Football
Rebels' overpowering ground attack hands A&M fourth-straight loss, 31-28
---
Looks of disappointment, bewilderment and frustration were on the faces of Texas A&M football players as they exited Kyle Field following a 31-28 loss to No. 15 Ole Miss.
Those looks have been common during a four-game losing streak. These looks appeared to be different, though.
Perhaps these were the looks from facing the sobering reality that A&M's problems aren't just at quarterback.
Indeed, quarterback may be well down the list of A&M's issues. That's especially true now that freshman Conner Weigman had a brilliant showing in his first career start.
The celebrated five-star prospect dazzled the crowd of 101,084 at Kyle Field.
Weigman revived A&M's comatose offense by throwing for 338 yards and four touchdowns. That's the most touchdown passes thrown by an A&M quarterback in more than two years.
"I thought he was outstanding in the game," A&M coach Jimbo Fisher said of Weigman. "He showed a lot of poise, a lot of composure about what he did, how he did it. Gave us a chance to win the game at the end.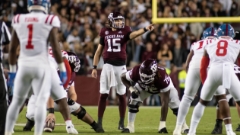 Jamie Maury, TexAgs
"The guy's got heart, toughness, charisma. He's got it all."
But Weigman's quarterback aptitude could not overcome A&M's defensive ineptitude. Kyle Field was a veritable lost-and-found on Saturday night.
The Aggies apparently found their quarterback that, in theory, could salvage their season.
No doubt, the dreams of Aggies will be invaded by nightmarish images of Ole Miss running back Quinshon Judkins gashing, thrashing and slashing through the A&M defense.
Judkins rushed for 205 yards and a touchdown. Unfortunately, he was not alone in dismantling the Aggies' sieve-like defense. Ole Miss quarterback Jaxson Dart scrambled for 95. Back-up running back Zach Evans had 75 yards on just eight carries.
The Aggies figured to have a difficult challenge in containing the Ole Miss running game. A&M has been vulnerable to the run throughout this season. Meanwhile, Ole Miss entered the fray ranked third in the country in rushing offense.
Yet, A&M defensive coordinator D.J. Durkin came up with a scheme as incredulous as it was futile.
Durkin came out in a three-man front, an alignment that really hasn't been used successfully all season.
The Rebels immediately gashed the Aggies for runs of 7, 16, 22 and 8 yards on a whirlwind drive to an opening touchdown.
After that opening drive, Durkin shelved the three-man front. However, he often used just one linebacker behind a four-man front. The results were ghastly.
All told, the Rebels churned out 390 rushing yards — the most allowed by A&M since Texas accumulated 393 in 2003.
"D.J. is a really good football coach, and he knows it," Fisher said in a show of support. "We'll get it right."
Fisher would have to forgive those who aren't as optimistic.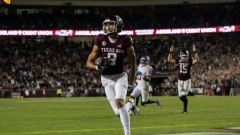 Jamie Maury, TexAgs
But perhaps some optimism can be gleaned from the fact that four of A&M's five losses have come by six points or less.
Despite all their defensive issues, the Aggies might have ended their skid if not for a couple of — let's call them — debatable pass interference calls on a key scoring drive on a 94-yard for a third-quarter touchdown that gave Ole Miss a 17-14 lead it would not relinquish.
There were other questionable calls, but the Aggies could only blame themselves.
They allowed Ole Miss to convert 7-of-16 third-downs situations into first downs. That doesn't include the three times A&M penalties gave the Rebels first downs.
That was too much for Weigman to overcome. He came close, though.
Weigman had thrown touchdown passes to Moose Muhammad and Evan Stewart in the first quarter, but the Aggies trailed 24-14 going into the fourth.
He led the Aggies on a six-play drive for a 2-yard touchdown pass to Noah Thomas with 9:11 remaining in the game.
They had momentum. They needed a stop. They didn't get it.
On the first play after the ensuing kickoff, Judkins broke loose for a 61-yard run. That led to a touchdown and a 31-21 lead.
The Aggies responded with an 80-yard march for Weigman's fourth touchdown pass — a 7-yarder to Devon Achane with 1:25 left to play.
They'd get the ball one more time but had no realistic chance of scoring.
However, moving forward with Weigman directing the offense, the Aggies have a realistic chance to score enough points to win.
But dazed and disappointed players in the locker room couldn't look that far ahead.
"It was hard. Guys coming in, honestly, a little upset," senior tight end Max Wright said. "Got some tears here and there. Anytime you lose a game like that — where it's kind of within your grasp, and you feel like you're going to go take it — it really rips your heart out."
Never miss the latest news from TexAgs!
Join our free email list