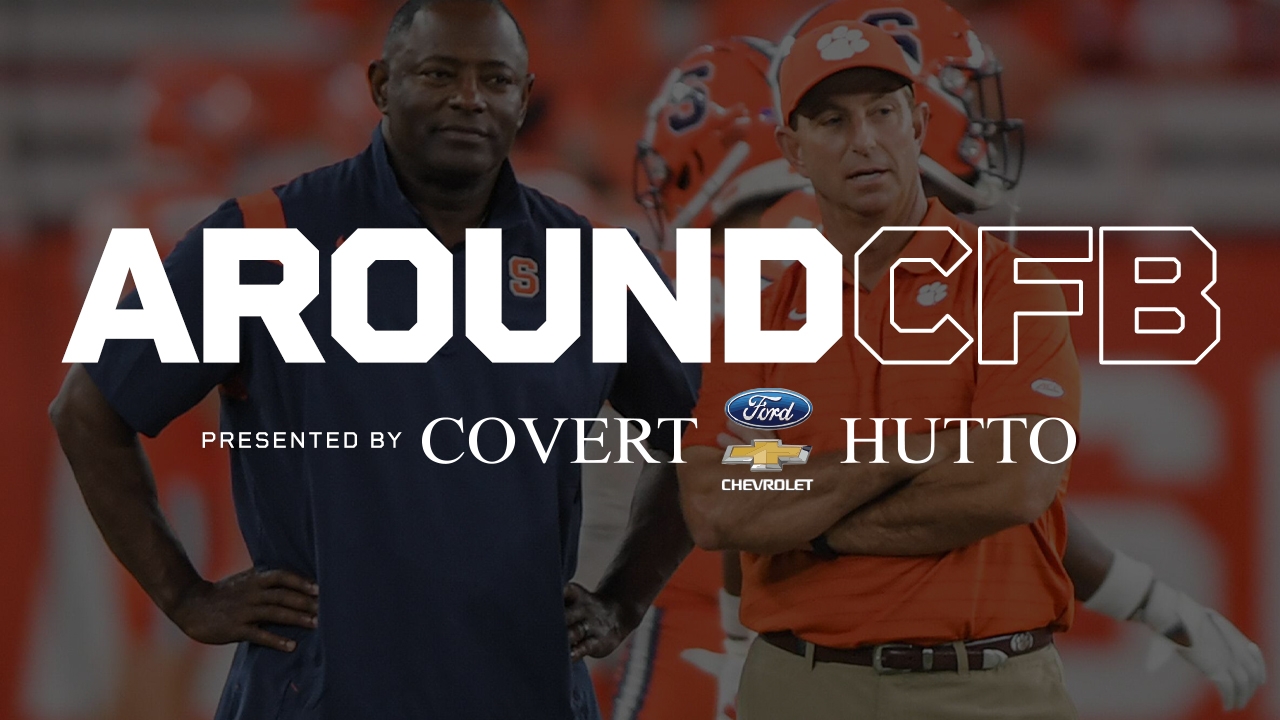 Photo by Ken Ruinard /USA TODAY Network
Texas A&M Football
Around CFB: Syracuse travels to Clemson for unlikely battle of unbeatens
---
Did da Vinci ever stop halfway through a painting to admire his work? Did Mozart ever stop midway through an opus and say, "Wow, that sounds good"?
If not, Syracuse football coach Dino Babers obviously thinks they should have.
The Orange is one of nine unbeaten FBS teams. They're ranked No. 14 in the nation. They're 6-0 for the first time in 35 years.
Babers thinks his players should digest that and enjoy it.
"It's really rare," Babers said on Monday. "This is the third time we've been this deep in over three decades, so it's rare.
"You should cherish it. You should understand this moment and not let it just go past you. You might want to slow down and make sure you get it. I don't know what's going to happen in the cards, but right now, it's something you should look at, and you should be proud of."
An unbeaten record halfway through the season is indeed rare at Syracuse. As Babers mentioned, it's only the third time the Orange have been unbeaten at this point.
They also started 6-0 in 1987 and 1959. In both years, they finished unbeaten. In '87, Syracuse finished 11-0-1. They tied Auburn, 16-16, in the Sugar Bowl when Tigers' coach Pat Dye chose to kick a last-play field goal rather than go for the win.
They defeated Texas in the Cotton Bowl to win the 1959 national championship.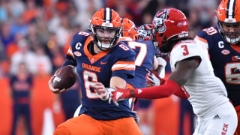 Mark Konezny-USA TODAY Sports
Apparently, winning the seventh game is the key for Syracuse to finish unbeaten. In '87, the Orange beat Colgate 52-6. In '59, they beat Penn State 7-0.
This time, they face Clemson in a clash that may ultimately decide the Atlantic Coast Conference Atlantic division, perhaps the ACC championship and maybe even a spot in the College Football Playoff field.
But wins haven't come easily or often against Clemson.
The Orange is just 2-8 in the series against Clemson. They've lost the last four meetings. They've never won at Death Valley.
However, they have some things going for them.
Quarterback Garrett Shrader, a transfer from Mississippi State, has thrown four times as many touchdown passes (12) as interceptions (3).
Syracuse has scored on 26-of-28 red-zone opportunities. One of the "misses" was in a 59-0 win over Wagner when the Orange took a knee three times to end the game.
Receiver Oronde Gadsden II is second in the ACC in receiving. The Orange lead the ACC in total defense and scoring defense.
Also, just last season, Syracuse fell to Clemson, 17-14. Kicker Andre Szmyt missed a 48-yard field goal attempt with just 38 seconds remaining.
Perhaps the Orange can find encouragement in that near miss — the outcome, not the field goal.
"I think our guys like playing them, whatever that means," Babers said. "They know all the eyes are on them. (Clemson is) really, really good. You need to have some luck when you're playing them because they're exceptional, but I just think (the Orange) enjoy playing them."
Heisman watch (If my ballot was due today)
1. Hendon Hooker, Tennessee, QB: He became the front-runner after his stellar performance in a 52-49 upset of Alabama. Hooker completed 21-of-30 passes for 385 yards and five touchdowns. He also rushed for 56 yards. He has now passed for 1,817 yards and 15 touchdowns. He has rushed for 287 yards and three scores. He's completing 70 percent of his passes and has thrown just one interception.
2. C.J. Stroud, Ohio State, QB: The Buckeyes were open last week. Stroud threw for 361 yards and six touchdowns against Michigan State in their most recent game. Overall, he has passed for 1,737 yards and 24 touchdowns. He has thrown just three interceptions.
3. Bryce Young, Alabama, QB: Back in the lineup after missing a game with a shoulder injury, Young was outstanding in a 52-49 loss at Tennessee. In his most productive game of the season, Young passed for 455 yards and two touchdowns. He has now thrown for 1,657 yards and 16 touchdowns. He has thrown just three interceptions.
4. Drake Maye, North Carolina, QB: The freshman leads the nation in total offense with 2,661 yards. He passed for 380 yards and three touchdowns and led a last-minute drive for a game-winning touchdown in a 38-35 victory over Duke. He also rushed for 70 yards. Overall, Maye has passed for 2,283 yards and 24 touchdowns. He has also rushed for 378 yards and three scores.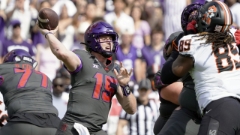 Raymond Carlin III-USA TODAY Sports
5. Max Duggan, TCU, QB: The Horned Frogs are unbeaten, and obviously, Duggan is a major factor in that success. He led the Frogs to a come-from-behind 43-40 victory over Oklahoma State last week. In that game, he passed for 286 yards and two touchdowns. He also rushed for 57 yards and a touchdown. Overall, Duggan has passed for 1,591 yards and 16 touchdowns. He has rushed for 261 yards and four touchdowns.
Predicted playoff participants
1. Georgia: Defense again can carry the Bulldogs to an unbeaten season.
2. Ohio State: Michigan looks more imposing after its blowout of Penn State, but the Buckeyes still appear to be the Big Ten's best.
3. Tennessee: If the Volunteers finish with one loss or less, the victory over Alabama should be their ticket to the playoffs.
4. Clemson: If the Tigers defeat Syracuse on Saturday as expected, an undefeated regular season is within reach. No more ranked opponents remain on the schedule.
Games to watch
No. 14 Syracuse at No. 5 Clemson: Clemson's final real test. Meanwhile, Syracuse could break into the top ten.
No. 9 UCLA at No. 10 Oregon: Both are unbeaten in Pac-12 play. Could be the first of two clashes.
No. 20 Texas at No. 11 Oklahoma State: Likely an elimination game in the Big 12 championship race.
No. 24 Mississippi State at No. 6 Alabama: Alabama's pass defense looks vulnerable. Mississippi State must play a lot better than last week to capitalize.
No. 17 Kansas State at No. 8 TCU: A lot of purple. The winner gets an inside track to the Big 12 title game.
Never miss the latest news from TexAgs!
Join our free email list
PRESENTED BY