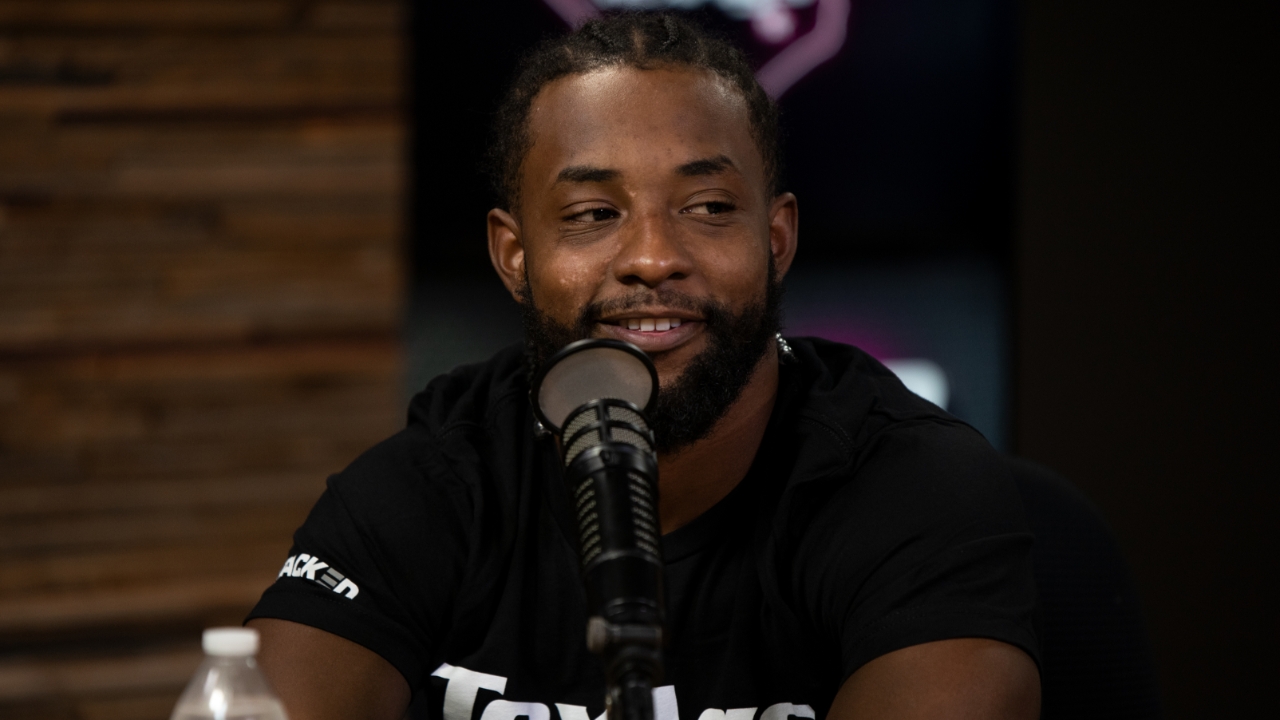 Photo by Dalton Hughes, TexAgs
Texas A&M Football
Ainias Smith says 12th Man has him in high spirits following surgery
---
Fan favorite do-it-all man Ainias Smith was lost for the season in the Aggies' thrilling victory over Arkansas at the end of September due to a broken leg. With surgery in his rearview, "Sub Zero" joined Billy Liucci to look back on his injury and share what he's doing now.
---

Key notes from Ainias Smith interview
I've been in high spirits. I do know that God has a purpose for everything. I am a true believer in that. It hurt me to hear I couldn't play for the rest of the season. At first, I was always trying to be happy and always smiling, but at the Alabama game, that's when it really hurt because I couldn't be out there with the guys. I've been rehabbing, and that has been going well. I am taking strides, and every day, I'm trying to get right. Mentally, I've been good. I've had some hard times, but I'm staying the course and staying patient.

I won't lie: It felt good to see the support from Aggies and have so many people praying for me. It meant a lot to me because I know people are out there that care. It wasn't just coming from Aggie Nation, either. It was coming from all over. It helped me put a smile on my face. I definitely appreciated it.

To be honest, I didn't know my injury was that bad at the moment. I was on the ground, and I was trying to get up and walk it off because that's my mindset all the time. Just get up and keep going. I wasn't able to move it or feel it. I knew I just had to get up. Somebody told me the trainers were on their way. When the trainers got there, they wanted to roll me over. I was like, "Forget rolling over. Just let me get up." When I couldn't walk on my own, that's when I knew something wasn't right. I heard some cracking and clicking. I couldn't put any pressure on it, and that's when I knew it was pretty bad.

It's tough to say my season is over because I always feel like I can give a whole lot more. I can say I put my heart out there in every single game and every single practice. The perception that people have of me is that I'm a hard-working kid, and I am. Still, I feel like we left so much on the table. I feel like I could have done so much more to ensure we didn't lose some of those games. I feel like I did a lot to help the team, but I feel like I can still do more if I come back in time.

The doctors said I would be back to moving around in 3-4 months. Right now, I have a lot of stuff going on. I have three screws and a tightrope in right now, plus a plate that's not getting removed. The screws will be removed somewhere down the line. I'll have another procedure that will add another tightrope. After that is when I should be able to move around some more. It's crazy.

I talk to my brother, but he has never had surgery for an injury. He had his appendix removed, but we've never broken bones before. This is my first time sitting out for a certain period of time without doing anything. It seemed like the world was going up, but then it came crashing down on me. I'm not tripping anymore.

My whole thought process is worrying about myself right now. I'm trying to get healthy. That's the main priority. I'm definitely out there coaching, and that's a cool little deal. I'm making sure that our team still has high hopes for themselves and that the guys are keeping their heads high even though they're not getting the outcomes they want. That's one of my priorities because I'm still trying to figure out when I'm going to be able to walk again. Once I figure that out, that's when I'll have an answer about my future.

Originally, when I saw the formation on the final play, I knew the play that was being called. I didn't think it was a bad play call. I don't know if I wanted to run or throw the ball. I just wanted to win. The play call was intended for anybody to get the ball, and it went to Evan Stewart based on the coverage. My first thought was that the defender was holding. A lot of guys came back asking about where the time went. My thought was that he was holding. What could we have done to give ourselves a chance? The play call was bashed by a lot of people, but it's a play call we had earlier in the game where we scored. We could have executed a lot differently, but at the same time, it comes down to just doing your job. We have to be able to believe and trust in what's being called and execute. It didn't go the way we wanted, but it is what it is now.

"Proud" isn't even the right word. I came away extremely hopeful for the future after that game on Saturday night. For the freshmen that played, it was huge. The Alabama-Texas A&M game is going to be a game every single year with the way Jimbo Fisher and Nick Saban are recruiting. I'm definitely proud of the team for the way they played and fought. You could feel the energy before the game. Everybody had a feeling about that one, and I had that same feeling. They showed up.

A lot of people knew my story, but I told the guys before the game that they had to take the Alabama game personally because they wanted to come and destroy us. I told them if they wanted to be puppies, they needed to leave the locker room. I told them they needed to play for all four quarters, and that's what they did. I'm super proud of those guys.

There is more urgency in the receiving corps. They have shown that to me, and they are willing to go out there during games and practice to compete. They are doing it at a high level. I can see a spark in Evan. He didn't have the best game vs. Mississippi State, but he came out vs. Alabama ready to go to war. Moose Muhammad has stepped up and come a long way. Chris Marshall told me before the game what he was about to do, and you need that confidence to play in this league. To see how those dudes have grown up is great to see.

The number one thing the guys have to do on bye week is take care of their bodies. There are going to be days when you're not feeling your best because you're halfway through the season. You have to be OK because it affects how you practice. You have to be a pro about that. Secondly, you have to have a mindset. You can't be like, "Oh, I'm going to take it off." You can't take days off, and a lot of people won't do those things because they're hurting. When it gets to game week, you have to look back on what you did in previous weeks and figure out what worked. You can't go into this week or next week thinking the season is over because you lost vs. Alabama. It's all a mindset thing because you have to be willing to do whatever it takes.
Never miss the latest news from TexAgs!
Join our free email list