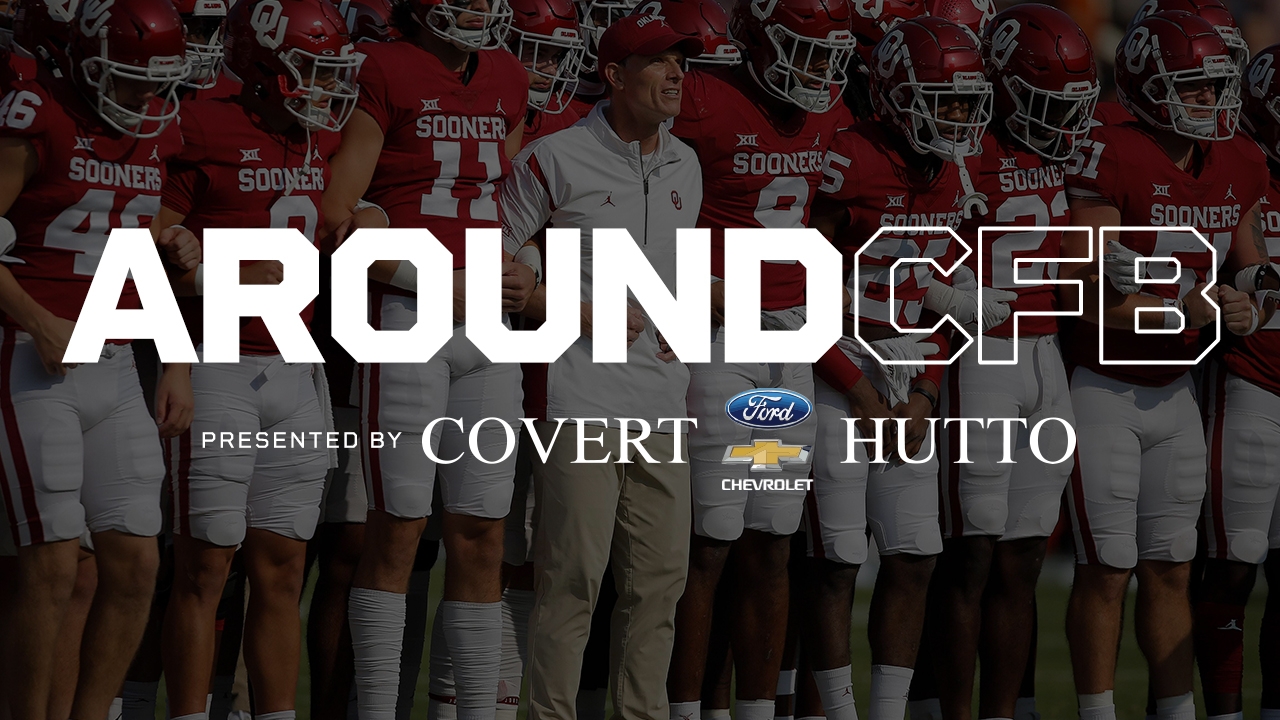 Photo by BRYAN TERRY/THE OKLAHOMAN / USA TODAY NETWORK
Texas A&M Football
Around CFB: Consecutive blowouts have Oklahoma's bowl hopes fading
---
The mere mention of the Dust Bowl would invoke shudders from old-timers in Oklahoma.
Younger Oklahoma residents might also shudder at the term, thinking it's the only hope for the Oklahoma Sooners to reach a bowl game.
They're experiencing a great depression in Oklahoma.
Every year there are disappointing teams in college football. This year, the most disappointing may be the Sooners (3-3), who opened the season ranked No. 9 but have fallen out of the polls following three consecutive losses.
The latest, of course, was a 49-0 blowout at the hands of arch-rival Texas last week.
That was Oklahoma's most lopsided loss in the series. It was the worst shutout in the history of Oklahoma football, regardless of opponent. It was the Sooners' second straight 30-point loss, which is the first time that has happened in program history.
Oklahoma fans put some of the blame on turncoat coach Lincoln Riley, who jilted them for USC and took star quarterback Caleb Williams with him.
But there is going to be some blame for first-year coach Brent Venables, who left his post as Clemson's defensive coordinator but did not bring defense with him.
In such depressing times, Venables offered comfort to Oklahoma fans with good old-fashioned coach speak.
"Adversity and the failure and the losing can divide a team quickly. You see it all the time," Venables told the Tulsa World. "Or it's people making a choice. It's literally that easy. I believe in this. I have that unshakable belief in what we're doing.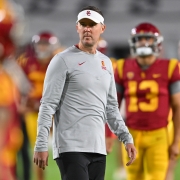 Jayne Kamin-Oncea-USA TODAY Sports
"Again, responsibility goes everywhere. Guys know what's real, and they have some accountability, and I know we've got the right guys. They'll know how to respond."
That promise may be all Sooners fans have now. The Oklahoma faithful cannot even glean hope from the fact the Sooners next play host to Kansas.
Typically, the Jayhawks are the cure for whatever ails their opponent. But this is an atypical year.
While Oklahoma struggles, Kansas (5-1) has soared. Oklahoma hasn't lost to Kansas since 1997, but that streak could end. It should end. Frankly, Kansas is the better team.
The No. 19 Jayhawks suffered their list setback a week ago in a hard-fought 38-31 loss to TCU. That same TCU team destroyed Oklahoma's hapless defense in a 55-24 romp a week before.
The Sooners have lost three consecutive conference games. In each, they've allowed at least 41 points.
No wonder Oklahoma fans and media were so angry five-star defensive line recruit David Hicks‍ chose Texas A&M. They desperately need a reason to believe the Sooners' defense will get better.
More realistic is the hope that quarterback Dillon Gabriel will play against Kansas. Gabriel suffered a concussion against TCU, sat out the Texas game and reportedly remains in the concussion protocol.
If he plays, the Sooners can at least hope to outscore the Jayhawks. Even that seems unlikely. Oklahoma has managed 58 points in three Big 12 games. Kansas has scored 100 points against three conference opponents.
Oklahoma hasn't missed postseason play since 1998, during coach John Blake's three-year reign of error. A loss to Kansas could put the Sooners' postseason hopes in dire jeopardy.
Baylor remains on the schedule. So does No. 8 Oklahoma State. The Sooners also have to travel to face Texas Tech, which defeated Texas. They also have road trips to Iowa State and West Virginia.
Can three wins be found there? Maybe, but it seems more and more unlikely the Sooners get dusted a few more times and miss a bowl game.
Heisman watch (If my ballot was due today)
1. Hendon Hooker, Tennessee, QB: Nobody has been as steadily brilliant as Hooker, who is the primary reason the No. 6 Volunteers are undefeated. Hooker has thrown for two touchdowns in every game. Overall, he has passed for 1,432 yards and 10 touchdowns. He has thrown no interceptions. He has also rushed 231 yards and three touchdowns.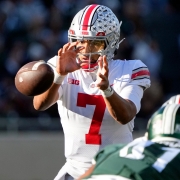 Kyle Robertson/USA TODAY NETWORK
2. C.J. Stroud, Ohio State, QB: Stroud threw for 361 yards and six touchdowns in a 49-20 victory over Michigan State last week. In six games, Stroud has passed for 1,737 yards and 24 touchdowns. He has three interceptions.
3. Will Rogers, Mississippi State, QB: Rather quietly, Mississippi State has reached No. 16 in the national rankings. The top ten beckons. Rogers has led the way. He's No. 1 in the nation in passing with 2,110 yards. He has also thrown 22 touchdown passes and only three interceptions. Rogers had 395 passing yards and three touchdowns in a victory over Arkansas last week.
4. Caleb Williams, USC, QB: Though Williams had a rather pedestrian showing in a 30-14 victory over Washington State, he's having a solid year and is a big reason the Trojans are unbeaten. Williams completed just over half his passes against Washington State for 188 yards and two touchdowns. On the season, he has passed for 1,590 yards and 14 touchdowns. He has one interception. He's also rushed for 178 yards and three touchdowns.
5. Drake Maye, North Carolina, QB: Make way for Drake Maye on the list of contenders. The redshirt freshman has led the Tar Heels to a 5-1 start by passing for 1,903 yards and 21 touchdowns. He has thrown three interceptions. Maye has passed for at least 284 yards in every game and four times has exceeded 300. He threw for 309 yards and two touchdowns in a win over Miami last week. He has also rushed for 308 yards and three touchdowns.
Predicted playoff participants
1. Georgia: Despite all the talk about the Bulldogs' slippage, the fact remains they've only had one close game.
2. Ohio State: The unbeaten Buckeyes have outscored their three Big Ten opponents by a combined score of 150-51.
3. Alabama: Bryce Young is expected back in the lineup for the game against Tennessee.
4. Clemson: The Tigers have victories over currently ranked No. 14 Wake Forest and No. 15 NC State.
Games to watch
No. 3 Alabama at No. 6 Tennessee: The Volunteers become legitimate national title contenders if they end a 15-game losing streak to Tide.
No. 10 Penn State at No. 5 Michigan: Winner eventually faces Ohio State for de facto Big Ten championship.
No. 8 Oklahoma State at No. 13 TCU: There could not be a game with more evenly matched teams. Both teams average 46.4 points. TCU allows an average of 23.8 points. Oklahoma State allows 24.8.
No. 15 NC State at No. 18 Syracuse: This is Syracuse's chance to prove it's not a pretender. The Orange's five victories are over opponents that are a combined 12-18. But the Orange can't look ahead to next week's game vs. Clemson.
No. 7 USC at No. 20 Utah: USC needs this win badly for its playoff resume. The Trojans haven't beaten a ranked opponent.
Never miss the latest news from TexAgs!
Join our free email list
SPONSORED BY