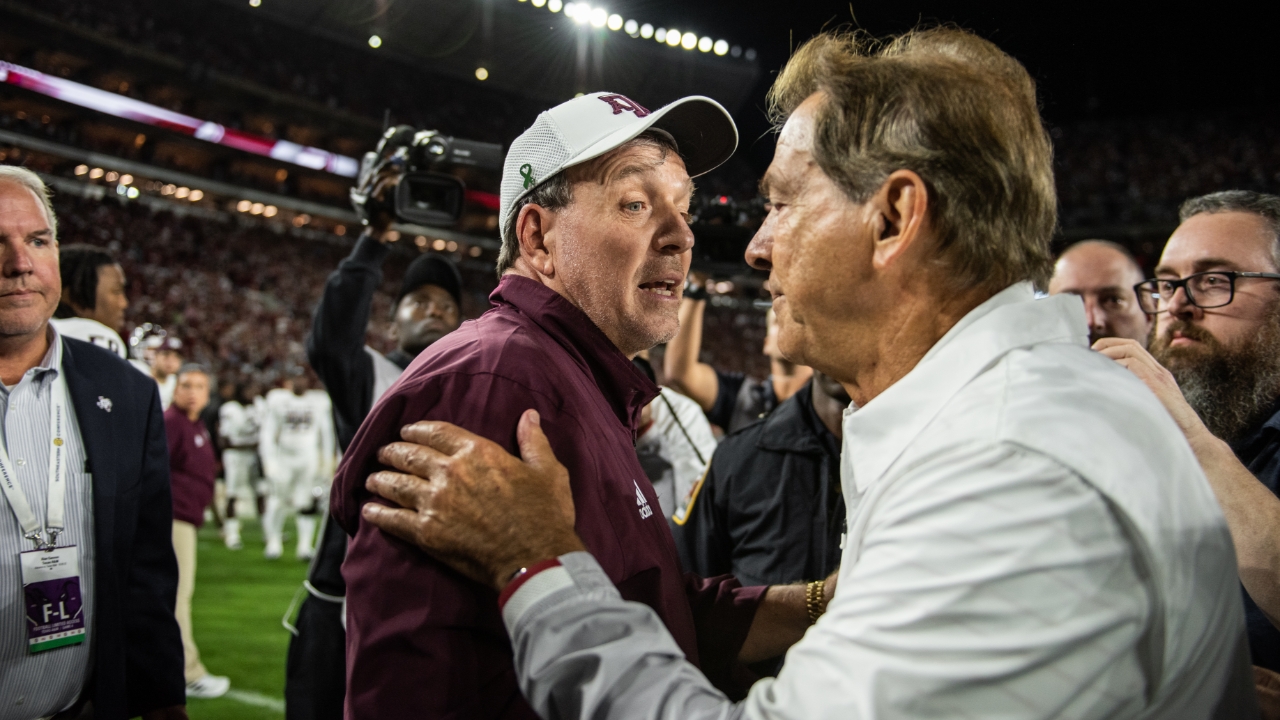 Jimbo Fisher
Layden Robinson
Fadil Diggs
Texas A&M Football
Texas A&M takes top-ranked Tide to the wire in T-Town thriller, 24-20
---
TUSCALOOSA, Ala. — When Evan Stewart could not get his hands on a final pass, another stunning upset of Alabama slipped through the Aggies' fingers.
In reviewing Texas A&M's 24-20 loss to the top-ranked Tide on Saturday night, Aggies can glean encouragement from coming within two yards — and perhaps unfortunate loss of time — from duplicating last year's victory over Alabama.
Upon closer inspection, though, they will also lament the squandered chances that could've rendered moot the final incompletion, disappearance of precious seconds and a back-breaking judgmental call.
"There's no such thing as moral victories," A&M coach Jimbo Fisher said. "But it did show you what we're capable of and how we can play and things we can do."
Indeed, the Aggies (3-3, 1-2 in the SEC) showed they can go toe-to-toe with Alabama (6-0, 3-0). They showed they could fight back from a 10-point deficit on the road. They showed they could move the football downfield in a clutch two-minute drive.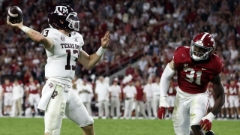 Butch Dill-USA TODAY Sports
They just couldn't completely overcome their own mistakes and missed opportunities.
Previous errors almost did not matter.
Trailing by four points with fewer than two minutes to play, the Aggies launched a final drive from their own 29-yard line.
They reached the Alabama 2-yard line after a pass interference penalty with seven seconds remaining. Four more seconds ticked off the clock, which meant A&M had only time for one play.
Alabama defensive back Terrion Arnold appeared to hit Stewart early as he reached for quarterback Haynes King's pass.
Maybe officials judged there wasn't sufficient contact to call another penalty. Maybe they felt King's pass was uncatchable.
Whatever the case, A&M came up short.
"We kept battling back," Fisher said. "We got down there and had a chance. The kids played a two-minute drive. Took it down the field. Got the one last play. It was a good read. We just didn't get it executed."
Had they executed better earlier, it might not have mattered.
Under pressure, King threw an interception which was returned to the A&M 28-yard line just 38 seconds before halftime.
Alabama converted with a 50-yard field goal for a 17-14 halftime lead.
Then, on the first play of the second half, cornerback Denver Harris dropped a potential interception that hit him squarely in the chest.
Given a second chance, Alabama quarterback Jalen Milroe capitalized and hit Ja'Corey Brooks with a 29-yard touchdown pass for a 24-14 lead.
"We kept battling back. We got down there and had a chance. The kids played a two-minute drive. Took it down the field. Got the one last play. It was a good read. We just didn't get it executed."
The Aggies could have pulled within three when receiver Moose Muhammad broke open way behind the Alabama secondary midway through the third quarter.
But King's pass sailed. Muhammad made an acrobatic 36-yard catch but couldn't maintain his balance.
A good throw would have been a walk-in touchdown. Instead, the Aggies settled for a 41-yard Randy Bond field goal to pull within 24-17.
Late in the fourth quarter, they were driving for a tying touchdown. Yet, facing fourth-and-2 at the Alabama 16-yard line, the Aggies twice committed false start penalties.
Bond salvaged the drive with a 46-yard field goal.
The defense forced a three-and-out on Alabama's ensuing series and gave the Aggies one last chance.
One chance that just came up short.
Detractors — and A&M has many of them — might try to dismiss A&M's effort. They will point out that Heisman Trophy-winning Alabama quarterback Bryce Young sat out with a sprained shoulder.
But Milroe filled in well with three touchdown passes while also rushing for 83 yards.
Fisher, though reminded that A&M was without several starters, too, including injured quarterback Max Johnson.
"We didn't have Ainias Smith," Fisher said. "We didn't have our left tackle (Trey Zuhn). We didn't have our left guard... We didn't have (defensive tackle) Shemar Turner. We've been shorthanded all year.
"We don't look for qualms. He won't either. I know Nick (Saban). He ain't gonna look for no qualms. We're playing a backup quarterback, too."
Fisher isn't celebrating moral victories. A&M shouldn't either.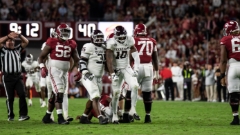 Jamie Maury, TexAgs
But the Aggies can feel good about a pass rush that finally showed up behind the charge of Fadil Diggs. They can feel encouraged about receivers making clutch catches. They can feel encouraged about the defense forcing four turnovers.
Those turnovers weren't lucky, either. Three fumbles were the result of jarring, physical hits. An interception by Jardin Gilbert was an exceptional, athletic play.
The Aggies next must show that this was not a one-time effort. Six games remain. If the Aggies play with the same intensity and tenacity, they could win them all.
"We have to regroup next week," Fisher said. "Play our tails off to get better and finish these last six games the way we need to play the rest of the year.
"Hopefully, this will give us some vision of what we can be and what we can do."
Again, there are no moral victories.
But there are morale-boosting visions.
"Their heart, the desire, their guts and ability…" Fisher said of his team. "You can say toughness, but we've got ability. We had guys make plays we had guys get open. We have guys stop the run. We've just got to get a little bit better. There's a lot of good to build on."
Never miss the latest news from TexAgs!
Join our free email list