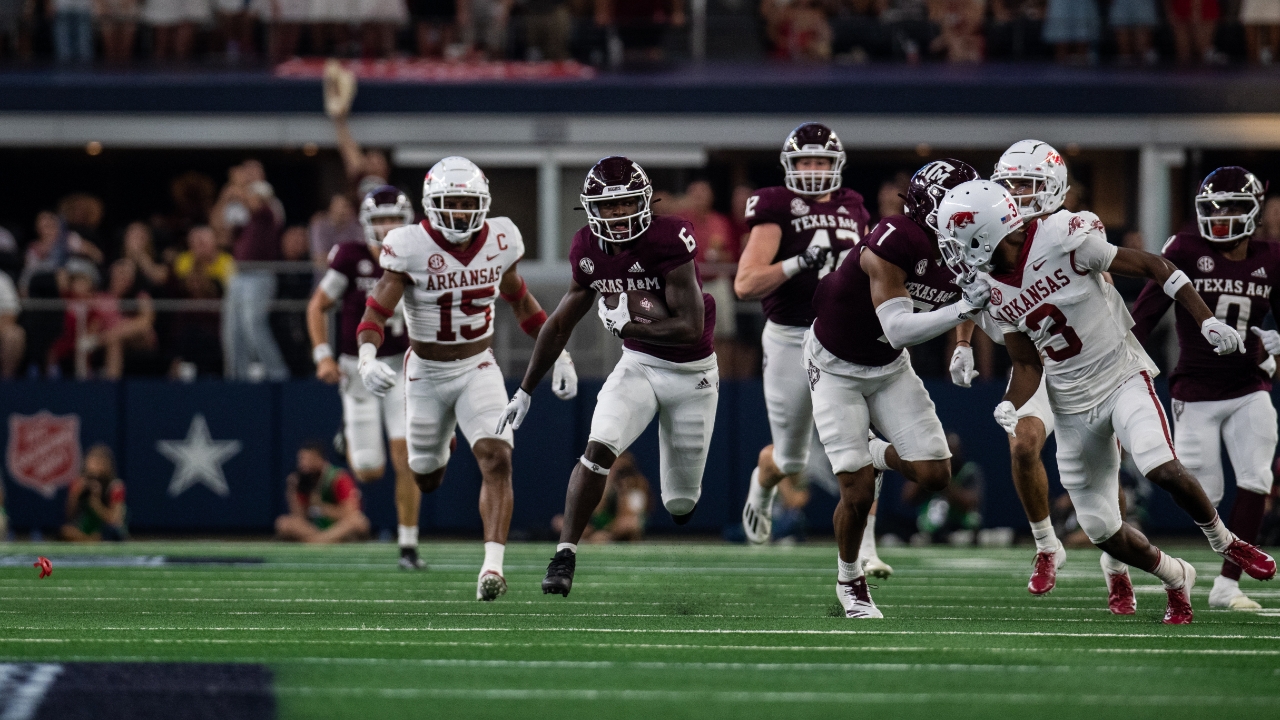 Photo by Jamie Maury, TexAgs
Texas A&M Football
Success in running game & secondary necessary vs. Mississippi State
---
In consecutive victories, 17th-ranked Texas A&M (3-1,1-0) has slowly shown signs of becoming the powerful college football team that was projected.
Gradual improvement is welcome. But with an impending road trip to Mississippi State (3-1, 0-1) for a 3 p.m. Southeastern Conference clash on Saturday, it's time the Aggies get in a rush.
Coach Jimbo Fisher has said as much.
"You have to relax and let plays happen," Fisher said. "We have to have the urgency to get that fixed right now."
That rush job means doing a better job rushing the football and the passer.
A&M needs its running game to continue making the strides seen in victories over then-No. 13 Miami and then-No. 10 Arkansas.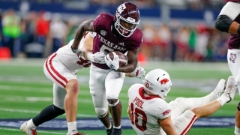 Andrew Dieb-USA TODAY Sports
The offensive line paved the way for turbo-charged running back Devon Achane to rush for 247 yards in the last two games. Unleashing Achane is the key to A&M's offense, especially without leading receiver Ainias Smith, who sustained a season-ending injury against Arkansas.
"Last week at practice, coach Fisher told us he was going to make an emphasis on the run game," sophomore center Bryce Foster said. "He told us we were going to run the ball against Arkansas even though they were one of the best run defenses in the nation.
"We took that to heart, knowing our coach has confidence in us. We have a guy as fast as Devon. It's crazy how fast he is. You blink, and he's 15-yards down the field. Just having that trust means a lot to our O-line."
Statistically, Mississippi State's defense isn't as strong against the run as Arkansas. The Bulldogs aren't bad, though. They're ranked 44th in the nation in run defense.
"(They're) very good on defense," Fisher said. "Coach (Zach) Arnett does a great job of mixing up things. They've been great on defense since he's been there."
Successfully running the football would be doubly beneficial. That would also keep Mississippi State quarterback Will Rogers on the sideline.
Rogers is in his third year of running coach Mike Leach's unorthodox Air Raid offense. He is ranked second in the nation in passing. He has thrown for 1,386 yards and has 16 touchdown passes.
The Bulldogs' offensive passing game poses a stern challenge for A&M's talented secondary. The Aggies are ranked 10th in the country in pass defense. They have allowed only three touchdown passes.
"As the back end, we're going to have to execute. We know they like to throw the ball. We know they're an Air Raid offense. It's going to come down to us to do our jobs."
"It's going to come down to the secondary," A&M junior cornerback Jaylon Jones said. "We know we're going to get the rush up front, things like that. As the back end, we're going to have to execute. We know they like to throw the ball. We know they're an Air Raid offense. It's going to come down to us to do our jobs."
Actually, Jones and the Aggies are hopeful they can mount a pass rush.
So far, the Aggies haven't shown a strong rush. They've managed just six sacks (tied for 98th in the nation), though they have been credited with 16 quarterback pressures.
The Aggies cannot allow Rogers to be comfortable in the pocket and easily distribute the football.
Last season, he passed for 408 yards and three touchdowns as Mississippi State upset the Aggies, 26-22. He led touchdown drives that used 12 plays and 10 plays.
A&M's defense may need to get creative to contain Rogers.
"You have to have multiple looks. You have to do different things," Fisher said. "I think you have to make plays on the ball and be able to cover. Hopefully, we will. And hopefully, we'll put pressure on at times when we need to."
Never miss the latest news from TexAgs!
Join our free email list
PRESENTED BY