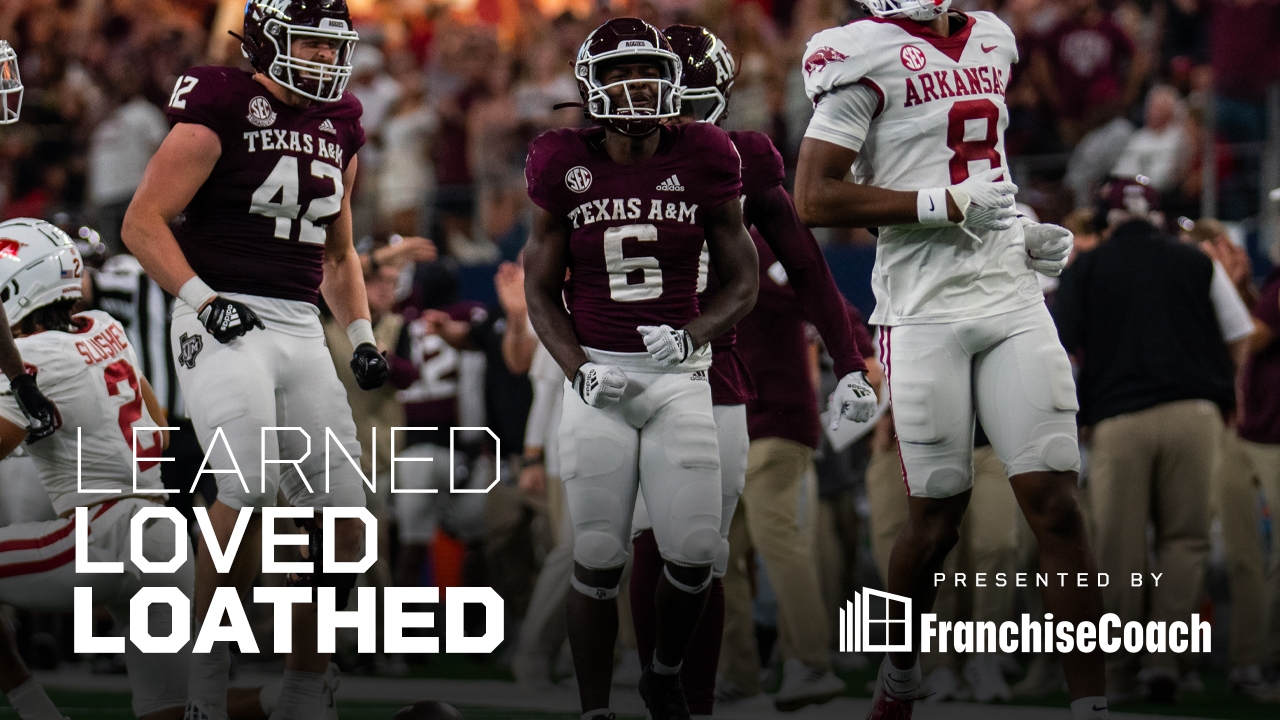 Texas A&M Football
Learned, Loved, Loathed: Texas A&M 23, Arkansas 21
September 25, 2022
13,340
---
ARLINGTON — Looking back on what was learned, loved and loathed from a Texas A&M 23-21 Southeastern Conference football victory over Arkansas.
Learned
Chris Russell can play: Russell often appeared out of position and missed tackles in the win over Miami last week. He completely redeemed himself against Arkansas. Russell proved he can be an impactful linebacker. He posted 10 tackles, had a sack and forced a fumble that the Aggies turned into a 97-yard touchdown. He also broke up a pass.
Evan Stewart isn't just fast: The freshman wide receiver was hailed as a speedster who can stretch the defense. Yet, his biggest play was on a 10-yard touchdown catch — the first score of his career — in which he made an excellent adjustment on an underthrown pass to make the catch.
Donovan Green needs to play more: The Aggies have not gotten much from the tight end position. That changed. Green caught three passes for 50 yards. One catch resulted in a 26-yard gain and set up a Devon Achane touchdown run. Another was good for 16 yards on third-and-12.
Loved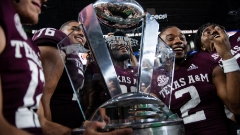 Jamie Maury, TexAgs
Of course, everyone loved the fumble return for a 97-yard touchdown: Rather than falling behind 21-7 in the second quarter, the Aggies changed the game's trajectory. Chris Russell jolted the football loose from Arkansas quarterback KJ Jefferson. Tyreek Chappell caught the fumble and ran to the 18-yard line, where he was almost tackled by Arkansas running back Raheim Sanders. But Chappell either handed the football off or had it taken from him by safety Demani Richardson. Richardson raced the remaining 82 yards for a touchdown, which reduced A&M's deficit to 14-13. The Aggies maintained momentum in the third quarter to take a 23-14 lead.
Who doesn't love Devon Achane? The junior speedster again demonstrated he is indeed an "every down" running back. He jumped started a sputtering offense with a 63-yard run, which led to the Aggies' first touchdown. He added a 9-yard touchdown run in the third quarter. Achane finished with a season-high 159 rushing yards on 19 carries for an 8.4-yard average. He also caught three passes.
You've got to love beating Arkansas: The Aggies paid their tithe to the college football gods in a 20-10 loss last year. But A&M rebounded to post their 10th win over the Razorbacks in the 11 years since the Aggies joined the SEC.
Loathed
Penalties: A&M is looking like an undisciplined team. The Aggies were penalized nine times for 65 yards in losses. Several were pre-snap infractions. That included a delay of game on the first play following a kickoff. They also had two illegal shifts and two false starts. A personal foul erased an 18-yard Max Johnson pass to Evan Stewart. A low block negated a 33-yard scramble by Johnson. A holding penalty resulted in a 12-yard Devon Achane run being called back.
Ainias Smith injury: Late in the third quarter, Smith suffered what was reported to be a high right ankle sprain. He left AT&T Stadium with his right foot in a boot and on crutches. There is no word yet on his status, but Smith figures to miss several games. That will take away the most reliable receiver from the Aggies lineup. Smith has 15 catches for 290 yards.
Missed opportunities: Arkansas was ranked last in the nation in pass defense. Each of the Razorbacks' first three opponents passed for at least 325 yards. Max Johnson managed to throw for just 151. Part of the reason he couldn't put up bigger numbers was erratic protection. He was sacked three times. Perhaps the best pass he threw was misplayed into an incompletion. Moose Muhammad made a good move to get open on a deep pass. But he slowed down and then leaped to try to bring in a pass that went over his head. The play should have resulted in a 61-yard touchdown.
Never miss the latest news from TexAgs!
Join our free email list
PRESENTED BY