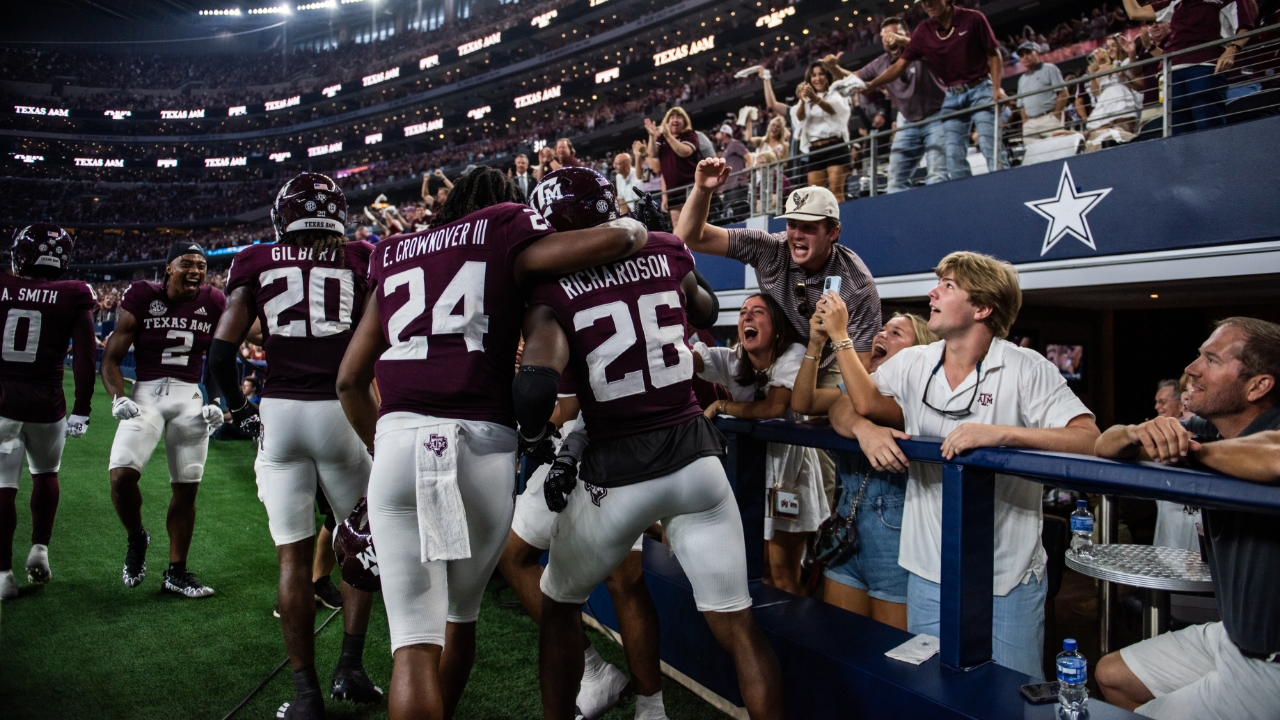 Jimbo Fisher
M. Johnson & Achane
Demani & A. Johnson
Texas A&M Football
Oink Doink! Ags rally to beat Hogs for second-consecutive top-15 win
September 25, 2022
16,558
---
ARLINGTON — Noted swine predator Edgerrin Cooper, who also plays linebacker for Texas A&M, tweeted a celebratory photo late Saturday night.
In the image, Cooper posed beside a slain wild hog with the message: "I'm going hunting."
Cooper helped the Aggies track down a 23-21 Southeastern Conference football victory over No. 10 Arkansas at AT&T Stadium on Saturday night.
Truthfully, they weren't preyers as much as they were beneficiaries of prayers.
What other explanation can there be?
An Arkansas fumble returned 97 yards for a touchdown. An errant Arkansas field goal attempt 'doinked' off the top of an upright. That was the difference between A&M celebration and consternation.
The Aggies (3-1, 1-0) notched its second consecutive victory over a top-15 ranked opponent despite an array of costly penalties, squandered big play opportunities and a run defense that teetered on the brink of collapse throughout the game.
Arkansas rushed for 244 yards. Had the Razorbacks gained three more, there would be dissension, discord and disorder on the streets of College Station.
That's how close Arkansas was to taking complete control.
In the early going, the Aggies were chaotic and disorganized. Meanwhile, Arkansas was methodical and explosive in taking a two-touchdown lead.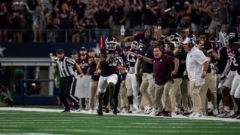 Jamie Maury, TexAgs
Then late in the second quarter, the Razorbacks had first-and-goal at the Texas A&M 3-yard line. A touchdown would put the Aggies in a 21-7 hole.
Arkansas' 6-foot-3, 242-pound quarterback KJ Jefferson fielded a snap in the shotgun, dashed toward the middle of the A&M defense and launched himself toward the goal line.
Linebacker Chris Russell darted in from the left side to jar the football out of Jefferson's grasp. Cornerback Tyreek Chappell caught the fumble and headed the other direction.
Chappell appeared stopped by Arkansas running back Raheim Sanders but was able to lateral the football to safety Demani Richardson. Richardson then streaked 82 yards for a touchdown.
Instead of a 21-7 hole, the Aggies trailed just 14-13 at halftime. That play seemed to save the game for A&M.
"I started on the Arkansas sideline," Richardson said. "I seen the quarterback jump up and try to score the ball. Then I seen Chris hit the ball up. After that, I seen Tyreek catch it. He started running, but he got caught.
"So, I decided to go around to see if he would give me the ball. He gave me the ball. I took it from there. I was like, 'Give me the ball, give me the ball, give me the ball.' If he didn't, I was going to take it anyway."
On the sideline, A&M running back Devon Achane, who himself turned in a few spectacular plays, felt like he was watching "backyard" football.
"I seen Demani put his hands up and saying give me the ball," Achane said. "I didn't know (Chappell) was going to give it to him. That's just a great play by the both of them. It changed the game."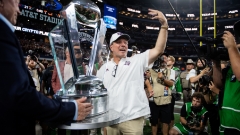 Jamie Maury, TexAgs
Some might say it saved the game. Some would. A&M head coach Jimbo Fisher wouldn't go that far.
"I don't know if it saved it, but it made it a lot easier to win," Fisher said. "That was a big play in the game. That's what big games are. Whether it's a pass, whether it's a run, whether it's a fumble, those are the kind of things you got to have. We were making plays that we had to make to win the game, and they made a great one on defense."
The Aggies started the second half by making big plays on offense. A 26-yard pass by Max Johnson to freshman tight end Donovan Green set up a 9-yard Achane touchdown run on A&M's first series of the second half.
They then added a field goal to take a 23-14 lead into the fourth quarter.
Arkansas returned with a 13-play drive for a 6-yard touchdown run by Jefferson to pull within 23-21 with 10:05 remaining.
About four minutes later, the Razorbacks began a march downfield for a potential game-winning 42-yard field goal.
Kicker Cam Little's attempt arched high into the air and drifted right. And drifted some more. And then some more.
The ball came down on top of the right upright and bounced back onto the field. The A&M portion of the 63,580 in attendance erupted in euphoria.
They reveled in the victory. But Fisher said they could just as well revel in the Aggies' resilience.
"There's heart and character in these guys, and there's competitiveness, and there's talent, and they can make plays," Fisher said. "We just have to learn to be consistent and learn to take a deep breath and let one play come at a time and just do our job and go to the next one and next one, and not get outcome-oriented and not want to do too much too early."
The Aggies did their job well enough to capture a big, yet unlikely, victory. They demonstrated the grit, toughness and determination Fisher demands.
But they were also lucky. Very, very lucky.
Don't tell that to Richardson, though.
"I feel like we had to gut that win out," he said. "I feel like offense, defense, all sides of the ball had to gut that win out. I feel like nothing that we did was lucky today. I feel like we fought hard. We executed. They made plays, we made plays. But I just feel like we gutted that win out, and I feel like we won that game."
Never miss the latest news from TexAgs!
Join our free email list