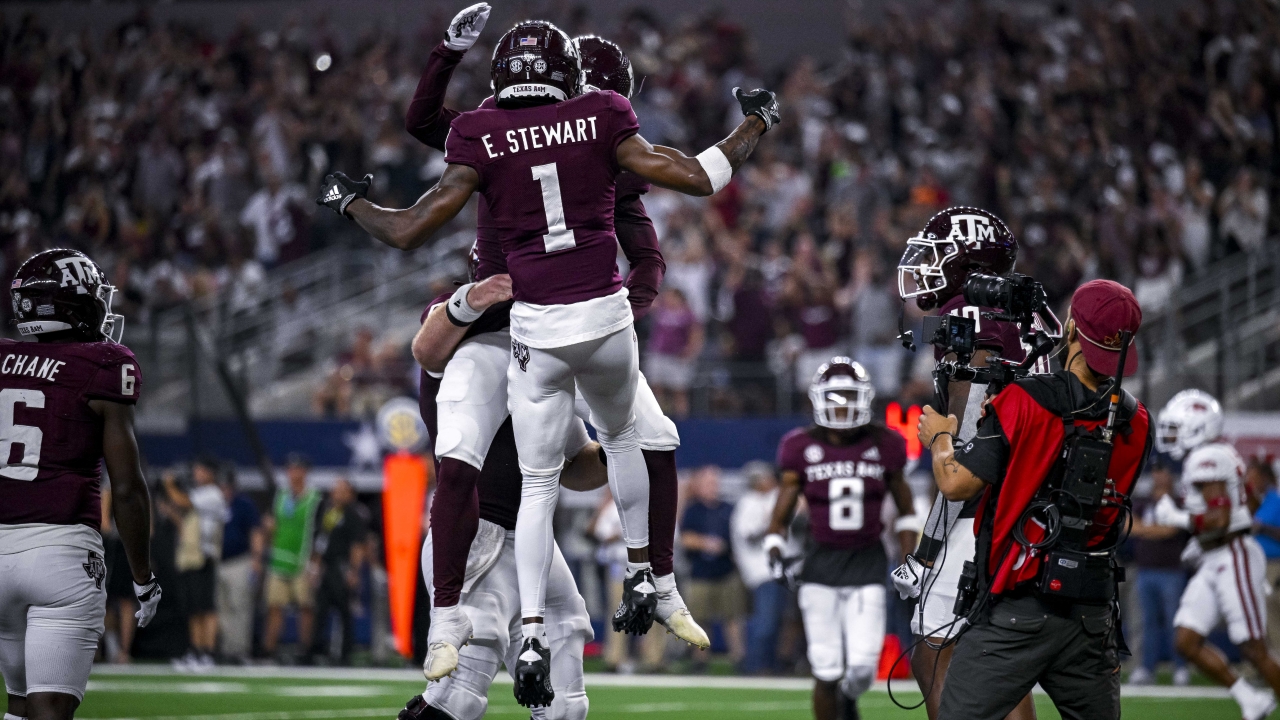 Photo by Jerome Miron-USA TODAY Sports
Texas A&M Football
Post Game Review: No. 23 Texas A&M 23, No. 10 Arkansas 21
September 24, 2022
11,684
---
The Southwest Classic trophy returns to Aggieland.
In yet another Arlington nail-biter, No. 23 Texas A&M prevailed over No. 10 Arkansas behind a 23-point rally to upend the Hogs, 23-21.
To start, A&M's defense allowed Arkansas to move the chains on the first play of the game but halted any more offensive production to give the ball to Max Johnson in his second start as the Aggies' QB1. The first drive was no different from what Aggie fans have been watching all season. The Maroon & White went three-and-out as Johnson took his first sack of the game.
Then Arkansas began to stomp all over A&M's secondary. After back-to-back short gainers from Raheim Sanders, KJ Jefferson ripped off a 26-yard run to the A&M 32. Ketron Jackson Jr. then used all 32 of those yards to speed past the Aggies and score the game's first touchdown.
Before the Aggies had played their fifth down on offense, they already had two penalties. Unfortunately, Devon Achane wasn't able to help as he was tackled for a loss on first down. Johnson attempted to make up for A&M's offensive woes with an 11-yard run but was just short of the first down. On a crucial third-and-long, Jefferson used his arm to find a man wide open, and Warren Thompson housed the 57-yard pass, putting the Razorback up 14-0.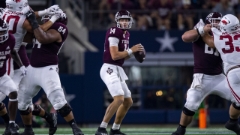 Jerome Miron-USA TODAY Sports
The SEC foes traded off three-and-out drives. The Aggies got the ball back but, once again, went three-and-out for the fourth consecutive series to start the game.
The Razorbacks followed with a 10-play, 46-yard drive to the A&M 39-yard line, but a big stop by A&M's defense halted any Razorback scoring.
Backed up on their own seven-yard line, Achane did what Achane does best. After breaking through tackles, he ran for 63-yards to convert A&M's first first-down of the game. The next offensive drive came down to a crucial third-and-five situation from the Arkansas 10, and with pressure coming from both sides, Johnson dropped it off to freshman Evan Stewart in the endzone for his first career touchdown.
After stopping the Razorback's a big third down, a fourth down quarterback keeper moved the chains to keep their drive alive. Once Arkansas reached the red zone, Jefferson jumped and stretched at the goal line, but Chris Russell Jr. punched it out. The loose ball was picked up by Tyreek Chappell, and he ran 18 yards before discreetly handing it to Demani Richardson behind him. Richardson then sprinted 80 yards to score in A&M's biggest "what was that?" play of the year.
However, an ensuing bad snap on the PAT left holder Nik Constantinou scrambling as he couldn't find a way to turn it into a two-point conversation as Arkansas clung to a 14-13 advantage at the break.
The Aggies' first drive of the second half was propelled by freshmen Donovan Green and Stewart, who both caught passes for first downs. Achane capitalized off that by hauling in a nine-yard run to put the Ags on top, 20-14.
The defense forced a stop to get the offense back on the field. On the first set of downs, he aired out a long ball to Moose Muhammed, who underran the pass, so the quarterback then used his legs to move the chains. Johnson found his playmakers to move the ball down the field before Randy Bond kicked a 31-yard field goal to make it a two-score game.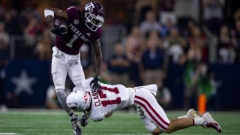 Jerome Miron-USA TODAY Sports
Jefferson and Arkansas' offense had one last opportunity in the third quarter to close the scoring gap, but the Maroon & White shut them down. Heading into the fourth, the Aggies punted away an unsuccessful drive, and then the Razorbacks made things a little too close for comfort. Again, Arkansas displayed their powerful run game with a 17-play drive down the field that ended with Jefferson rushing in for six.
Needing a response, the Aggies executed a crucial third-down with a pass to Green. Achane followed with a 24-yard rush up the middle. The drive finished with a missed 53-yard field goal, putting Arkansas in a position to take advantage.
The Razorbacks managed to break through into A&M territory but were forced to settle for a 42-yard goal attempt by Cam Little. The go-ahead opportunity bounced off the top of the right upright to preserve the Aggies' lead and give the Maroon & White its 10th Southwest Classic victory in 11 seasons.
RUMBLED: Devon Achane. For the first time this season, the speedster rushed for over 100 yards with a career-high 159 yards and one touchdown on 19 attempts. He averaged 8.4 yards a carry and also recorded 15 receiving yards on three receptions.
STUMBLED: To say A&M's three-man defensive front struggled vs. one of the best rushing offenses in the country would be an understatement. Arkansas' offense stomped their way through the line of scrimmage for easy gains and amassed 244 yards on the ground. Jefferson ran for 105 and a score, while Sanders scampered for 68.
UNSUNG HERO: Chris Russell Jr. posted 10 tackles (six solo), one sack, two tackles for loss, a pass breakup and a forced fumble that initiated Demani Richardson's 81-yard touchdown return. In a game where the Aggies needed stout linebacker play, Russell stepped up.
TURNING POINT: The "what the heck just happened" play...Tyreek Chappell's lateral handoff to Demani Richardson after a game-defining punchout by Chris Russell Jr. It was a sequence of "wow" moments that propelled the Aggies right back into the game. With 1:30 left in the fourth quarter, Arkansas' chance to win the game went awry after Cam Little's 42-yard attempt deflected off the top of the right upright.
KEY STAT: Texas A&M's defense erupted in the third quarter. At the half, Arkansas had totaled 280 yards. After Arkansas' two third-quarter drives, that number was 301. Holding an explosive Razorback offense to 21 yards in one quarter is no small task.
Scoring Summary
First-quarter
ARK: 9:44 - KJ Jefferson 32-yard touchdown pass to Ketron Jackson Jr. Drive: 5 plays, 69 yards. TOP: 1:43. Arkansas 7, Texas A&M 0
ARK: 5:35 - KJ Jefferson 57-yard touchdown pass to Warren Thompson. Drive: 7 plays, 78 yards. TOP: 2:07. Arkansas 14, Texas A&M 0
Second-quarter
A&M: 8:45 - Max Johnson 10-yard touchdown pass to Evan Stewart. Drive: 6 plays, 93 yards. TOP: 3:23. Arkansas 14, Texas A&M 7
A&M: 3:11 - Tyreek Chappell fumble recovery returned 18 yards; Demani Richardson 81-yard return for a touchdown (2-pt attempt failed). Arkansas 14, Texas A&M 13
Third-quarter
A&M: 11:41 - Devon Achane 9-yard touchdown run. Drive: 6 plays, 70 yards. TOP: 3:19. Texas A&M 20, Arkansas 14
A&M: 3:48 - Randy Bond 31-yard field goal. Drive: 12 plays, 47 yards. TOP: 6:09. Texas A&M 23, Arkansas 14
Fouth-quarter
ARK: 10:05 - KJ Jefferson 6-yard touchdown run. Drive: 13 plays, 74 yards. TOP: 4:49. Texas A&M 23, Arkansas 21
Never miss the latest news from TexAgs!
Join our free email list