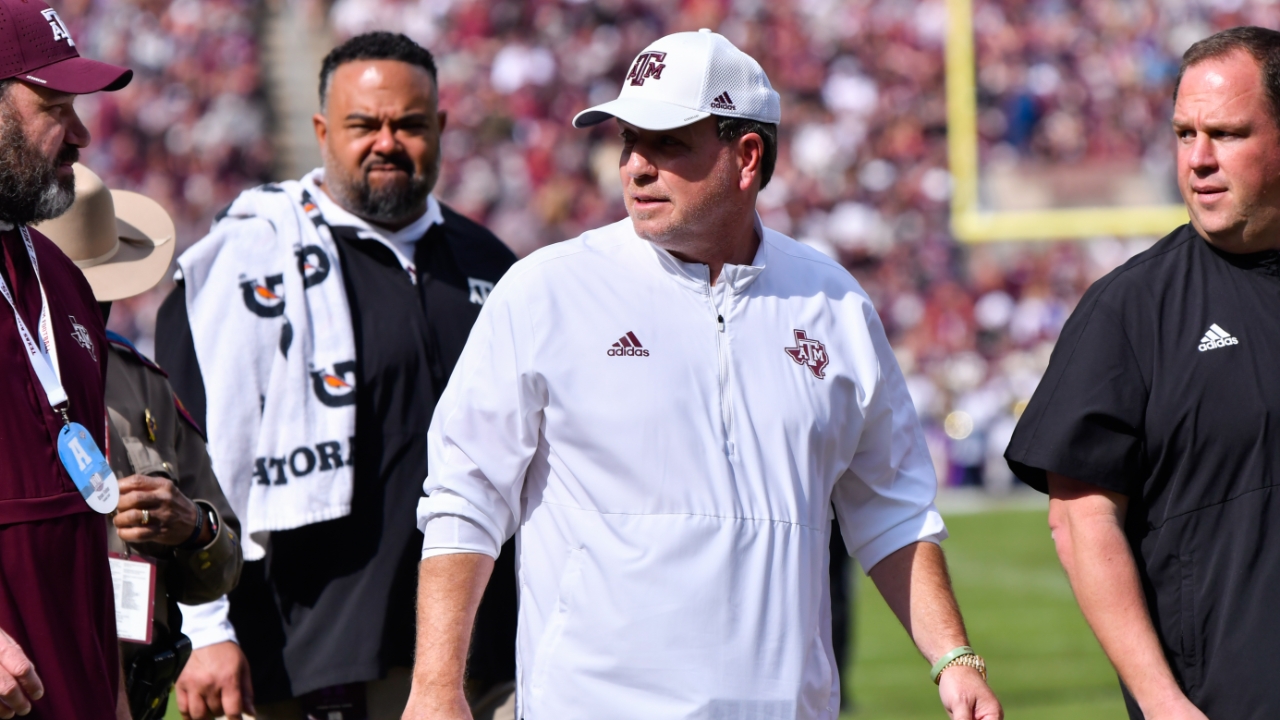 Photo by Jamie Maury, TexAgs
Texas A&M Football
Miami game presents Fisher with a chance to regain faith of Aggie fans
September 14, 2022
12,403
---
All of college football was stunned when Texas A&M lured the coach away from a powerful program.
Hiring him was a coup. He was celebrated. He had early success.
But Aggie fans turned against him on a frustrating day at Kyle Field when a nationally-ranked A&M managed just two touchdowns against what should have been an inferior opponent.
Dennis Franchione, who left Alabama to coach A&M, never really regained the trust of Aggie fans after that lackluster 16-9 overtime victory over Baylor in 2005.
Jimbo Fisher may be facing his "Dennis Franchione moment" after a stunning 17-14 loss to Appalachian State last week.
For the first time since Fisher left Florida State to become A&M's head coach five years ago, Aggies expressed doubts about him on message boards and radio call-in shows.
"You can feel real good, and things still aren't very good. You can feel real bad, and things aren't as bad. It still doesn't matter. What matters is what you do daily and being able to take to the field that week."
In just two weeks, Fisher has gone from beloved to beleaguered. Yet, he can get back in his fandom's good graces if he orchestrates a victory over No. 13 Miami on Saturday and regains traction for a strong season.
However, that may require Fisher to make choices with which he isn't comfortable.
Fisher may have to make a change at quarterback and give Max Johnson a shot in place of struggling Haynes King.
Fisher may have to alter his complex offense, which is supposedly difficult to grasp fully.
He may have to delegate play-calling duties to an assistant coach. That's a subject previously not open for discussion.
However, earlier this week, Fisher said he could at least consider relinquishing those responsibilities.
"Possibly could," Fisher said. "You always evaluate those things. We evaluate everything we do.
"Whatever it takes to win. Winning takes all effect over everything."
Don't expect co-offensive coordinators Darrell Dickey or James Coley to be calling plays against Miami.
At this point, Fisher says the stagnant offense can be fixed merely by going back to basics.
"It goes back to hard work and fundamentals," Fisher said. "Being able to practice those habits and being able to take those daily habits from the practice field to the game field.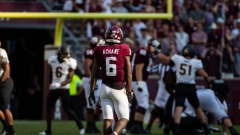 Jamie Maury, TexAgs
"It's cause and effect. You can feel real good, and things still aren't very good. You can feel real bad, and things aren't as bad. It still doesn't matter. What matters is what you do daily and being able to take to the field that week."
We all understand cause and effect. The cause of discontent is the effect a humiliating loss had on long-suffering A&M fans.
Nobody is feeling real good because the offense looks real bad.
That shouldn't be the case with big-play threats Devon Achane and Ainias Smith in the lineup.
The return of sophomore center Bryce Foster, who's back from illness, should help. Maybe giving more playing time to freshman receiver Chris Marshall and freshman tight ends Donovan Green and Jake Johnson will help, too.
Fisher has to consider everything. It has to start with a change at quarterback.
King has been inaccurate and indecisive. Perhaps he's just not quite ready. Max Johnson, meanwhile, has 14 games of starting experience in the SEC and has played well.
In tough times, fan bases typically call for a quarterback change. Aggies, though, have seen firsthand what a change can do.
A&M started 3-3 in 2010. Then-coach Mike Sherman replaced struggling starter Jerrod Johnson with Ryan Tannehill. The Aggies finished the regular season with six consecutive victories.
Even older Aggies can remember the impact freshman Bucky Richardson had when inserted into the lineup in '87. A&M closed with eight straight victories.
Seasons can turn around. Even humiliating losses don't necessarily torpedo a successful year.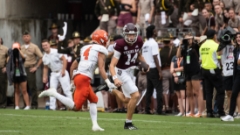 Jamie Maury, TexAgs
In 1991, the Aggies lost to Tulsa 35-34. They bounced back to post nine consecutive victories. Two years later, they were blown out at Oklahoma. Again, they followed with nine consecutive victories.
Just two years ago, Fisher got the Aggies back on track after a poor showing in a win over Vanderbilt was followed by a blowout loss to Alabama. A&M won the next eight games and finished ranked No. 4 in the country.
Unfortunately, there are more examples of an early embarrassment being the precursor to a dismal season.
Take a look back at the unimpressive win over Baylor in '05. The next week, A&M lost to Colorado, 41-20. A hopeful season unraveled into a 5-6 finish.
Fisher must quickly solve A&M's problems to make sure his "Franchione moment" doesn't spiral into a disappointing season. Or worse.
Never miss the latest news from TexAgs!
Join our free email list