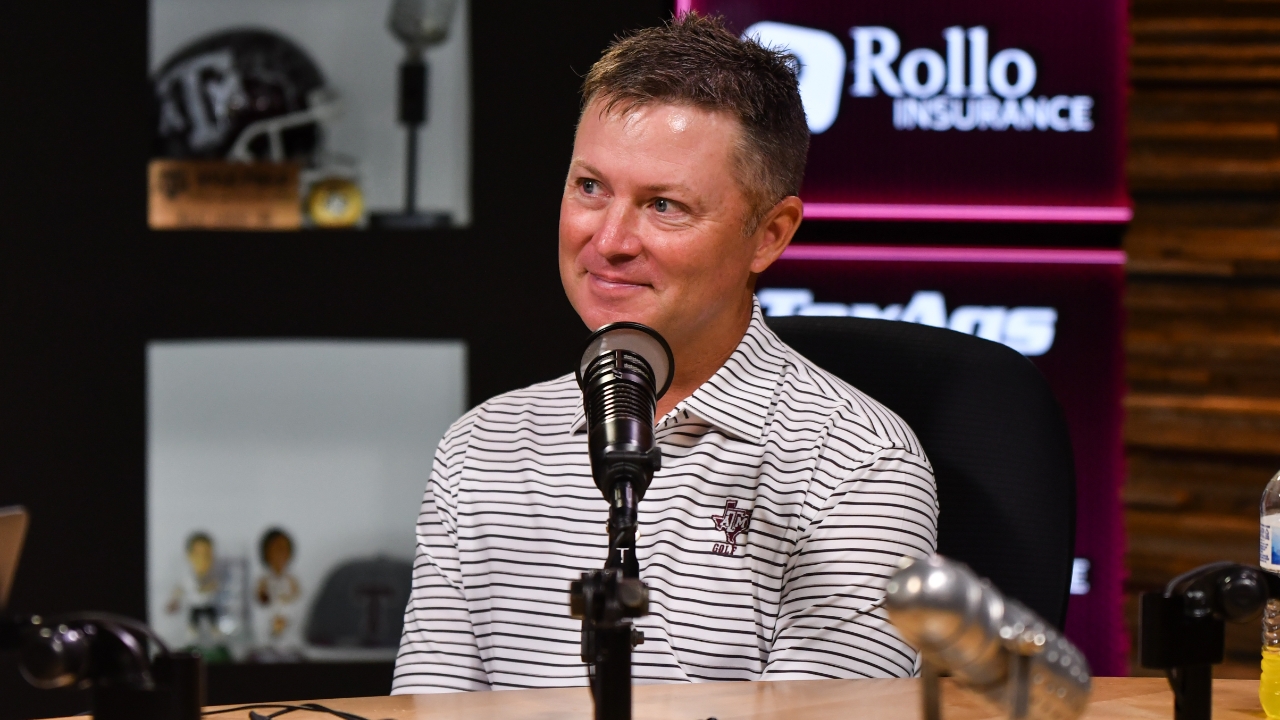 Photo by Jamie Maury, TexAgs
Texas A&M Women's Golf
Gerrod Chadwell joins TexAgs Radio as "Mo"Morial returns next week
---
For the first time since 2014, Texas A&M women's golf will host a home event as the "Mo"Morial returns to Traditions Club next week. Head coach Gerrod Chadwell joined TexAgs Radio before the tournament tees off on Sept. 20.
---

Key notes from Gerrod Chadwell interview
I thought the trip to The Carmel Cup at Pebble Beach was so successful. The trip was made possible by our Aggie Women's Golf Club, so thanks to them. We competed really hard. We didn't look our best. Traditions sometimes make you look worse than you are, but I was so proud of how we competed. We kind of picked up where we left off in May.

Traditions prepared us for Gray Hawk and the national championship. Some places require discipline and course management and patience. If you don't have that at Traditions, it's going to be a long day. Pebble has small greens and requires space management. Traditions prepared us for that.

All of the teams at The Carmel Cup will be at regionals, and most will be top-25 teams. Stanford won the event, and then it was us and Oklahoma State after them. We held our own. We hung with Stanford, and a young lady they have, Rose Zhang, who is the No. 1 women's collegiate golfer in the nation. She set the Pebble Peach women's record with a 63 middle round. They're good, and hopefully, we'll get another crack at them before the season is up.

We do a lot of work with our sports psychology people and Dr. Ryan Pittsinger here. You have that top-five finish at the end of the year, and then you come back. You hear about the belief and the way they talk about themselves. I have a belief that we can win every tournament we're in. We can overcome mistakes, and we believe we have a chance to win against anybody in the country.

Hailee Cooper won qualifying pretty handedly. Jennie Park is our rock. Both of them finished in the top 10. We started qualifying for the "Mo"Morial, and Zoe Slaughter had a 66 on Monday, which is the lowest score I've seen in a long time. It's going to be a fight to be in our top five. It's must-see-TV to get into our lineup for the "Mo."

We haven't had the "Mo since 2014, and we're going to have 14 teams here next Tuesday and Wednesday. We'll have 36 holes on Tuesday, and then we'll finish with an 18-hole shotgun start at 8 a.m. on Wednesday.

Monica Welsh passed away in a tragic car accident in 1992. We wanted to keep her legacy going here. We only get one "home game" in women's golf, so bringing this tournament back gives us a chance to honor Monica and gives our girls a chance to play in front of our home fans. It's also great to hear that this tournament will be well supported by the club and its members.

After the "Mo," our next two events will be on TV. You'll get to see a lot of the women's golf program coming up. The Blessings Tournament will be a fun event, and the men will travel up there with us. After that, we'll play at the East Lake Cup, and that's the four semifinalist teams. We have a lot of good golf coming up.
Never miss the latest news from TexAgs!
Join our free email list