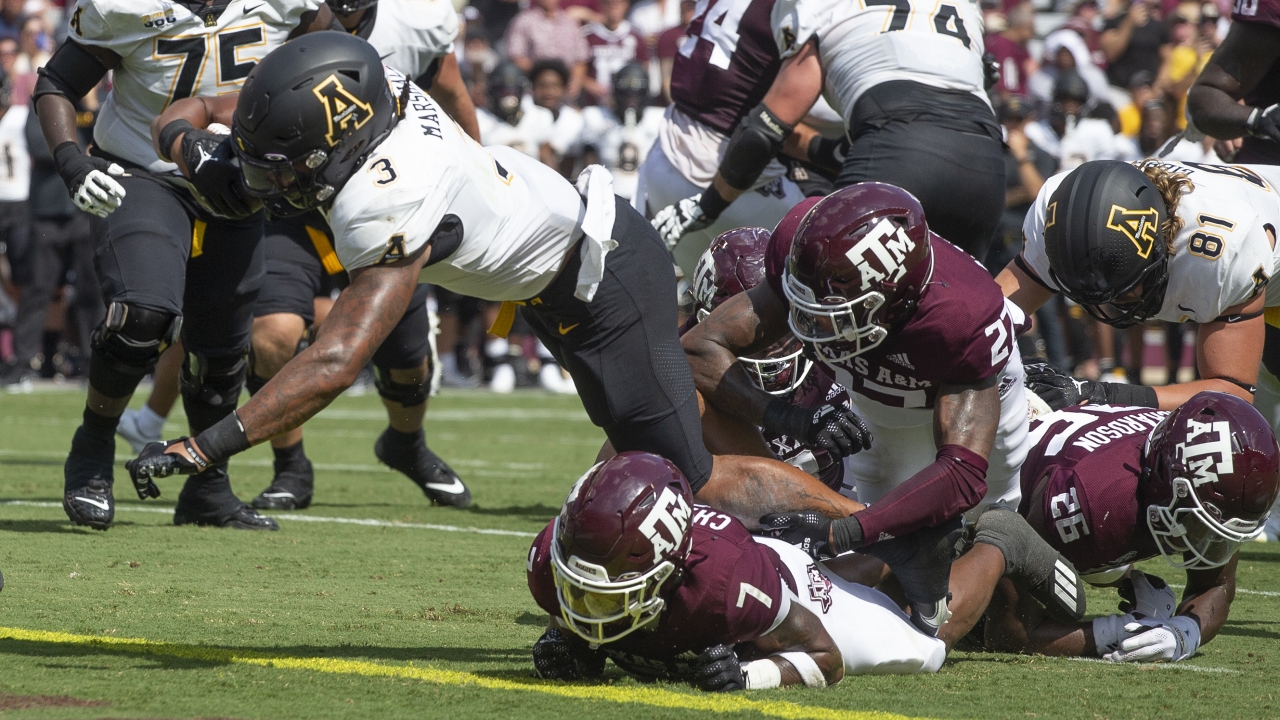 Photo by Thomas Shea-USA TODAY Sports
Texas A&M Football
Post Game Review: Appalachian State 17, No. 6 Texas A&M 14
---
It was a climb and not a pretty one.
On Saturday, unranked Appalachian State upset No. 6 Texas A&M, 17-14. A&M's offense could not utilize their limited time on the field, and the defense struggled to save them.
The Aggies began slowly but saw young stars Donovan Green and Evan Stewart make promising grabs before punting.
Once the Mountaineers' offense hit the field, they came ready to play. In an aggressive second drive, Appalachian State converted on fourth down and took a shot to the end zone, but the receiver gained possession out-of-bounds. The Mountaineers sent out their kicking team to doink the field goal off the uprights, and the Aggies' 2022 record of keeping an opponent scoreless remained intact to end the first quarter.
Once the Aggies got the ball, they quite frankly handed it right back. Haynes King let the ball slip out on the A&M 29-yard line, Layden Robinson grabbed it, but he could not hang onto it either. The fumble put the Mountaineers in position to run in a 4-yard touchdown by Ahmani Marshall — the first score A&M allowed this season.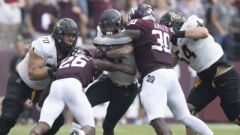 Thomas Shea-USA TODAY Sports
The Maroon & White then responded with a 75-yard drive, with Haynes King displaying his true speed.
The quarterback scrambled for 31 yards and set up Devon Achane to score his second touchdown of the season, tying the game, 7-7, on a 26-yard carry. Achane did not touch the ball for the remainder of the half.
Then, A&M's defense went to work. Fadil Diggs executed the perfect scoop and score, but it was called back, being ruled an incomplete pass. The defensive line applied the pressure on Mountaineer quarterback Chase Brice and came up big on third and fourth down, forcing a turnover on downs. The Aggies proceeded to go three-and-out as the offensive line struggles continued without Bryce Foster at center.
The Mountaineers totaled 20 minutes of possession compared to A&M's nine in the first half. Haynes King recorded 46 yards, and the A&M offense neared that with 41 yards in penalties.
To start the second half, the Aggies' offense remained stagnant. They punted away their first drive, Evan Stewart added to the turnover tally on the second offensive drive, and once the Mountaineers got the ball, they took the lead. Chase Brice threw a 9-yard touchdown pass to Henry Pearson and sent A&M's kickoff return team on the field.
Needing a response, Devon Achane provided one. Achane and his world-class speed smoked every defender around to return the kickoff for 95-yards, tremendously helping out A&M's struggling offense.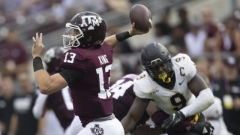 Thomas Shea-USA TODAY Sports
On fourth down on A&M's 12, the Aggies sighed in relief as wideout Christian Wells dropped a wide-open touchdown pass that held Appalachian State to a 29-yard field goal.
Back on offense, Evan Stewart dropped a pass, but an Appalachian State penalty revived the drive. They extended the drive to the 35-yard line before kicker Caden Davis came on the field in an attempt to tie the game but shanked the kick.
Just when the Aggies saw their final glimmer of hope, Camerun Peoples stomped on A&M's defense with a 48-yard rush — the final nail in the coffin.
RUMBLED: There weren't many bright spots, but Texas A&M's defense held Applachian State's QB Chase Brice to only 134 yards, when last week against North Carolina, he put up 361 yards.
STUMBLED: The few times A&M's offense saw the field, they failed to execute. The Aggies had limited time to put points on board, but as a top-ranked team, they should be able to score with no problem. Instead, the Maroon & White's offense put up just 186 yards against the unranked Mountaineers.
UNSUNG HERO: Not very unsung, but Devon Achane gave the Aggies their only hopes of winning this game. The running back scored both touchdowns and averaged 6.6 yards per carry.
TURNING POINT: Von is gone. Devon Achane housed a 95-yard kickoff return to tie the ball game late in the third. A breath of fresh air in an ugly game for the Aggies. Unfortunately, that didn't turn the game around as Appalachian State ultimately kicked a go-ahead field goal with 8:05 to play.
KEY STAT: In total, Texas A&M's offense had possession of the football for 18 minutes and 31 seconds. Appalachian State's strategical clock management prevented the Aggies' already underperforming offense from seeing the field. Texas A&M only ran two plays inside of Appalachian State territory.
Scoring Summary
First-quarter
APP: 14:56 - Ahmani Marshall 4-yard rushing touchdown. Drive: 5 plays, 29 yards. TOP: 1:28. Appalachian State 7, Texas A&M 0
Second-quarter
A&M: 11:37 - Devon Achane 26-yard rushing touchdown. Drive: 7 plays, 75 yards. TOP: 3:12. Texas A&M 7, Appalachian State 7
Third-quarter
APP: 2:34 - Chase Brice 9-yard touchdown pass to Henry Pearson. Drive: 11 plays, 62 yards. TOP: 6:22. Appalachian State 14, Texas A&M 7
A&M: 2:20 - Devon Achane 95-yard kickoff return for a touchdown. Texas A&M 14, Appalachian State 14
Fourth-quarter
APP: 8:05 - Michael Hughes 29-yard field goal. Drive: 16 plays, 63 yards. TOP: 9:15. Appalachian State 17, Texas A&M 14
Never miss the latest news from TexAgs!
Join our free email list