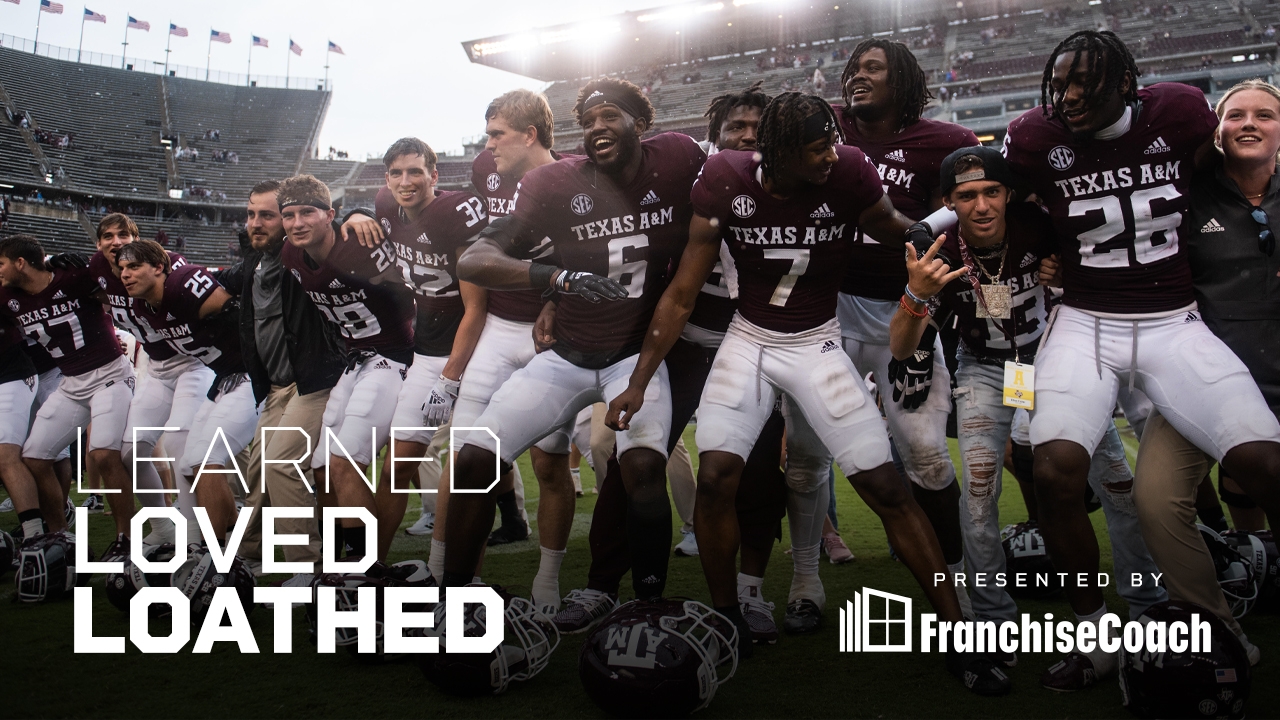 Photo by Jamie Maury, TexAgs
Texas A&M Football
Learned, Loved, Loathed: Texas A&M 31, Sam Houston 0
---
It's time to Look back on what was learned, loved and loathed in Texas A&M's 31-0 victory over Sam Houston in the 2022 season-opener:
Learned
Yulkeith Brown is a big-play threat: All the excitement about highly-regarded incoming freshmen and proven returning receivers rendered the second-year receiver almost a forgotten man. Brown delivered an emphatic reminder that he, too, can be a major factor in the Aggies' passing attack. Brown simply outran coverage to haul in a 64-yard touchdown pass for A&M's first score.
He only had one other catch but delivered a huge downfield block to free Ainias Smith on a 63-yard touchdown catch.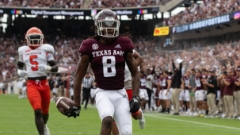 Jamie Maury, TexAgs
The offensive line is a major area of concern: Always remember not to overreact — negatively or positively — to anything in the first game.
That said, the line has to make dramatic improvements for A&M to have a highly successful 2022 campaign. Though no sacks were allowed, quarterback Haynes King was often under pressure. The blocking was even more worrisome. More on that later.
The pass rush is still formidable: Questions loomed whether A&M could duplicate the fierce pass rush a year ago. The answer, at least in the first game, was an emphatic yes. Sam Houston quarterback Jordan Yates was under constant pressure. Yates' outstanding speed and mobility enabled him to evade some sacks. He also threw several quick passes to get rid of the football before the rush combined. He was pressured on six occasions.
Antonio Johnson, Lebbeus Overton and the combination of Isaiah Raikes and Shemar Stewart counted for A&M's three sacks. It should have been four. That, too, we'll get to later.
Loved
The freshman impact: The Aggies' No. 1 ranked 2022 recruiting class began to pay major dividends. Nineteen true freshmen played. As mentioned, Overton had a sack, and Shemar Stewart shared one. Receiver Evan Stewart caught five passes. Receiver Chris Marshall caught four. Tight end Jake Johnson caught one. Safety Jacoby Mathews recovered a fumble. Defensive lineman Walter Nolen had three tackles. Denver Harris, Bryce Anderson, Martrell Harris and Enai White were also credited with tackles.
Andre White's performance: The senior did not get the start but came on strong. White's tackle total of four was modest, but nothing else from his game was. Early in the second quarter, White deflected a pass. Safety Jardin Gilbert made the interception on the tip drill. Then in the fourth quarter, White forced a fumble which Mathews recovered at the Aggies' 20-yard line.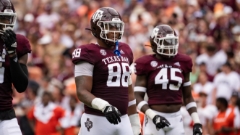 Jamie Maury, TexAgs
White also broke up a pass in the second quarter. The linebacker spot opposite Edgerrin Cooper has been a position of concern. Those concerns will be alleviated if White can continue to play at that level.
Big plays: Throughout the offseason, coach Jimbo Fisher talked about the ability for more explosive plays and fewer long, time-consuming drives. Turns out that wasn't just talk. A&M threw deep often. Three times the Aggies were awarded with long touchdowns. Brown caught a 66-yard touchdown pass to cap a five-play drive.
Smith's 63-yard touchdown capped a three-play drive. Smith also had a 43-yard touchdown catch, but that was at the end of a 10-play drive. The Aggies also had a 23-yard completion, but that was on a short crossing throw that Evan Stewart turned into an explosive play.
Loathed
Run blocking was abysmal: With speedy running back Devon Achane, A&M potentially has an electrifying running game. Yet, it short-circuited because of porous blocking. A&M managed only 110 rushing yards and averaged just 3.4 yards per carry. Achane had 42 yards on 18 carries for a 2.3-yard average. That's horrible, especially considering he averaged 7.0 yards a year ago.
Fisher blamed much of the running problems in the first half on an inexperienced line struggling against Sam Houston's stunts and twists. Halftime adjustments did result in a 71-yard touchdown drive to start the third quarter.
Fisher blamed much of the running problems in the first half on an inexperienced line struggling against Sam Houston's stunts and twists. Halftime adjustments did result in a 71-yard touchdown drive to start the third quarter.
Fifty of those yards came on 10 rushing attempts. It's not like the Aggies shredded Sam Houston's run defense in the second half.
But OK … Ailing center Bryce Foster (mononucleosis) sat out. A&M started two redshirt freshmen (tackle Trey Zuhn and center Matthew Wykoff), two sophomores (tackle Reuben Fatheree and guard Aki Ogunbiyi) and junior guard Layden Robinson, who rotated in and out of the lineup.
Combined, the line entered the game with just 23 starts, so maybe there is a learning curve. Still, there has to be significant improvement fast, or the Aggies could be in real trouble.
King's inconsistency: Admittedly, it's harsh to be critical of a quarterback who passed for 364 yards and three touchdowns. However, that effort was tarnished by two interceptions. King also got away with a couple of other throws that could have been picked off and skipped a pass about five-yards short of a receiver on a third-down throw.
Again, King had a solid day, but turnovers often have been a problem for A&M quarterbacks in recent seasons. King has to put an end to that trend.
Taking away a sack: Just 15 seconds before halftime, Shemar Turner sacked Yates for a 7-yard loss at the Sam Houston 35-yard line. There was also a holding penalty on the play. The penalty was accepted, which statistically nullified the sack. The kid worked hard to get the sack. Don't take it away from him, especially when the opponent is in no position to score. The Bearkats let the clock run out after the play.
Never miss the latest news from TexAgs!
Join our free email list
PRESENTED BY